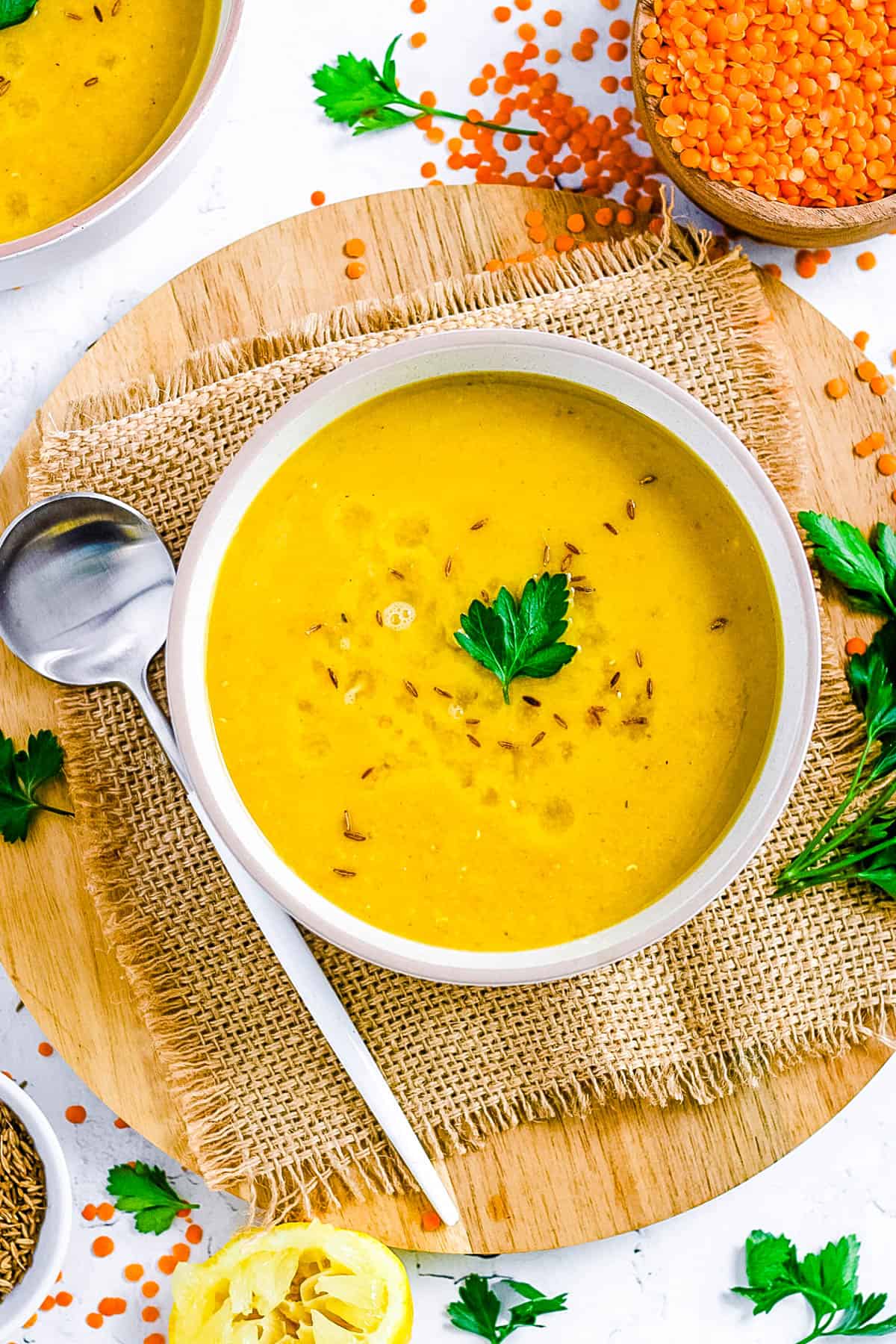 This post may contain affiliate links. As an Amazon Associate, I earn from qualifying purchases. Please read my disclosure.

Rich, flavorful, easy Lebanese lentil soup (shorbet adas) is warming and hearty, perfect for a family-friendly weeknight meal. Made with red lentils, vegetables, spices, and lemon juice, this easy dish is healthy, vegan, and naturally gluten free too!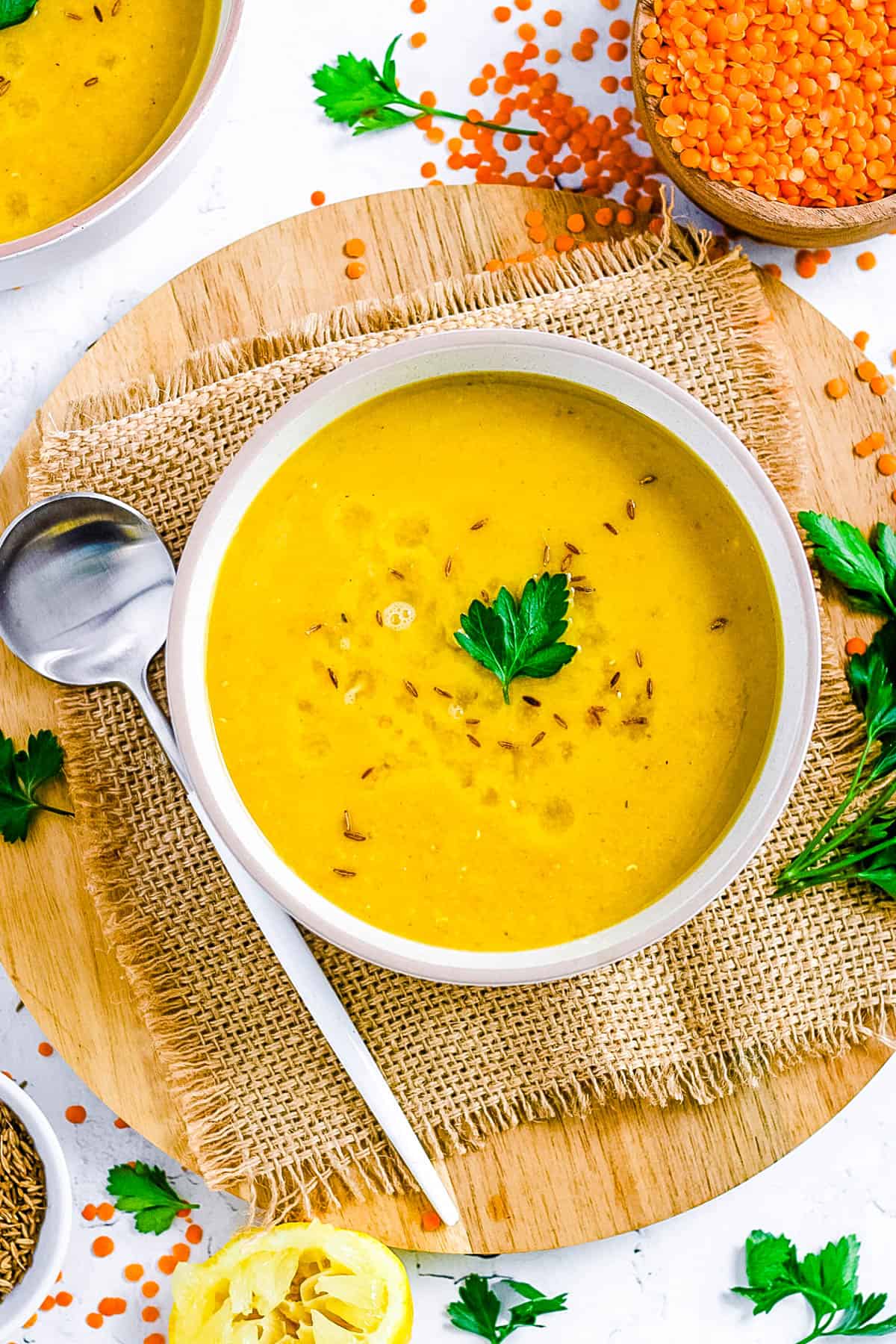 This authentic Lebanese lentil soup is one of my favorite recipes to make when I need an easy, filling, healthy meal. I love using lentils in all sorts of recipes because they're a healthy, protein and fiber rich, plant based staple that can be transformed in so many different ways!
You can add them to salads (like this feta salad with veggies & lentils), use them as a meat replacement like in this vegan bolognese or this vegan wellington, add them to curries and dahls like this chickpea and lentil curry, and even turn them into veggie burger patties like in these lentil burgers!
But one of the easiest ways to use lentils is to add them to soup. This Lebanese soup recipe is also called "shorbet adas" or "shorbat adas" – which literally translates to "soup lentil".
Serve this simple soup all on its own, or with homemade vegan flatbread, pita bread, or some crusty bread like this vegan air fryer garlic bread for dipping, with a side salad like this tomato avocado and cucumber salad for some brightness, or with some vegan roasted potatoes for a hearty side!
It's full of flavor, super filling, comforting and perfect for the whole family. It's also great for meal prep, so you can make a big big pot of this Mediterranean lentil soup and freeze half for later!
Also Read : What to Expect with Ear Tube Placement in Children – ChildrensMD
👩🏽‍🍳 Why This Recipe Works
Smooth texture
Vegan & gluten free
Hearty soup, super satisfying
Family friendly
One pot meal
Requires just a handful of ingredients
Great way to get a ton of plant protein in one meal
Best Lebanese lentil soup recipe ever!
Latest Recipe Video!
🥘 Ingredients
This shorbet adas recipe requires pantry staples that are easily found at your local grocery store! Here's what you need: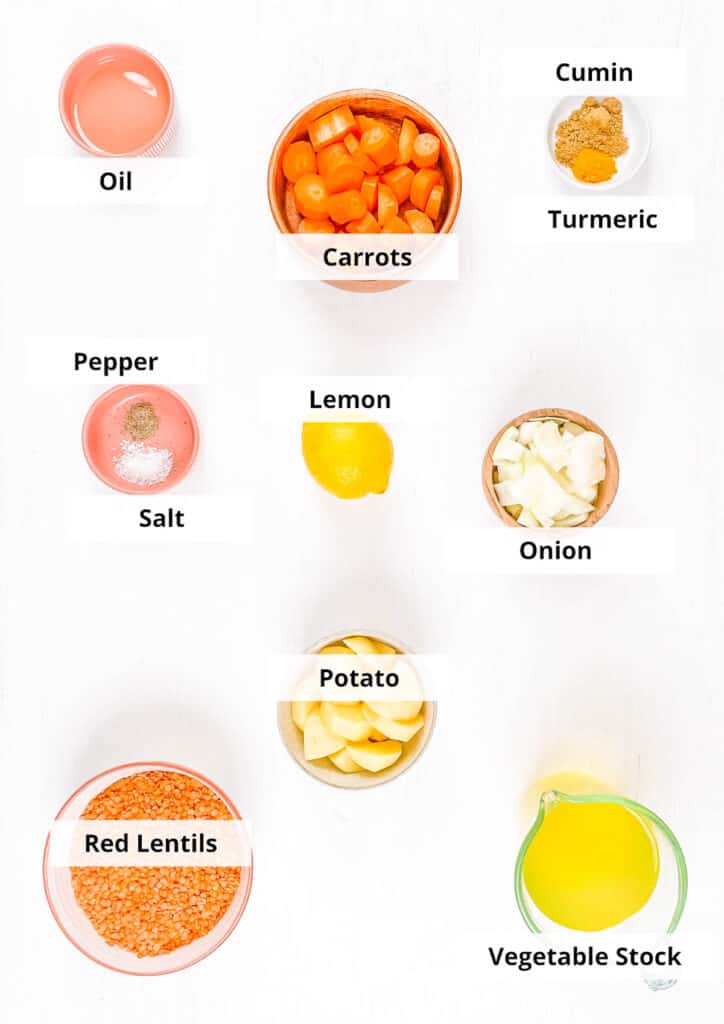 Veggies & Olive Oil: Yellow onion, carrots and potatoes add flavor, texture, and heartiness to this tasty soup. You'll need olive oil to get the veggies nice and caramelized before you add the lentils.
Red Lentils & Vegetable Broth: Red split lentils make up the base of this delicious soup! They cook down really quickly and easily, and are a great source of protein. You'll also need vegetable broth (or stock) to simmer the soup in.
Spice Blend: A blend of ground cumin powder, salt, black pepper, turmeric, and fresh lemon juice add big flavor to this Arabic lentil soup recipe.
🔪 Instructions
Lebanese red lentil soup is super easy to make! Here's how to make this adas soup recipe.
Prep & Saute Onions: Wash the lentils in a strainer until the water runs clean, drain and set aside. In a large pot or dutch oven, heat the oil and sauté the onion over medium heat until softened.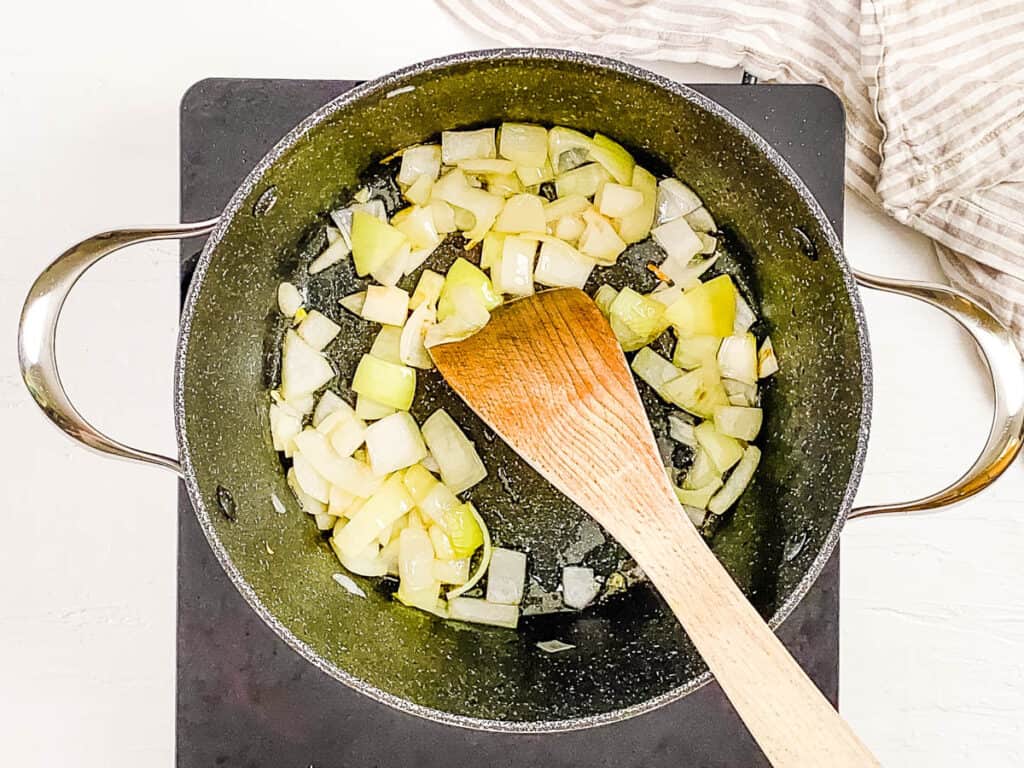 Add Veggies: Add the carrot and potatoes. Continue to cook for another 1-2 minutes, stirring continuously.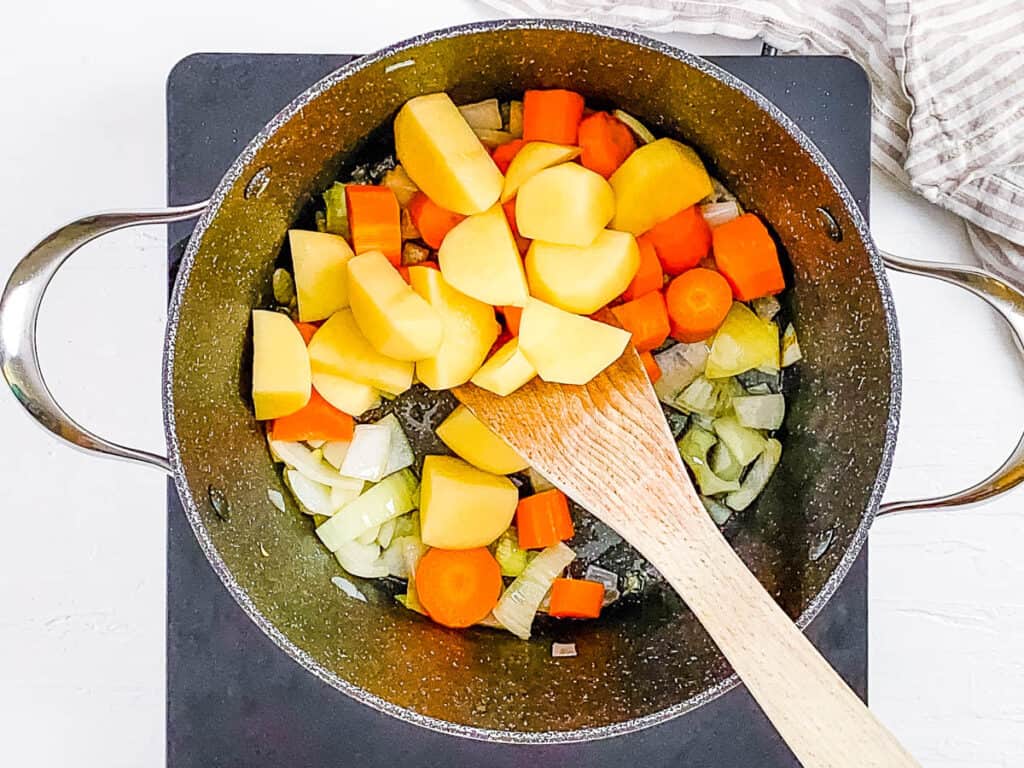 Add Rest Of Ingredients: Add all remaining ingredients, except the lemon. Stir and bring to a boil, reduce heat and simmer for 40 minutes.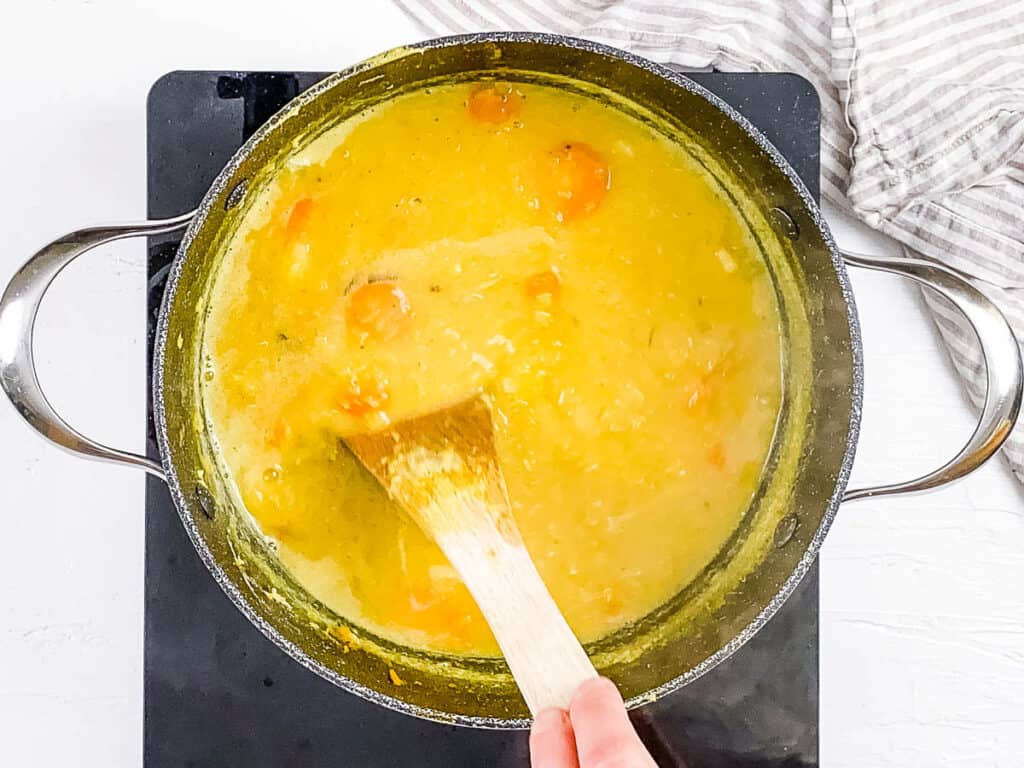 Blend: Remove from heat and allow this adas bi hamod to cool slightly before blending to avoid burning yourself. Using an immersion blender or high speed blender, blend this vegan lentil soup until smooth and creamy.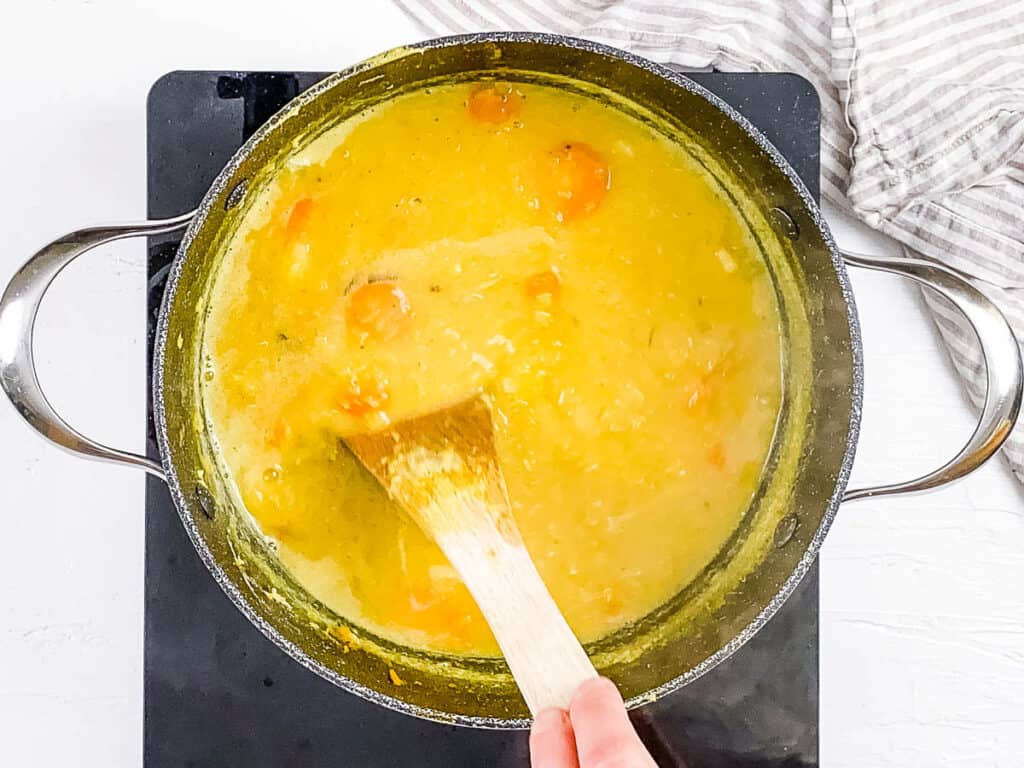 Serve: Adjust seasoning to taste. Serve this Lebanese lentil and potato soup with a squeeze of lemon juice.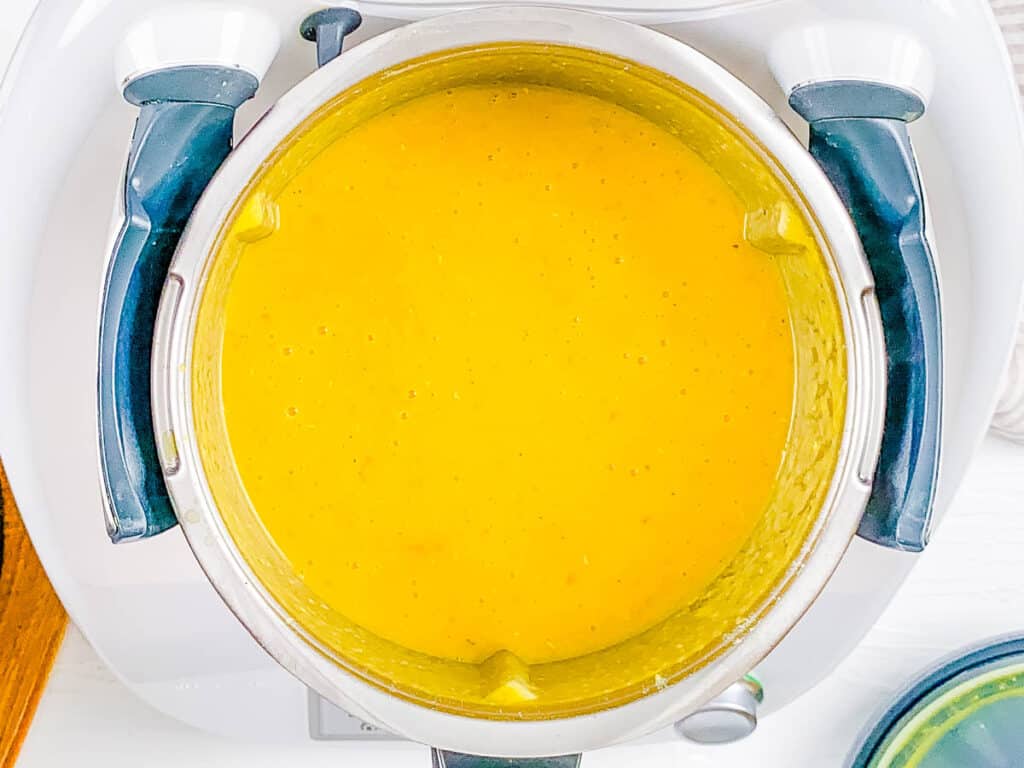 💭 Expert Tips
Make sure to wash your lentils! Washing the lentils before cooking helps to remove and dirt or debris.
To prevent sticking, make sure to stir your soup throughout the cooking process so the lentils don't stick to the bottom of the pot.
An immersion blender (or hand blender) is easier to use to blend the soup, but you can use a regular blender if you don't have an immersion blender. Just make sure to blend the soup in batches and once it has cooled to avoid splatter.
You don't need to soak your lentils: Red lentils don't need to be soaked prior to cooking, however, they do need to be rinsed and removed of any stones or debris. If you choose to use a different type of lentil in this recipe, you will need to soak them to reduce overall cooking time. Different types of lentils require different cooking times. Red and yellow lentils need less cooking time than green lentils and brown lentils.
Adjust texture as needed: Feel free to blend all or just half of this crushed lentil soup depending on your desired consistency. For a thick soup, blend only half so you get a thicker, chunkier texture.
📖 Variations
Lebanese Lentil Soup With Rice: Feel free to add 1/2-1 cup of cooked white rice, brown rice, or even quinoa to the soup once it's cooked and blended for added texture, and to turn this into a complete meal (lentils + rice make a complete plant based protein!).
Different Veggies: We used onions, carrots and potatoes, but you can try sweet potatoes, cauliflower, butternut squash, or even bell peppers!
Lebanese Lentil And Spinach Soup: For more veggies, you can add some leafy greens into this recipe for Lebanese lentil soup! You can add it at the same time as you add the lentils if you want the greens to get super cooked down, or you can add it 5 minutes before cooking is over for a brighter green color. Try baby spinach, swiss chard, kale, or your favorite leafy green veggie.
Garnishes: Try fresh cilantro, fresh parsley, Greek yogurt or plain vegan yogurt, feta cheese or vegan feta, or even crumbled pita chips!
Spices: Add some more heat to this vegetarian lentil soup with some crushed red pepper flakes, more black pepper, or even a pinch of cayenne pepper.
❓Recipe FAQs
Is lentil soup healthy?
Yes! This soup is super healthy for you for a few reasons:
#1 | High in Plant Protein & Fiber: Lentils are a great source of plant-based protein, making this soup a healthy, hearty, filling meal. Fiber is important for your daily diet as it helps with digestion, helps with the growth of healthy gut bacteria, and keeps you feeling fuller longer. One serving of this Lebanese crushed lentil soup recipe has 13 grams of protein and 16 grams of dietary fiber!
#2 | Low in Fat and Calories: Lentils, vegetables, and spices are naturally low in calories and fat. The fat that is in this soup comes from the oil the vegetables are sautéd in. You can further reduce the oil by eliminating the oil and using vegetable stock or water to sauté the vegetables.
#3 | Rich in Vitamins and Nutrients: Lentils and veggies are both packed with nutrition. Lentils are particularly high in phytochemicals that help protect the body against numerous chronic conditions such as heart disease and type 2 diabetes. Carrots are rich in Vitamin A, antioxidants and B vitamins, and potatoes are packed with Vitamin C and potassium!
What makes lentils taste better? Why is my lentil soup bland?
There are only two things you need to make lentils taste better: salt and spices! Lentils are pretty mild in flavor, so they will take on the flavor of whatever you pair them with. Use plenty of salt and black pepper to taste when making lentils. In this recipe, the additional warm spices like turmeric and cumin will add tons of flavor to your Lebanese lemon lentil soup recipe!
How many calories are in a bowl of lentil soup?
Typically, 1 medium sized bowl of traditional lentil soup contains anywhere from 150-300 calories. This Middle Eastern lentil soup recipe has about 280 calories per serving!
What goes best with lentil soup?
This vegan Lebanese lentil soup with lemon goes best with some whole grain pita chips to give it some added crunch, texture and heartiness. You can also add a dollop of yogurt for an element of creaminess and coolness, and fresh herbs for brightness as well.
How to store vegetarian lentil soup?
You can store leftover lentil soup in the fridge or the freezer.
To Store In The Fridge: Let the soup cool completely. Transfer to an airtight container and place in the fridge. It will keep for up to 5 days.
To Store In The Freezer: Let the soup cool completely. Transfer to a freezer-safe container and place in the freezer. It will keep for up to 2-3 months. To reheat from frozen – thaw frozen soup in the fridge for 24 hours. Then heat in a pot over low heat until warmed through, or warm in the microwave.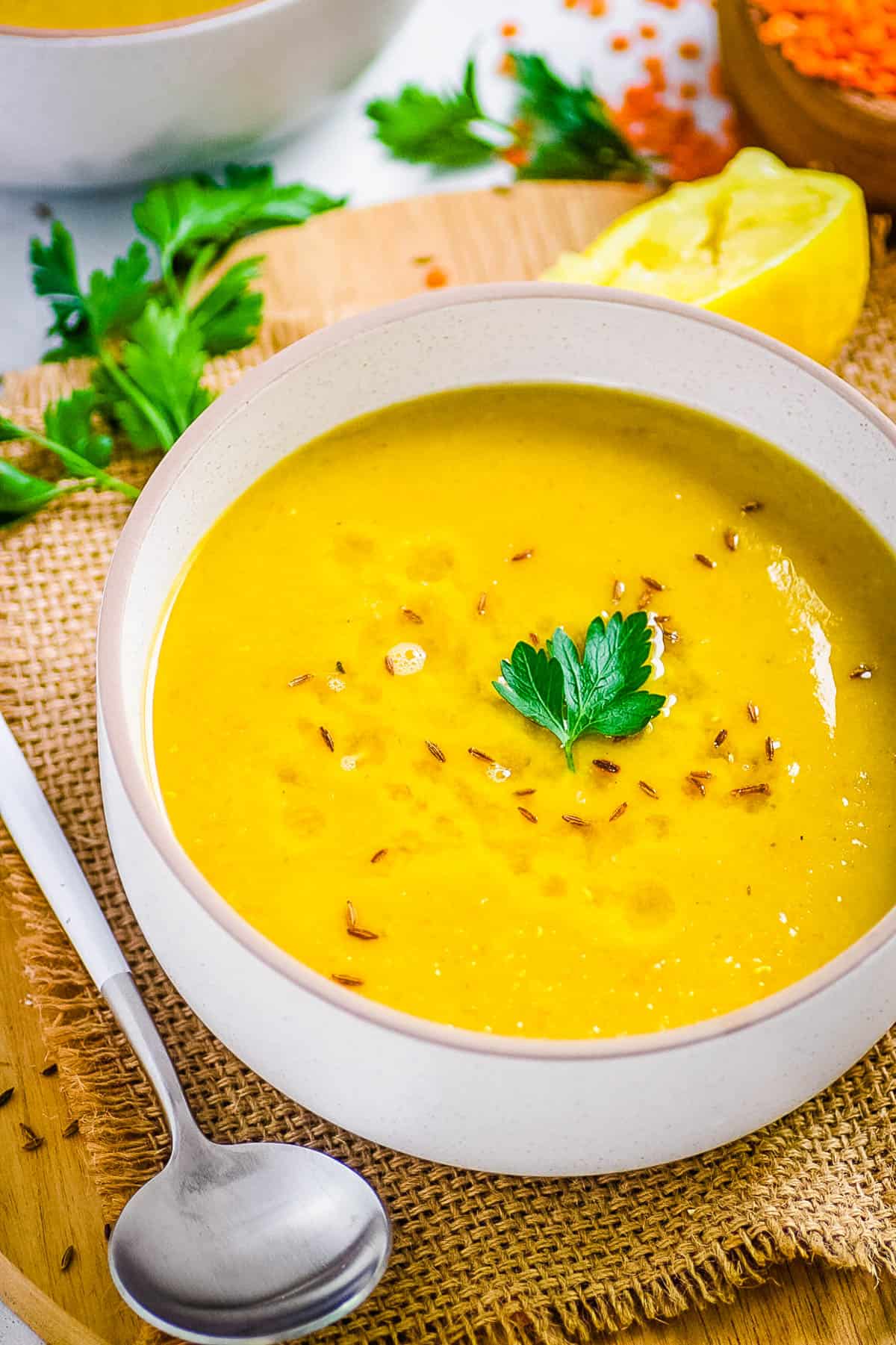 🍲 More Healthy Soup Recipes!
Love this plant based soup recipe? Please leave a 5-star rating 🌟 in the recipe below and/or a review in the comments section further down the page!
You can also FOLLOW ME on FACEBOOK, TWITTER, INSTAGRAM, and PINTEREST to see more delicious, healthy, family-friendly food, and if you have any questions, I'm here to help!
📋 Recipe Card
Lebanese Lentil Soup
Rich, flavorful, easy Lebanese lentil soup (shorbet adas) is warming and hearty, perfect for a family-friendly weeknight meal. Made with red lentils, vegetables, spices, and lemon juice, this easy dish is healthy, vegan, and naturally gluten free too!
Servings: 6 servings
Calories: 284kcal
Washing the lentils before cooking helps to remove and dirt or debris.

Cooking the vegetables before adding remaining ingredients helps to intensify the flavors.

Always stir through out the cooking process to prevent the lentils from sticking to the bottom of the pot.

Left over soup can be stored in an airtight container in the fridge for up to 5 days.

Soup can be frozen for up to 2 months.

Defrost frozen soup in the fridge for 24hours. To reheat, place in a pot over a low heat and bring to a gentle simmer.
Calories: 284kcal | Carbohydrates: 46g | Protein: 13g | Fat: 5g | Saturated Fat: 1g | Polyunsaturated Fat: 1g | Monounsaturated Fat: 4g | Sodium: 1463mg | Potassium: 800mg | Fiber: 16g | Sugar: 5g | Vitamin A: 2390IU | Vitamin C: 18mg | Calcium: 46mg | Iron: 4mg