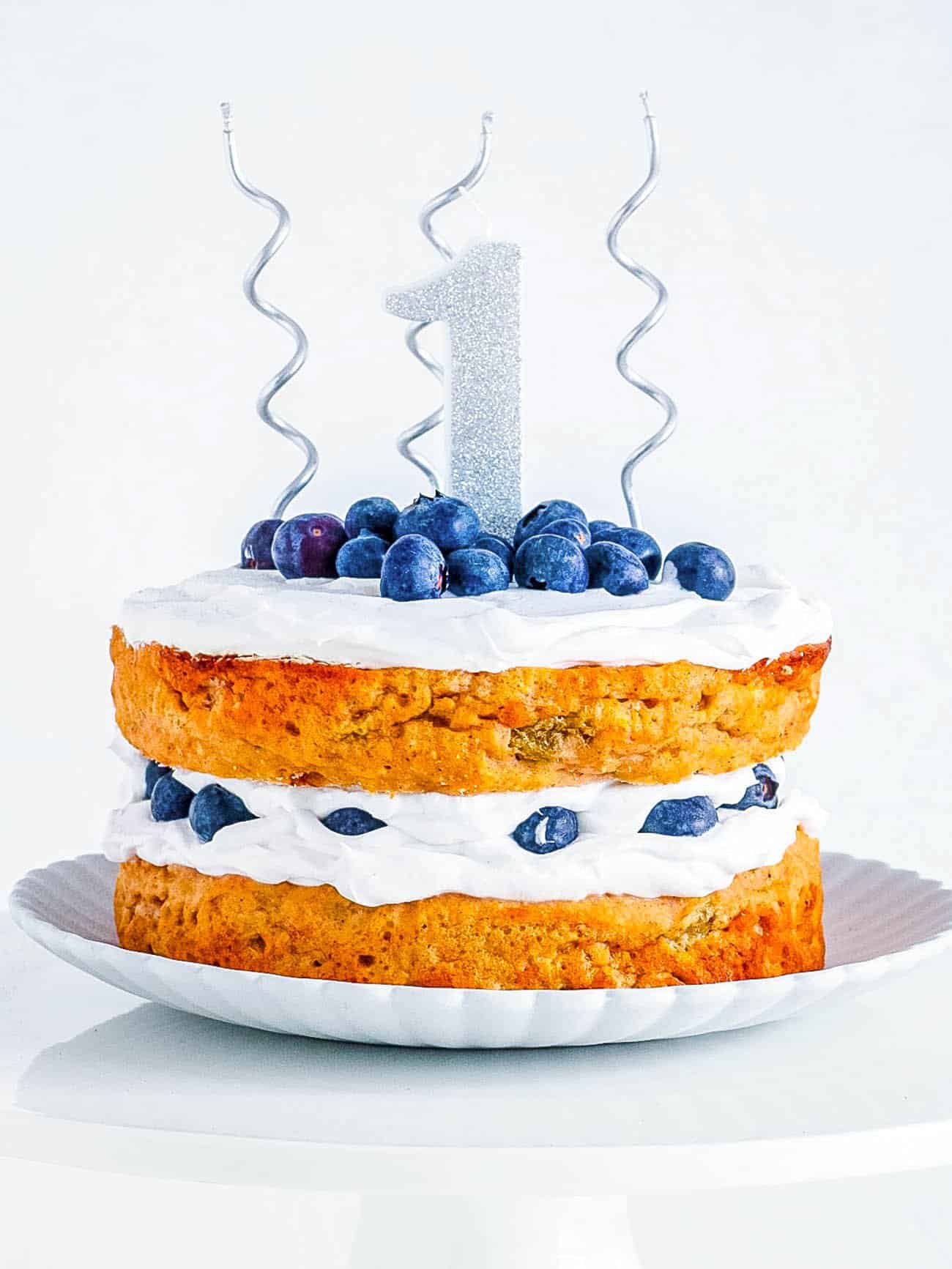 This easy healthy smash cake is made with wholesome ingredients, and it's refined sugar-free! It's the perfect pick for your baby's first birthday celebration. Layered with coconut cream frosting and fresh blueberries, it is vegan, nut-free, egg-free, common allergen friendly, and dairy-free (with a an easy gluten-free option). It's a delicious yet nutritious cake for your baby to dig into and enjoy!
When I was planning for my kids' first birthday celebrations I was hesitant to buy a store-bought traditional cake, mainly because most store bought cakes are full of artificial ingredients and loaded with sugar!
My kids had also never had sugar prior to their first birthday (with the exception of foods sweetened with real fruit) so I really wanted to prepare them a healthier cake that tasted just as good as a typical birthday cake!
So I set to work creating a baby smash cake recipe that is fun, beautiful, festive, egg-free, and common allergy-friendly. What resulted is a light, fluffy, and naturally sweetened vegan smash cake recipe that contains no eggs, dairy, or nuts! It is as easy to make as it is baby friendly!
This healthy 1st birthday cake recipe was a huge hit with both my kids! This fun tradition can still be upheld with a healthy cake that baby will love!
🎂 What Is A Smash Cake?
A smash cake is a small cake that functions as baby's first birthday cake. It is made for a baby alone to play with, mash, and eat. It is often no larger than 6 inches in diameter.
Of course, your baby won't eat the whole cake, but they will have tons of fun playing with the cake in their hands and gobbling up bits and pieces. Leftovers are often enjoyed by family members who don't mind eating a smashed cake!
👩🏽‍🍳 Why You'll Love This Healthy Smash Cake Recipe
Allergen-Friendly: If your baby has any food allergies, this egg-free, nut-free, and dairy-free smash cake recipe is for them! Since it is made without any eggs, whole milk, or added sugar, it is also vegan and processed sugar-free.
Easy Recipe: Step aside complicated cake recipes! This blueberry smash cake recipe is made without any advanced techniques or exotic ingredients. It's even great for beginner bakers!
Nutritious and Delicious: Featuring whole wheat flour, mashed bananas, and applesauce, this is definitely a healthy smash cake for your 1 year old, while having a naturally-sweet flavor both kids and adults will enjoy!
Impressive and Beautiful: With whipped coconut cream, vibrant blueberries, your candles and other decorations of choice, this cake will definitely be a highlight of your baby's first birthday party! It will also look great in all of those 1st birthday smash cake photos you're bound to take 🙂 It really is the best healthy smash cake recipe for baby!
Latest Recipe Video!
🥘 Ingredients
This baby friendly cake smash calls for simple ingredients easily found at most grocery stores! Here's what you need: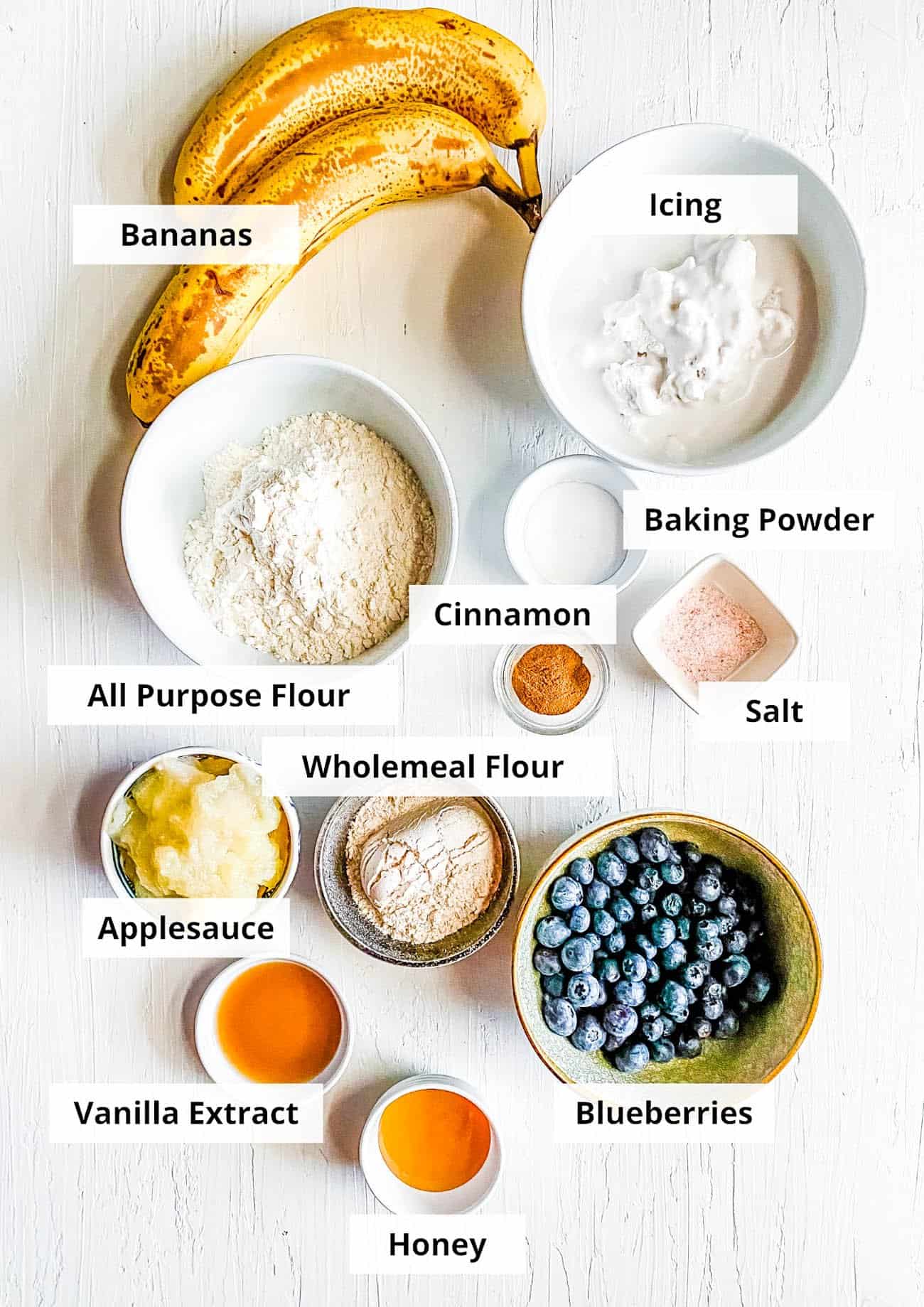 For The Cake
Flour: This vegan cake for baby is made with a combination of whole wheat flour and all-purpose flour. We add in the whole wheat flour for more fiber and whole grains. But since whole wheat flour is typically more nutty and dense, adding in some all-purpose flour makes the cake lighter and fluffier.
Ground Cinnamon: Gives the cake a warm spiced flavor.
Ripe Banana: The riper the banana, the better! This banana smash cake will be the best when using super spotty or brown bananas, as the natural sugars in the bananas give the cake moisture and sweetness.
Applesauce: Applesauce is a replacement for oil, which makes this cake oil free while still giving the cake moisture and a fluffy texture. Use unsweetened applesauce for a processed sugar-free smash cake!
Baking Powder And Salt: Helps this vegan baby cake recipe to rise and give it structure without the need for the egg.
For The Frosting
This frosting recipe is simple and dairy-free; it truly is a healthy frosting for your baby's cake! It resembles a cream cheese frosting in texture, but it's made with coconut cream.
Coconut Cream: Refrigerate a 15 ounce can of full-fat coconut cream overnight. The cream will rise and solidify at the top of the can. When you're ready to prepare this healthy frosting for baby, carefully scrape the cream from the top, leaving the water that has sunk to the bottom. Try to get as much cream without the water as possible. Make sure to buy coconut cream, not coconut milk.
Agave Syrup: You only need a little sugar to lightly sweeten the coconut cream frosting, and we chose agave for a refined sugar free option. However, you can leave it out for a completely sugar-free cake if you prefer.
Vanilla Extract: Gives the birthday smash cake frosting a vanilla flavor.
🍲 Ingredient Substitutions
Flour: If you'd rather not use all-purpose flour in your baby's first cake, you can make it with all whole wheat flour or oat flour. The banana cake will just be more dense.
Applesauce: If you do not have applesauce, melted coconut oil can substitute for it.
Agave Syrup: Pure maple syrup can work in place of the agave.
🔪 How To Make A Smash Cake
For the full recipe instructions and ingredient measurements for this perfect smash cake recipe, see the recipe card at the bottom of the post.
Making The Cake
Prepare Oven And Round Cake Pans: Preheat the oven to 360 degrees F / 180 C. Line the bottom of two 6 inch pans with parchment paper.
Whisk The Dry Ingredients Together: In a medium mixing bowl or electric mixer, whisk both flours, cinnamon, baking powder, and salt together. Set aside.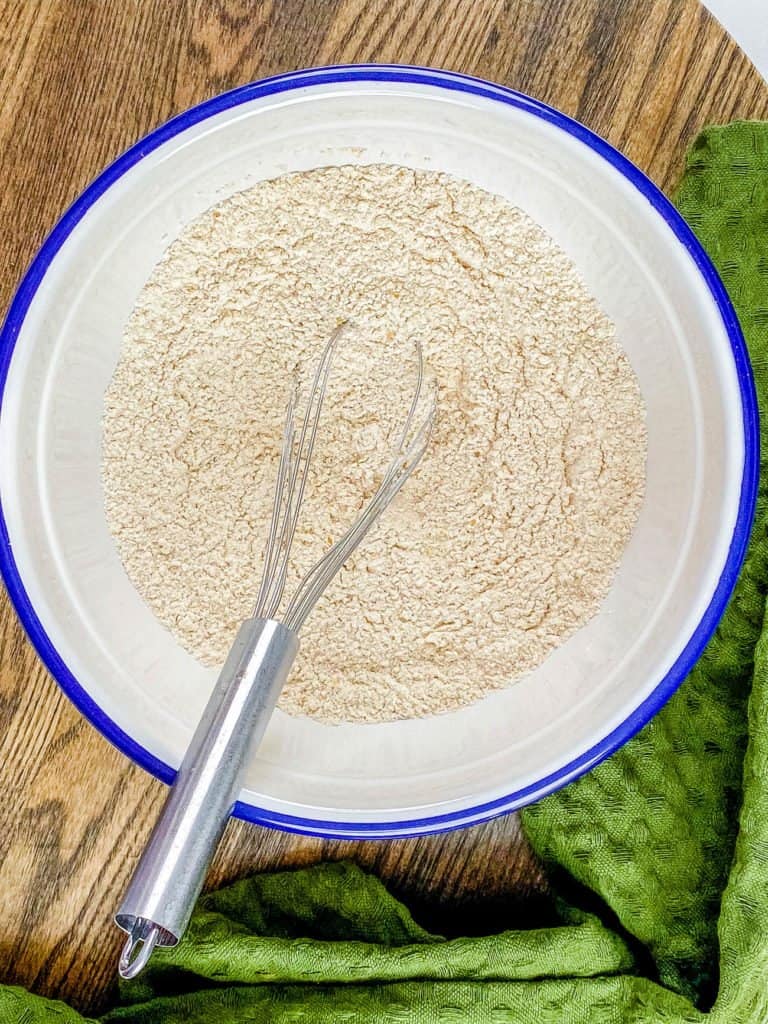 Whisk The Wet Ingredients Together: In a separate mixing bowl whisk together the mashed banana, applesauce, and vanilla extract.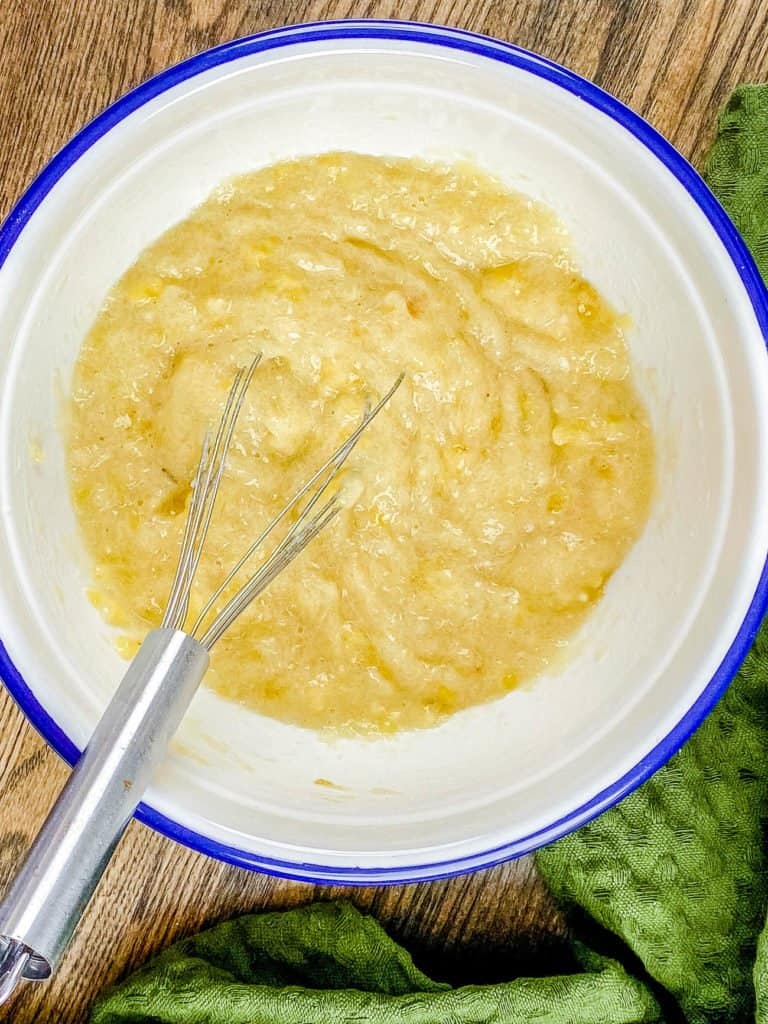 Fold Wet Ingredients Into Dry Ingredients: Add the banana mixture to the dry ingredients and fold together. Do not overmix.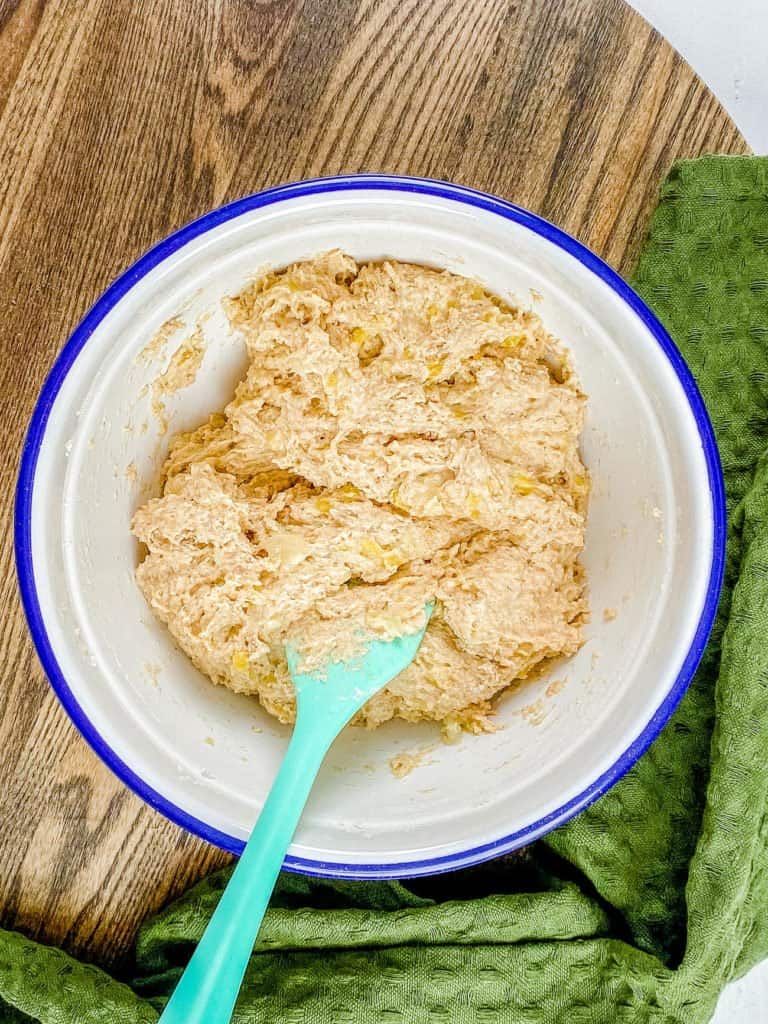 Add Batter To The 6-Inch Cake Pans: Pour the batter into the prepared tins. Smooth out the top of the cake batter.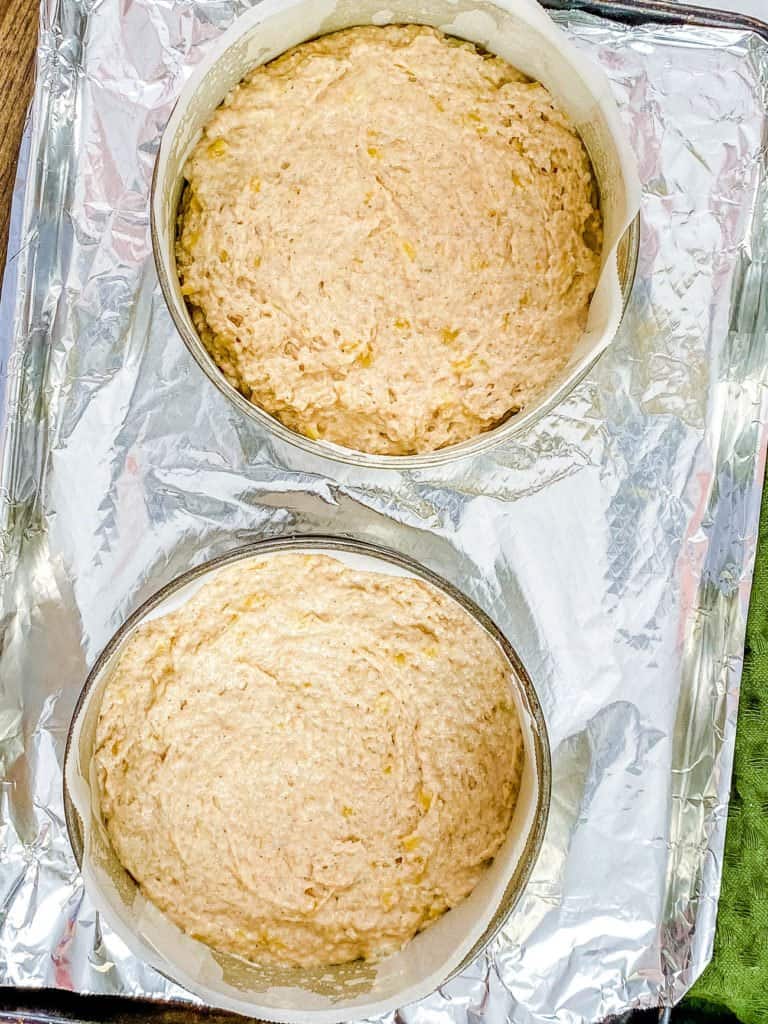 Bake for 25-30 minutes or until an inserted toothpick comes out clean.
Cool The Cakes: Remove the cakes from the oven. Cool in the cake pans for 5 minutes before removing to a wire cooling rack and cooling completely to room temperature.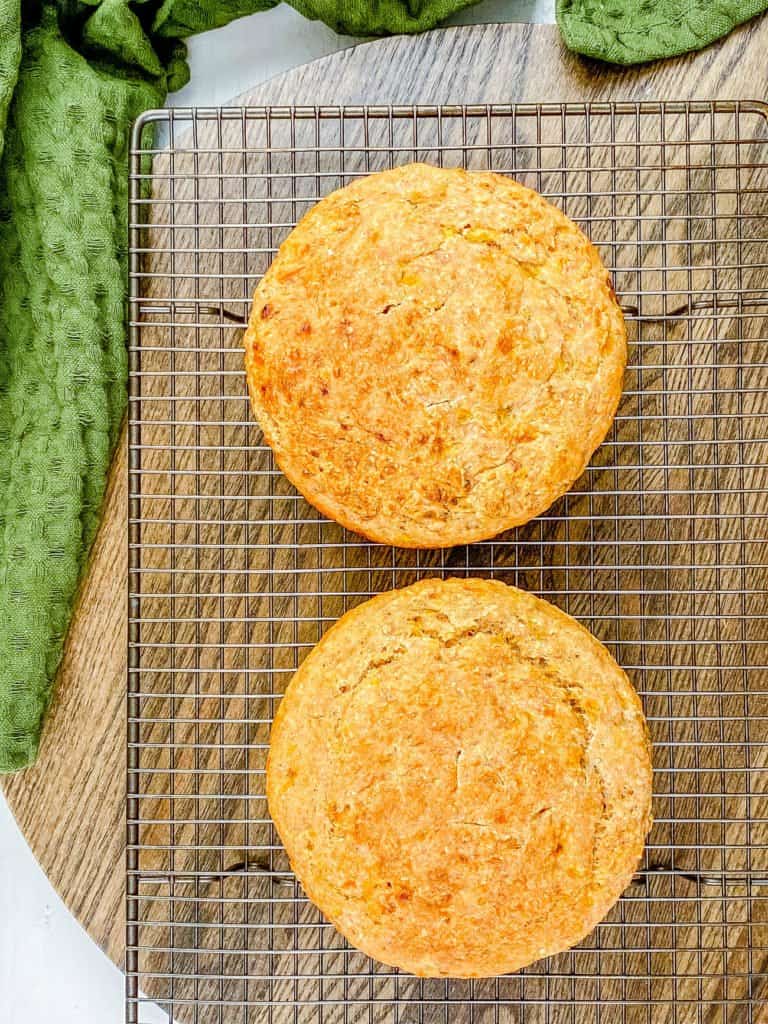 Making The Smash Cake Frosting
Prepare Frosting: While the eggless smash cake is cooling, make the sugar free coconut cream frosting for baby. Scoop the chilled coconut cream from the can, leaving the water that has sunk to the bottom.
Whip Coconut Cream: Using a hand mixer, whip the coconut cream for about 5-8 minutes, or until firm peaks have formed and it resembles whipped cream.
Add Flavor: Add agave (if using) and vanilla extract to the whipped coconut cream. (Omit agave for a sugar free frosting for baby). Whip in for another 2-3 minutes.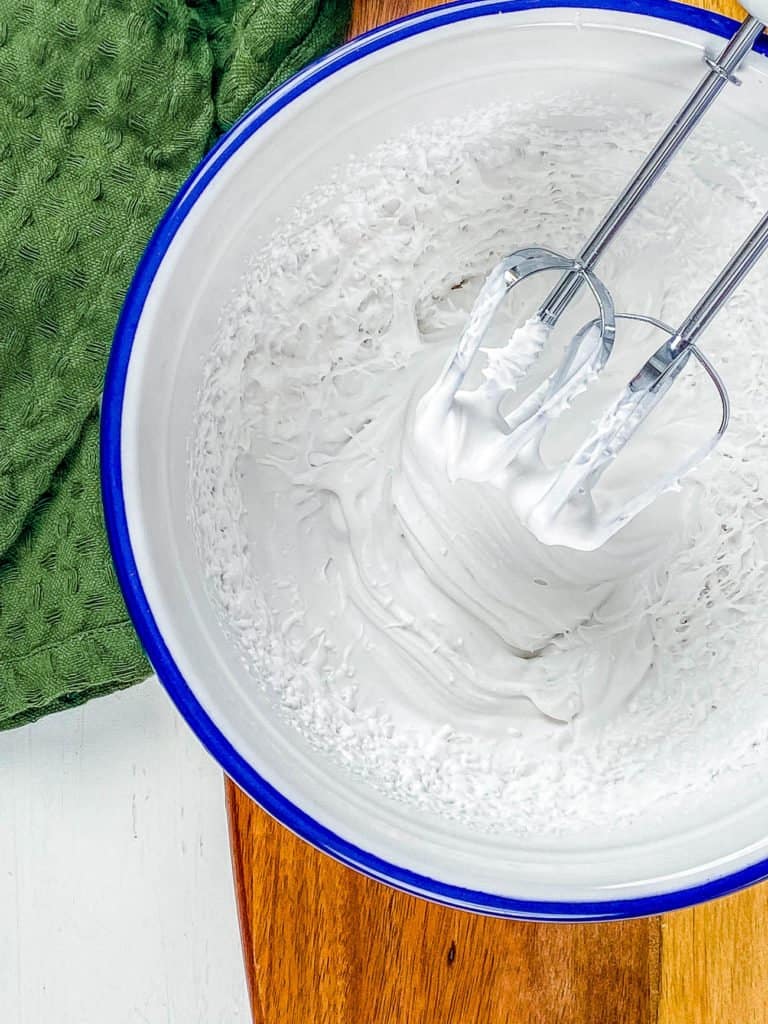 Assembling And Decorating The Cakes
Level Cakes: Level the first birthday smash cake layers by slicing the tops off.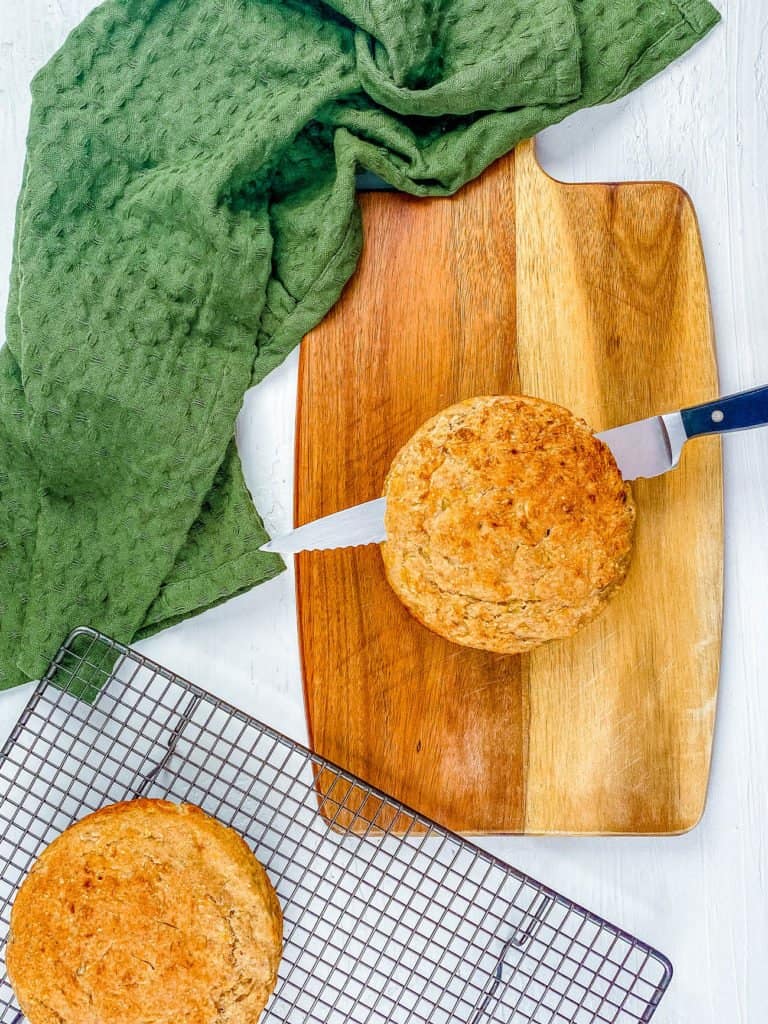 Frost: Add several dollops of icing to one layer of cake, spread in an even layer.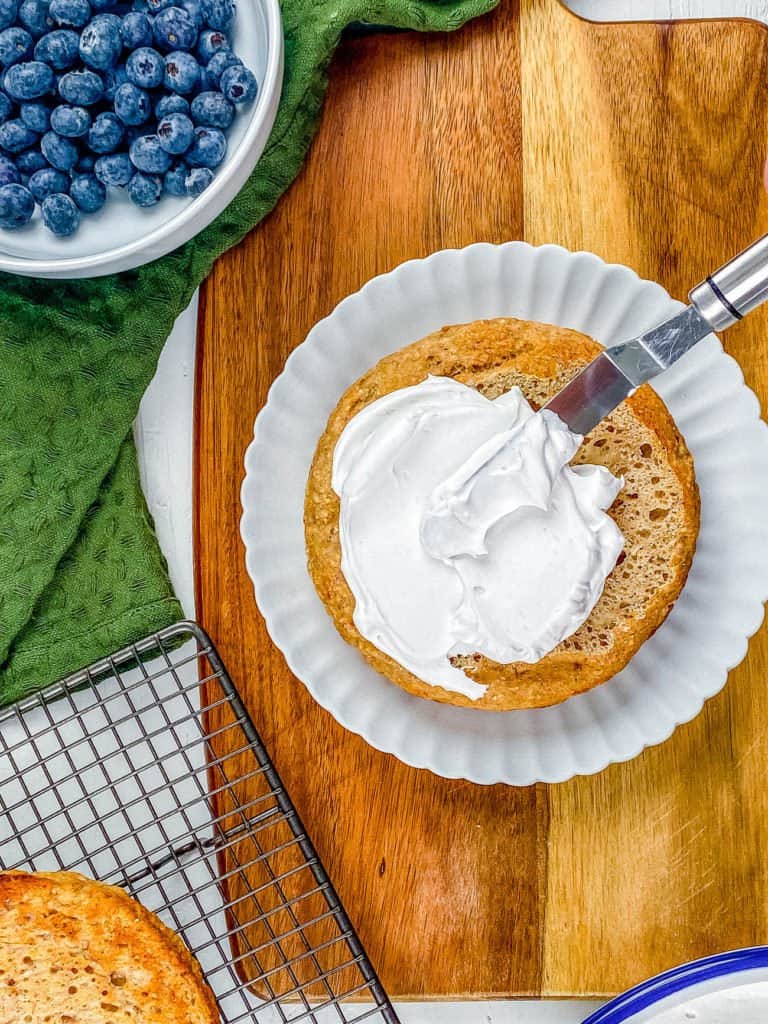 Layer Cakes: Arrange blueberries and top of the frosted cake. Top with the other cake layer.
Also Read : Maha Mrityunjaya Mantra: Meaning, Benefits and How to Chant • Yoga Basics
Frost And Decorate The Layer Cake: Top the applesauce smash cake with the rest of the icing and sprinkle with the remaining blueberries.
Serve: Give this small frosted cake to your baby to smash or keep it chilled in the refrigerator up until serving!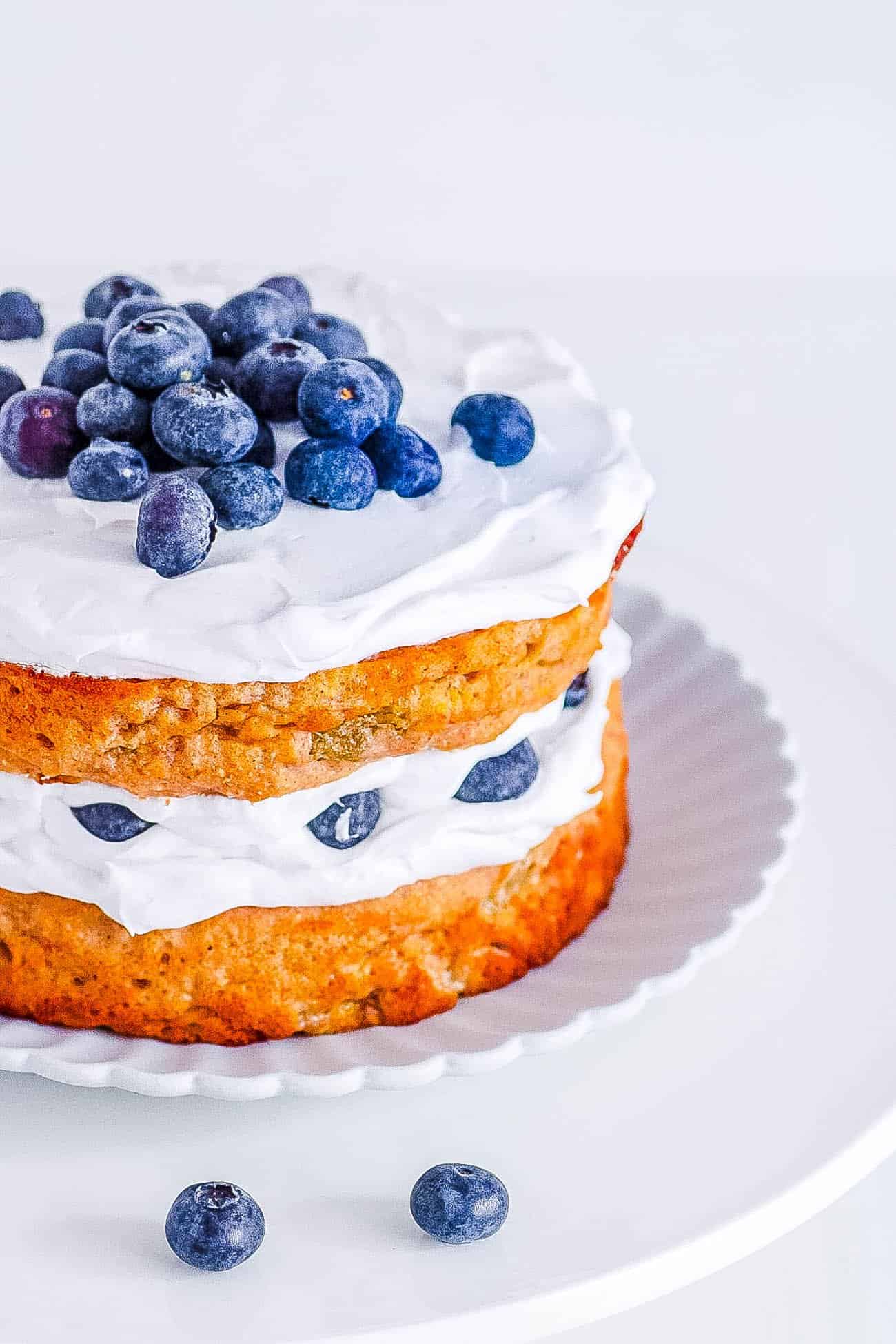 💭 Expert Tips
Combining Ingredients: Whisk the wet ingredients and dry ingredients together in separate bowls before mixing the two ingredients together.
Stand Mixer Directions: This homemade healthy smash cake recipe can also be made in the bowl of a stand mixer. To do so, blend the wet ingredients together in a stand mixer fitted with the paddle attachment. After whisking the dry ingredients together in a separate large bowl, add them to the wet ingredients and blend in until no streaks of flour remain. Scrape down the sides of the bowl as needed.
Don't Overmix: Gently fold the wet ingredients into the dry ingredients and don't overmix beyond when the streaks of flour just disappear from the batter. Mixing any further will result in a dense, chewy, or rubbery cake.
Lining the Cake Pans: Line the baking pans with parchment paper so that the cakes easily release from them.
Cake Doneness: Keep an eye on this vegan first birthday cake when it's baking in the oven near the end of the baking time. Pull it out when it begins to brown, and when a toothpick inserted into the center of the cake comes out clean.
Frosting Tips: Cool the cakes completely before frosting. Otherwise, the frosting will melt on the cakes.
Don't Use Boxed Cake Mix: While you can technically substitute boxed cake mix in for the flour, I wouldn't recommend it because it really is so easy to make your own healthy smash cake at home! Also, boxed cake mix won't be as healthy or flavorful as this diy smash cake recipe.
Refrigerate the Cake Until Serving: The coconut frosting will stay the most stable at cool temperatures, so keep this vegan first birthday cake refrigerated until ready to serve.
📖 Variations
Gluten-Free Smash Cake: To make this egg-free smash cake without gluten, substitute 1 1/2 cup of your favorite 1-to-1 gluten-free flour mix for the whole wheat and all-purpose flour.
Fluffier Texture: If your child doesn't have any egg allergies, 2 large eggs can substitute for the applesauce, resulting in a lighter cake texture.
Banana Cake Smash: For a more banana-forward flavor, use additional pureed banana instead of the applesauce. Additionally, you can decorate this special cake with sliced bananas instead of the blueberries. Feel free too also add a dash of cinnamon and nutmeg into the batter to get that banana bread feel!
For Older Kids: This perfect cake also doubles as a healthy cake for toddlers, or slightly older kids, because it really is so tasty that kids of all ages will enjoy it! For older kids, let them customize the toppings and fillings as much as they like (and of course, they likely won't be smashing it before eating it!)
Mixed Berry Smash Cake: You can use any fresh berries of choice in place of the blueberries. Just avoid using frozen berries.
Mixed Fruit: For another baby cake smash idea, you can also decorate this healthy smash cake with diced apples, pears, peaches, cherries, or mandarin oranges.
Frosting Variations: Try strawberry or chocolate frosting instead of vanilla! For a chocolate flavor cake frosting, mix 1 tablespoon unsweetened cocoa powder with the coconut cream and agave. For strawberry frosting, take freeze dried strawberries, grind them into a powder, and mix with the coconut cream and agave. You can also scrap the frosting altogether and replace it with your favorite fruit puree or nut butter like peanut butter or almond butter (assuming your baby doesn't have any nut allergies!)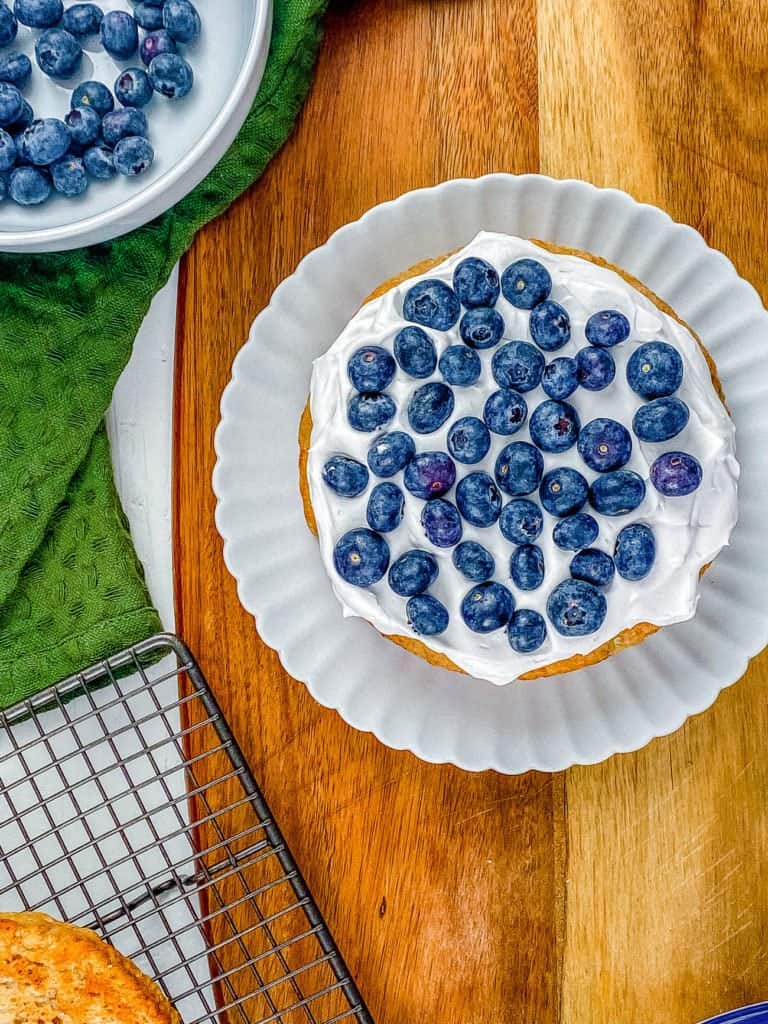 🫙 Storage And Freezing Directions
In The Fridge: All the yummy smash cake leftovers can be stored in an airtight container in the refrigerator for 4-5 days.
Freezing: Un-iced baked layers can be frozen in a freezer-safe container for 2-3 months, separated with parchment paper or plastic wrap. Defrost the cakes at room temperature for 2-3 hours and then frost according to the recipe directions.
❓Recipe FAQs
Are smash cakes safe for babies?
While many store-bought cakes likely have artificial colors and are loaded with sugar or possibly artificial sweeteners, a healthy homemade smash cake such as this one is perfectly safe for your little one to enjoy.
It's the perfect size for a little baby, and most of the time, your little one spends more time playing with this baby safe cake than actually eating the cake. But nevertheless, if your baby does eat this low sugar smash cake, it is full of nutritious ingredients you don't have to worry about!
What makes a smash cake different from a regular cake?
A smash cake is made just for the baby. The baby can smash, smoosh, pound, and play with the cake while tasting bits and pieces. Many easy smash cake recipes are lower in sugar and additives than usual cakes, since it is often a first dessert for baby. Regular cakes, on the other hand, are usually sweeter, larger, and made primarily with consumption in mind.
What can I use instead of a smash cake?
You can make this healthy first birthday cake recipe into cupcakes, or you can provide them with a different type of naturally sweet treat such as a watermelon cake, mixed berries, pancakes, waffles, or mini muffins or cupcakes, or healthy banana bread.
What is the point of a smash cake?
Smash cakes are meant for a baby to play with, smash, enjoy, and eat bits and pieces of at their first birthday party. If there are any leftovers, adults and family can also enjoy the cake, but the primarily purpose of the smash cake is for the baby to interact and play with.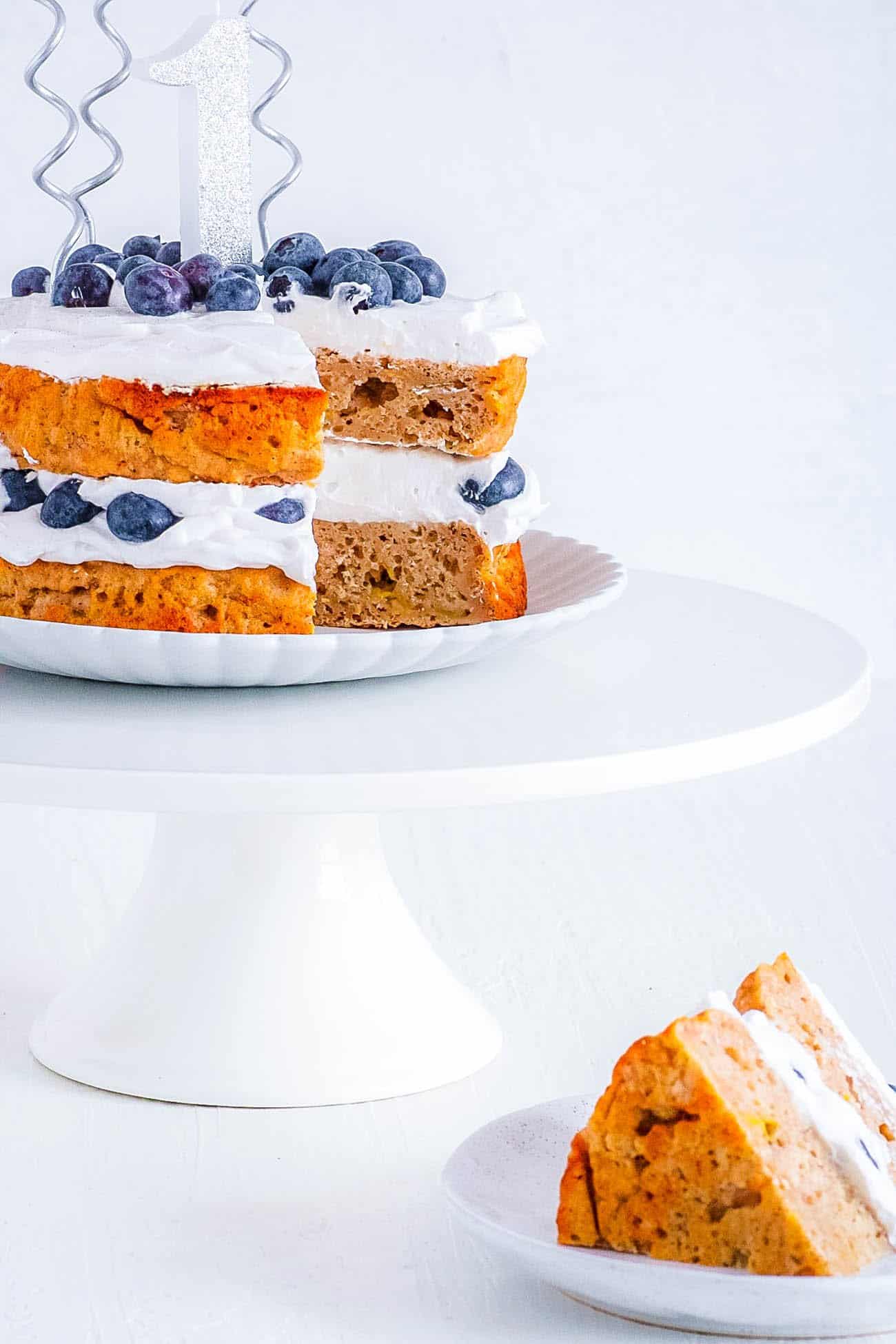 🍎 More Healthy Baby Recipes!
Love this plant based kid-friendly recipe? Please leave a 5-star rating 🌟 in the recipe below and/or a review in the comments section further down the page!
You can also FOLLOW ME on FACEBOOK, TWITTER, INSTAGRAM, and PINTEREST to see more delicious, healthy, family-friendly food, and if you have any questions, I'm here to help!
📋 Recipe Card
Healthy Smash Cake (Vegan & Dairy-Free!)
This healthy smash cake is made with wholesome ingredients, and it's refined sugar-free! It's the perfect pick for your baby's first birthday celebration. Layered with coconut cream and blueberries, it is vegan, nut-free, egg-free, and dairy-free (with a an easy gluten-free option).
Servings: 12 people
Calories: 210kcal
Gluten-Free: To make this cake gluten free, substitute 1 1/2 cups of 1-to-1 gluten-free flour for the all-purpose and whole wheat flour.
Texture: This cake is quite dense. You can substitute the apple sauce for 2 eggs if you prefer a fluffier cake. Doing so will make this cake no longer vegan, however.
Berries: Switch up the cake by using any fresh berries of choice. Avoid from using frozen berries, however.
Storage: Smash cake leftovers can be stored in an airtight container in the refrigerator for 4-5 days.
Freezing: Un-iced cake layers can be frozen in a freezer-safe container for 2-3 months. Defrost the cakes at room temperature for 2-3 hours and then frost according to the recipe directions.
Live Cartoon Character For Birthday Party | Delhi | NCR | JINZZY Customer ❤️