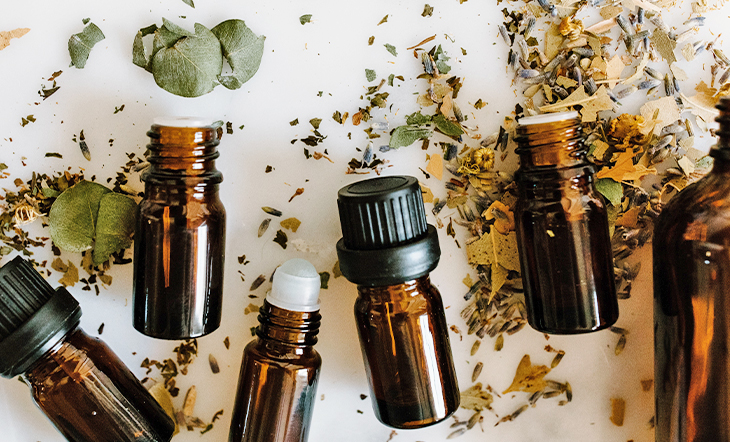 Although the use of essential oils has evolved over time, oils extracted from aromatic plants have been used for centuries as part of religious ceremonies, cosmetics, medicine, and more.
There are so many uses for essential oils! In the winter, they can be used to reduce stress, feel energized, and enhance the cozy vibes with a natural aroma.
Below are a few winter essential oils that are perfect for the cool, dry winter months. These winter oils can help you combat the dark, cold days by invoking feelings of energy, relaxation, or groundedness – depending on what you may need on any given day.
Always make sure you use high quality essential oils, research the brand and extraction methods, and understand any cautions before use. For example, some winter essential oils should not be used around children, pets, or if you're pregnant.
Essential oils really can be used for so much! Here are 85 Ways to Use Essential Oils That Might Surprise You
Here Are 5 Go-To Winter Essential Oils for All Your Cold Weather Needs:
Now, let's discuss some popular essential oils to use during the winter! This article will focus on 5 common, popular oils that are great for those cold and dark winter months.
But that's just the tip of the essential oil iceberg! There are many wonderful essential oils out there, so consider this a great starting point to deepen your knowledge and expand your understanding.
Also Read : Easy Crockpot Vegetable Soup
1. Lavender
Lavender is an all-purpose essential oil. With a fresh floral and sweet scent, it's the best oil to reach for when you're feeling stressed or overwhelmed.
It can be combined with water in a spray bottle to freshen sheets and pillows. If you have trouble relaxing your mind before bed, add lavender essential oil to a diffuser, close your eyes and take a few breaths in bed before you fall asleep.
If you're new to essential oils, lavender is the perfect starting point. It also makes a great gift for anyone interested in using essential oils!
2. Eucalyptus
Eucalyptus is the ultimate winter essential oil. It's derived from the leaf of evergreen trees that can grow up to 50 feet tall. This winter oil has a soothing, cooling vapor.
The aromatic benefits of eucalyptus oil can be obtained when diffused. During the cold winter months when you come down with a cold or a stuffy nose, this winter oil can help promote feelings of relaxation and relief.
Pro tip: add a few drops of eucalytpus essential oil to your hot shower or bath for a soothing aromatherapy experience. You're welcome 😉
3. Sandalwood
Sandalwood trees can retain their fragrance for several decades. So, this winter essential oil has a sweet woody aroma. It was traditionally used for enhancing meditation. Sandalwood is considered sacred. It is a very earthy and grounding essential oil for aromatherapy.
You can use sandalwood essential oil in a diffuser to lessen tension and help focus the mind before a yoga session or during meditation, and it can also be diffused in your bedroom after a long day to promote a calm restful night of sleep.
4. Orange
Orange essential oil is a fresh sweet citrusy oil perfect for those times when you need a quick energy boost! During the cold winter months, a bright energizing oil like orange will get you motivated.
Put a few drops of orange essential oil is in a diffuser while you're getting ready for the day. It will fill the air with an uplifting aroma that's perfect for the chilly dark mornings when you need to get yourself up and ready for work.
(Note: If you ever apply orange essential oil topically, avoid direct sunlight for up to 12 hours after using on the skin.)
5. Rosemary
The flavor of rosemary is often paired with foods like chicken, turkey, or roasted veggies and we mostly think of it as an ingredient to cook with. However, the uses and benefits of rosemary go beyond just flavoring in the kitchen.
With an uplifting woodsy scent, the rosemary plant was considered sacred by many civilizations.
While more research is needed to confirm its effectiveness, rosemary essential oil is thought to stimulate hair growth and improve the strength of your hair. When this winter essential oil is combined with coconut oil, it's great for treating a dry scalp during the cold winter months.
10 Proven Tips to Promote Healthy Hair Growth
Avoid using rosemary essential oil during pregnancy and around children.
A Short Overview of Essential Oils
An essential oil is a potent, concentrated compound derived from different parts of a plant: the leaves, bark, stems, roots, or rind. There are many uses for essential oils. From household and cleaning, to aromatherapy and topical uses, for beauty, skincare, and more!
Many people choose to use essential oils as a natural alternative to the harsh and often toxic chemicals found in cleaning and beauty products. They are a great way to live a more natural and healthy lifestyle. Essential oils are commonly used in conjunction with massage, and also in a meditation or yoga practice.
Essential oils are perhaps most commonly used for aromatherapy. Aromatherapy is using plant aromas and other aromatic essences for physical and stress relief. You can use an essential oil diffuser or simply rub a few drops between your palms and inhale the scent deeply.
A Fact-Based Guide to Essential Oils: Expert Jennifer Pansa Rohr Shares Everything You Need to Know
The Takeaway on Winter Essential Oils
These are just five great winter essential oils, but there are so many more! The mood enhancing benefits of essential oils are numerous. Whether you need to unwind after a stressful busy day, or get yourself energized in the morning, there's an oil for that!
By incorporating a few winter oils into your daily winter routine, you can quickly feel the uplifting effects they have to offer. Say goodbye to those winter blues and hello to less stress and more energy!
Essential oils can cause possible skin sensitivity. Avoid contact with eyes, inner ears, and sensitive areas. If you are pregnant, nursing, or under a doctors care, consult your physician.
This article and all included information is not intended as medical advice and does not treat or diagnose. Please consult your doctor for any health-related questions or concerns.
This article has been read 1K+ times. Feelin' the love!