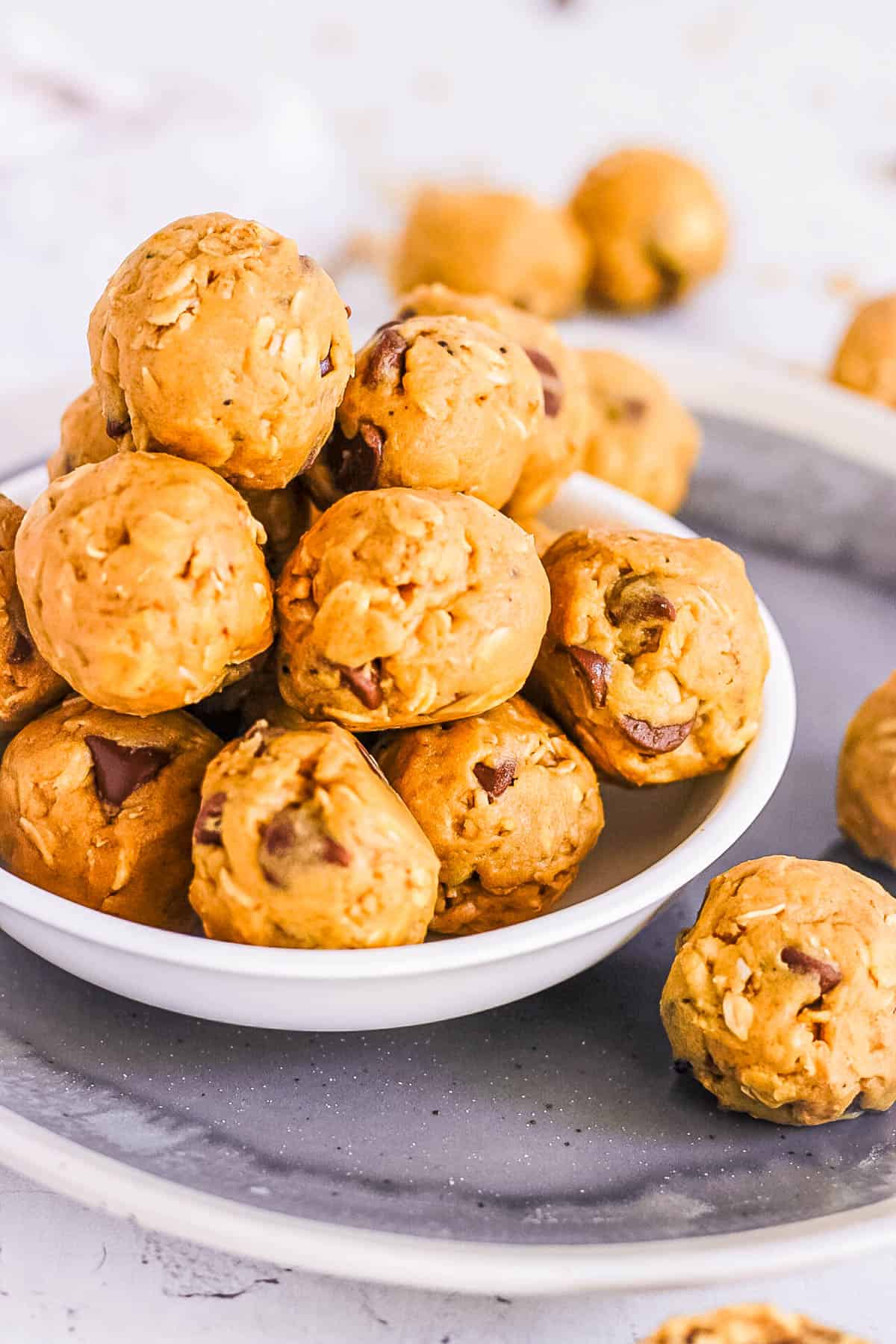 This post may contain affiliate links. As an Amazon Associate, I earn from qualifying purchases. Please read my disclosure.

These delicious vegan protein balls are the perfect healthy snack for a boost of energy and nutrition. Plus, they have no refined sugar and happen to be gluten free! The best part? This easy recipe comes together in only 10 minutes, and has 5 grams of protein per ball!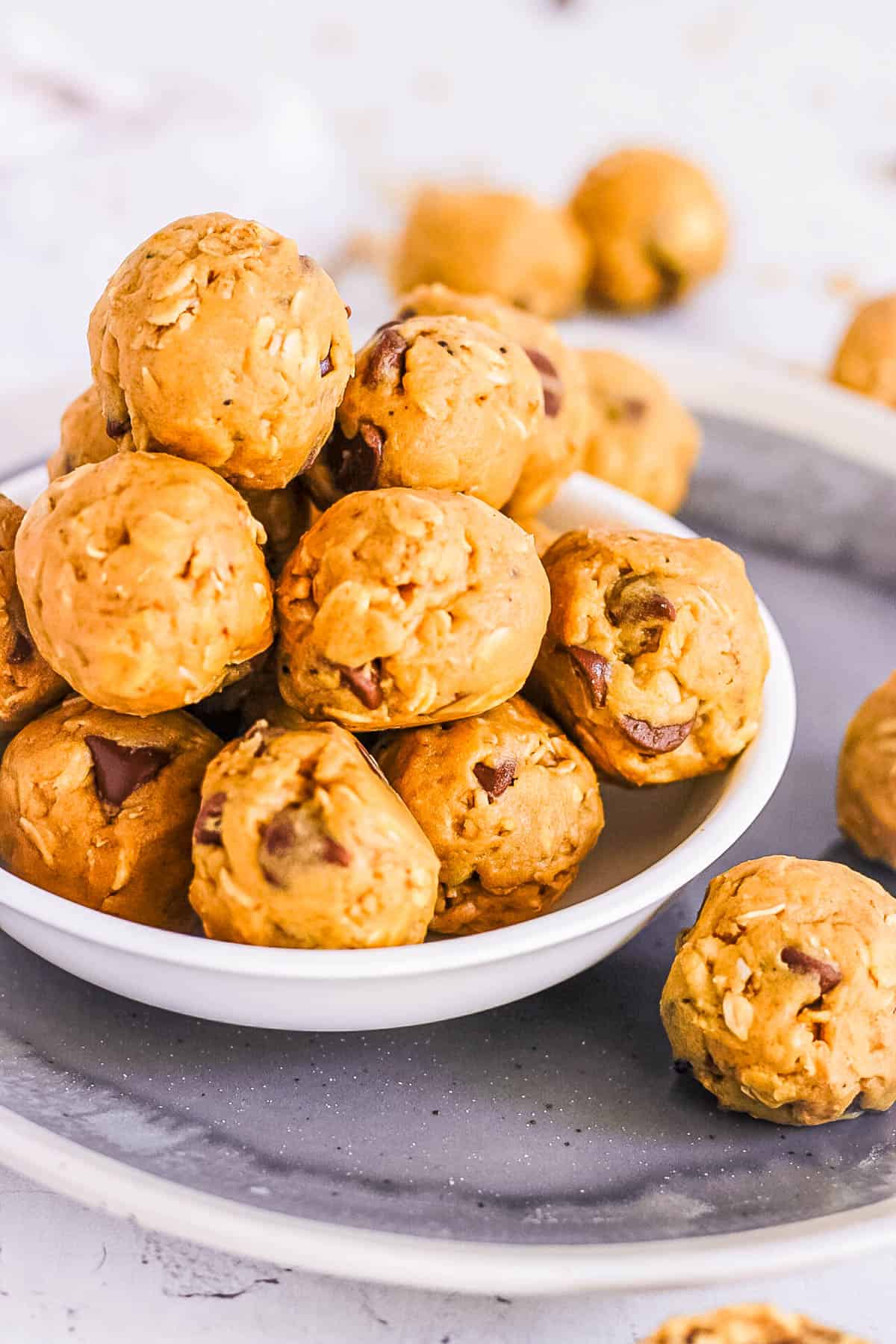 I just can't get enough of these no bake energy balls! They have all the benefits of being healthy, but also feel decadent and dessert worthy. With that combo of tasty peanut butter and chocolate chips, you will instantly fall in love with this recipe. And it is so easy to make! All of the ingredients mix together in one bowl for minimal clean up time.
With this easy vegan protein balls recipe, I love that I can enjoy them as a healthy post-workout snack or fun dessert to satisfy my sweet tooth, without feeling a major sugar crash. They are also kid-friendly, as a healthier alternative to sugary vegan granola bars. Throw some in their lunch box or pair with fresh fruit for a quick and easy breakfast.
This vegan protein bites recipe is soon to be a favorite of yours! With the simple process plus the amazing flavors, they really are a no brainer. Just keep an eye on them, because they are sure to go quickly in your house!
👩🏽‍🍳 Why You'll Love These Vegan Protein Balls
Nutritious Ingredients: You will get plenty of nutrients with these healthy vegan protein balls thanks to their wholesome ingredients! Not only are they a good source of protein, but they also have healthy fats and fiber to keep you full longer.
Versatile: This vegan protein ball recipe is super customizable and versatile. Have fun trying out different flavor combinations! See ideas down below in a later section!
No Refined Sugar: Most protein ball recipes are basically candy bars and are loaded with sugar. These low sugar vegan protein balls use no refined sugar at all, and have only 6 grams of sugar per ball from the maple syrup.
Kid-Friendly: Kids will love this healthy recipe, and they will even think they're getting a sweet treat! It is also a fun recipe to have kids help make, and they can add in their own favorite additions.
Easy Recipe: These vegan power balls will only take 10 minutes of your time, mixing ingredients together in one bowl and then transferring to a baking tray to refrigerate for 30 minutes. No food processor, blender, or hand mixer is needed for this recipe!
Meal Prep: Make this vegan energy bites recipe as part of your weekly meal prep! You can separate them into individual servings and enjoy them on the go as healthy no bake snacks! Speaking of, these are also fantastic on road trips.
Latest Recipe Video!
🥘 Ingredients
These homemade vegan protein balls are made with simple ingredients! See the recipe card at the bottom of the page for the exact measurements.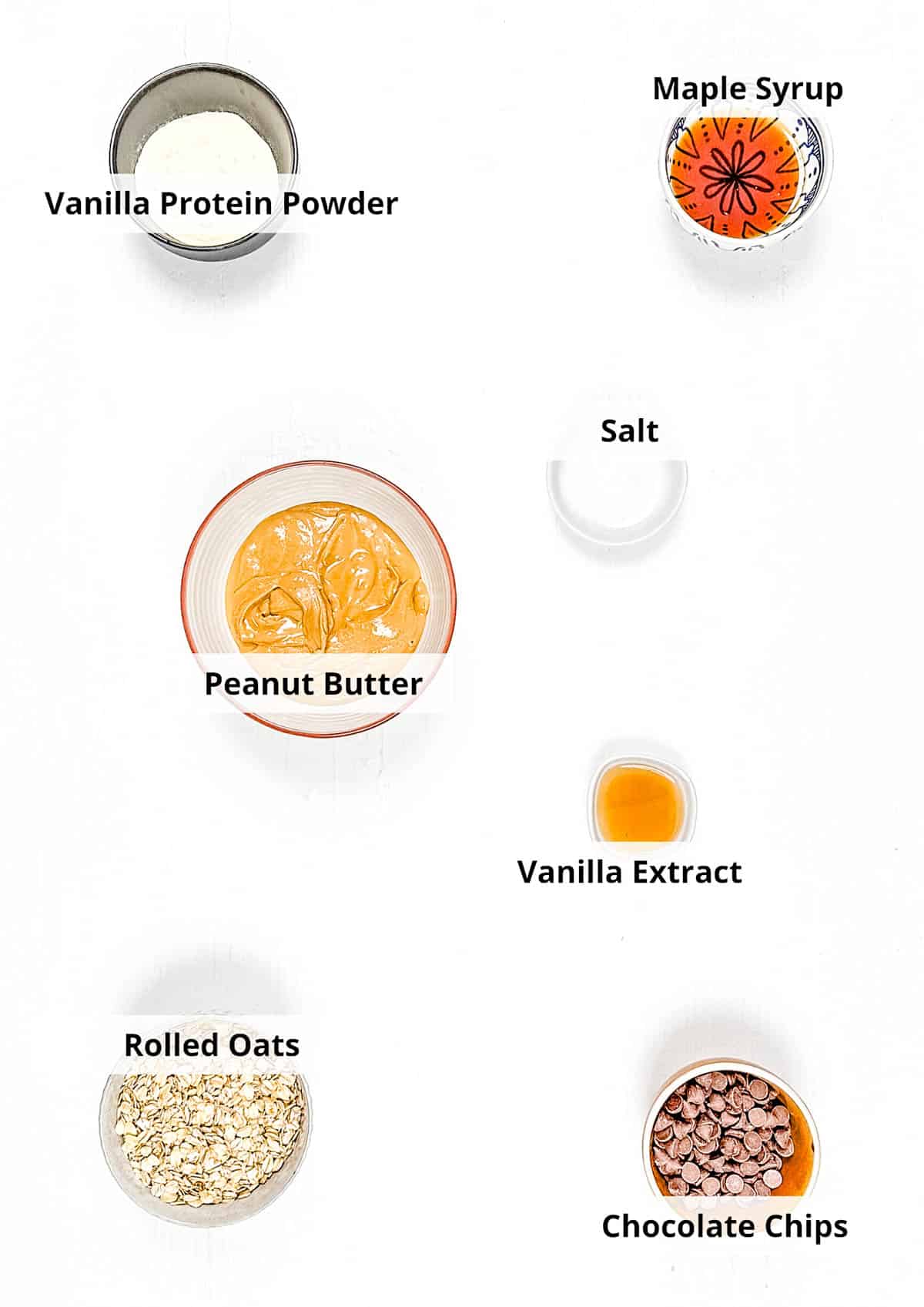 Peanut Butter: Opt for a natural peanut butter where the only ingredient is peanuts, with no added sugars! You can also make homemade peanut butter.
Rolled Oats: To keep this raw protein balls recipe gluten-free, make sure that your rolled oats are certified gluten free.
Maple Syrup: To help bind these vegan energy bites together and add a little sweetness. Use as much or as little as you like!
Vegan Chocolate Chips: Adding in vegan dark chocolate chips elevates this simple recipe. Use regular or mini chocolate chips.
Vanilla Extract & Salt: Both enhance the flavors and sweetness! If your peanut butter has added salt, you may be able to skip this ingredient.
Vegan Vanilla Protein Powder: I suggest trying to find a vanilla vegan protein powder that has at least 20 grams of protein per serving to maximize the protein content in these vegan bliss balls.
🍲 Ingredient Substitutions
Nut Butter: If you aren't a fan of peanut butter, these plant based protein balls are also great with almond butter, cashew butter, hazelnut butter, or even sunflower butter.
Oats: While I prefer rolled oats in this vegan oatmeal energy ball recipe, you can substitute for quick oats too. Steel cut oats may be used but could be difficult to chew.
Sugar: Maple syrup can be substituted in these vegan peanut butter protein balls for any other liquid sweetener like honey, agave, date syrup, or liquid monk fruit.
Plant-Based Protein Powder: If you wanted to use a different protein powder, any type of protein powder you like will do. I prefer to look for a pea protein powder or a pea and rice blend.
🔪 How To Make Vegan Protein Balls
To make these vegan peanut butter energy balls, simply follow along with these step-by-step instructions. You will be pleasantly surprised by how easy this recipe is to follow! Here is how to make these healthy energy bites:
Mix Ingredients: Warm the peanut butter in the microwave for 30 seconds. Transfer the peanut butter to a large mixing bowl along with the rest of the ingredients.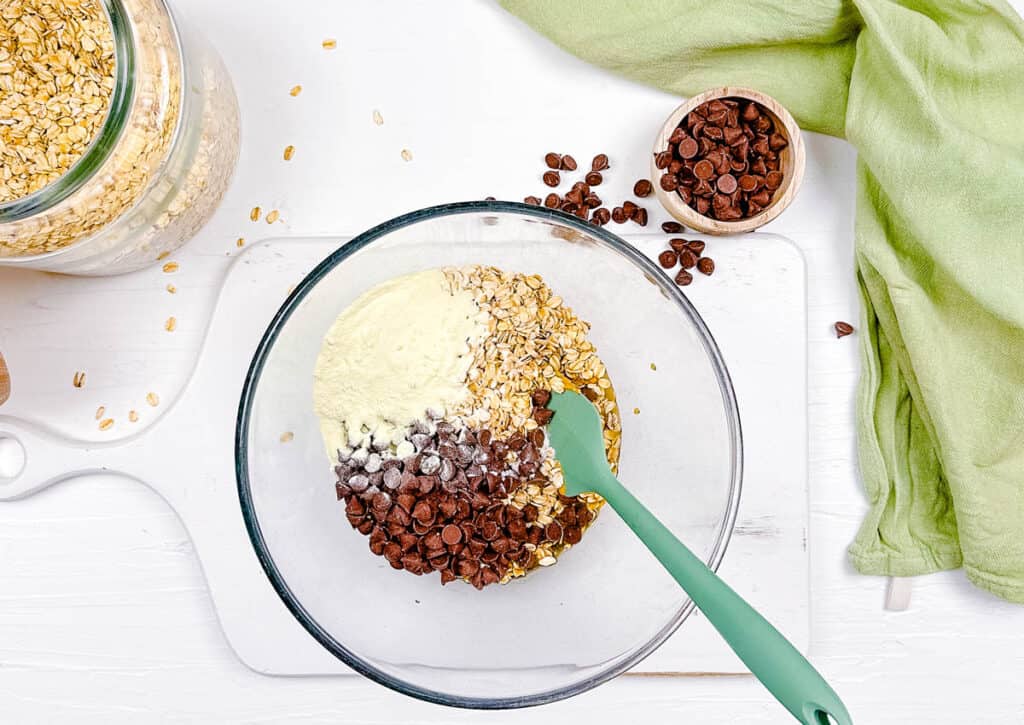 Make Dough: Using a spatula, mix the ingredients to form a cookie dough.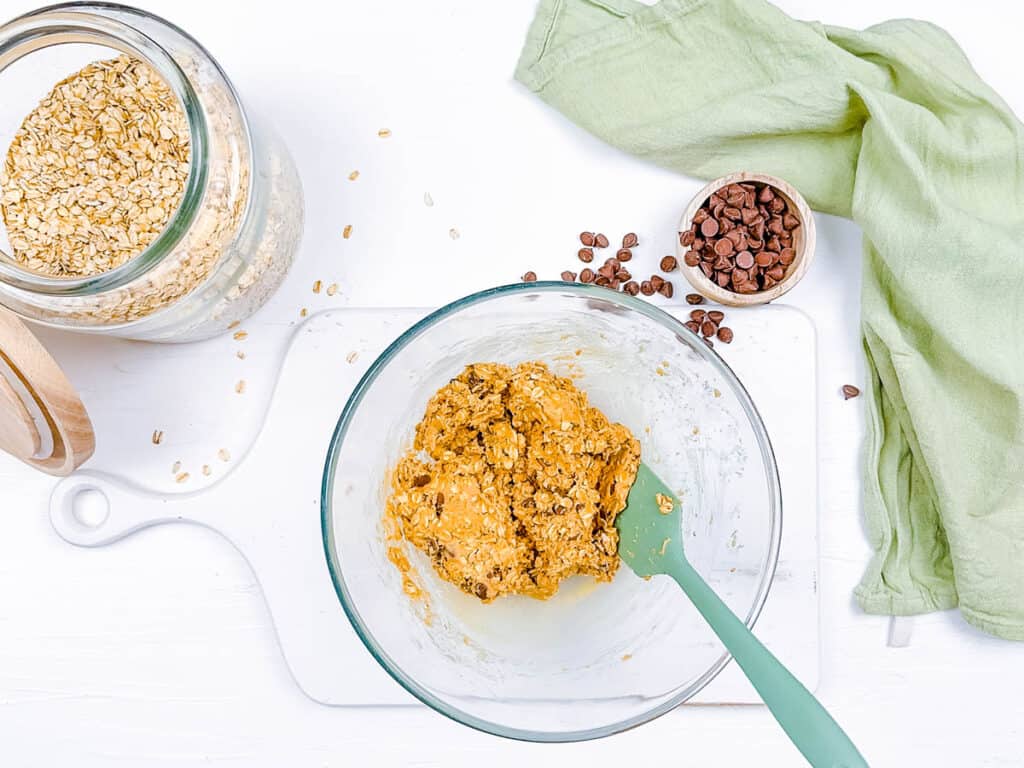 Form Balls: Scoop out a tbsp of the dough. Using clean hands, shape into balls and place on a baking tray lined with baking paper.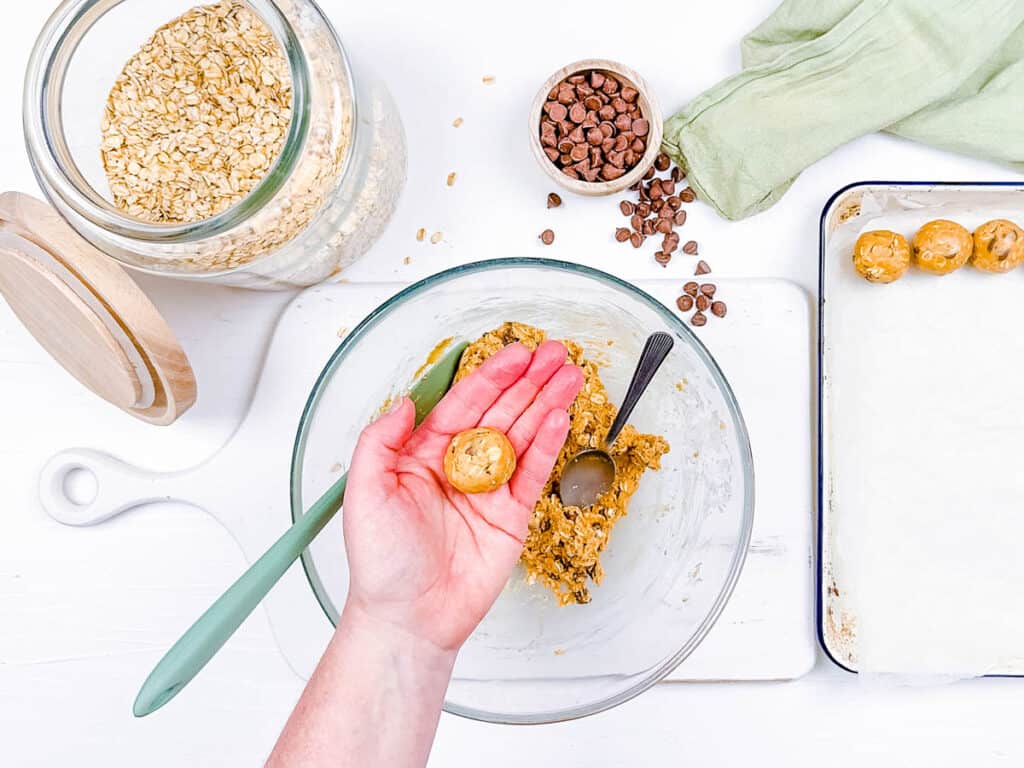 Repeat: Repeat until all of the dough has been shaped into balls. Dough makes about 16 large balls or 20 smaller balls.
Also Read : Bahya Pranayama: Benefits, Tips and Technique • Yoga Basics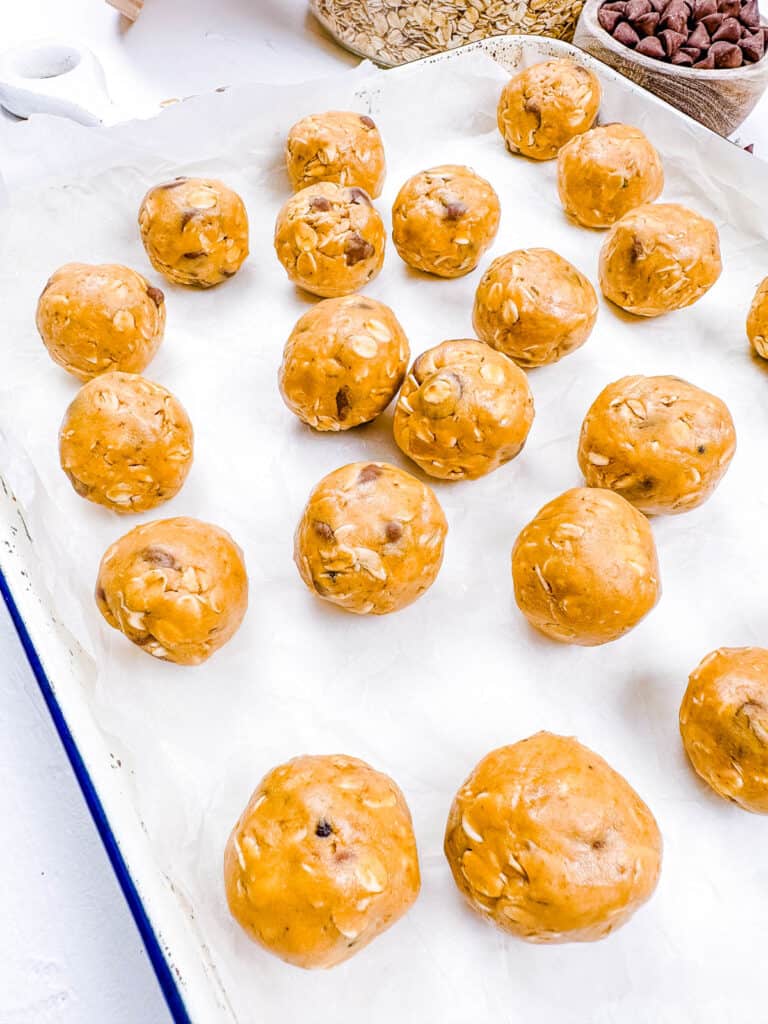 Chill: Refrigerate the vegan energy balls for 30 minutes. Serve and enjoy!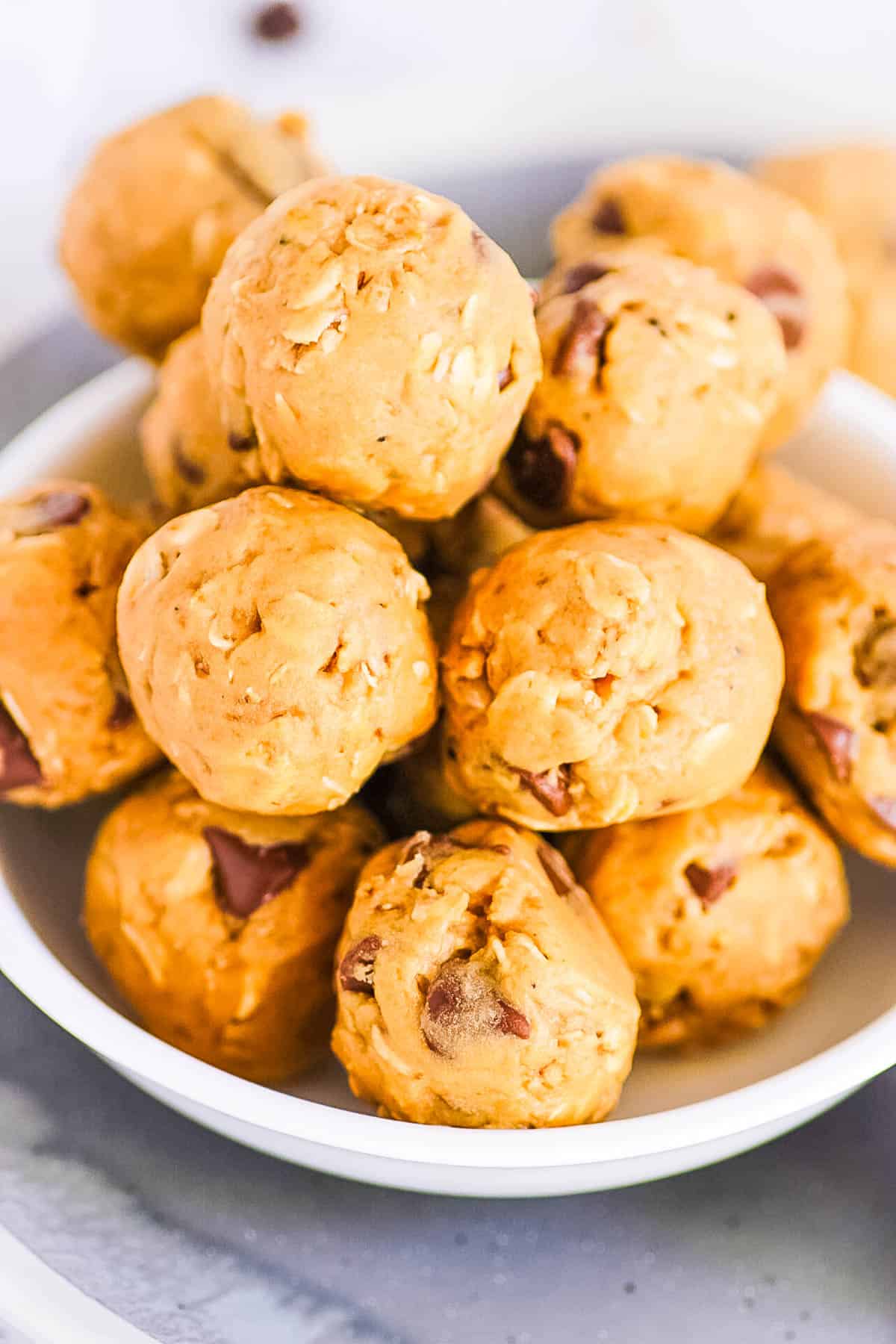 💭 Expert Tips
Even Shaped Balls: Use a small ice cream scoop or a tbsp to scoop out the dough for evenly shaped balls.
Thicken Dough: If you find that your vegan protein ball dough has too much liquid, you can try adding a small amount of oat flour, almond flour, or coconut flour. Alternatively, if it's too dry, you can add a little more nut butter.
📖 Variations
Try Different Mix-Ins: Mix in your favorite dried fruits, nuts, or seeds. I love coconut flakes, hemp seeds, chia seeds, sunflower seeds, ground flax seeds, sesame seeds, vegan white chocolate chips, dried cranberries, chopped raisins, and toasted almond flakes!
Peanut Butter Chocolate Protein Balls: Add in ⅓ cup cocoa powder or cacao powder for a chocolate version of these plant based energy balls! You can also swap the vanilla protein powder for chocolate protein powder.
Gluten Free Vegan Energy Balls With Nutella: Add delicious flavor by swapping the peanut butter for vegan nutella in these no bake treats.
Vegetarian Protein Balls For Kids: These snacks are already super kid friendly protein balls! If you're making them for kids specifically, I recommend choosing a protein powder that your kids enjoy, and also, laying out a bunch of different mix-ins and let your kids create their own flavors.
Elevated Plant Protein Bites: Make these vegan protein energy balls fancy for a special occasion by turning them into a truffle. Dip the balls in melted chocolate and let it set. Enjoy the sweet treat for a date night, birthday gift idea, or party.
Vegan Protein Balls Without Protein Powder: You can easily make these gluten free energy bites without protein powder! Just replace the protein powder with almond flour or powdered peanut butter as a 1:1 substitution.
🍽 Serving Suggestions
While these gluten free vegan protein balls are a great healthy snack on their own, they can also be elevated for a complete meal! Turn them into protein breakfast balls by pairing them with a breakfast fruit salad or a wholesome spinach and banana smoothie. Or you can enjoy them with a glass of plant based milk, coffee, or tea! For a sweet treat, try topping them with a little dollop of white chocolate hazelnut spread.
🙌 Dietary Adaptations
These vegan no bake protein bites can be easily modified to meet dietary needs. Here are a couple dietary adaptations that may be helpful for you:
Nut-Free Option: To make these vegan protein powder balls nut free, swap the peanut butter for sunflower seed butter or tahini, depending on your flavor preference.
Sugar-Free Option: If you prefer a sugar free protein ball, omit the maple syrup and make sure to use dark chocolate chips with no sugar. You may need to supplement for the missing liquid with a little water or almond milk. Just be sure to not add too much!
🫙 Storage Directions
Here's how to store and keep these vegan gluten free protein balls:
To Store In The Fridge: You can store these low calorie protein balls in an airtight container in the fridge. I do not recommend storing these at room temperature. Enjoy within 1 week.
To Freeze: Peanut butter protein bites can be frozen in an airtight container for up to 2 months.
❓Recipe FAQs
ARE PROTEIN BALLS HEALTHY FOR YOU?
It depends on how they're made! Many protein snacks on the market are loaded with white sugar or brown rice syrup which makes them more of a dessert than a healthy snack.
But good news, these no bake vegan protein balls with protein powder are healthy! They can be a part of your healthy snacking while also satisfying sweet cravings. You might not believe that there could be so much nutrition in a tiny little chocolate ball, but there is!
This homemade snack is a great addition to any well-balanced diet with its high protein content and clean ingredients. They are a great source of fiber, vitamins, and antioxidants thanks to the oats and peanut butter.
HOW MANY PROTEIN BALLS CAN I EAT A DAY?
The recommended serving size for this easy vegan energy balls recipe is 1-2 balls. Each of these diy protein balls are about 100 calories per serving, so up to 2 would be appropriate for a healthy, protein packed snack.
CAN KIDS EAT VEGAN PROTEIN BALLS?
Absolutely! Kids will love these vegan gluten free energy balls and will benefit from the healthy nutrients. For younger kids you can cut them into smaller pieces so they are easier to chew.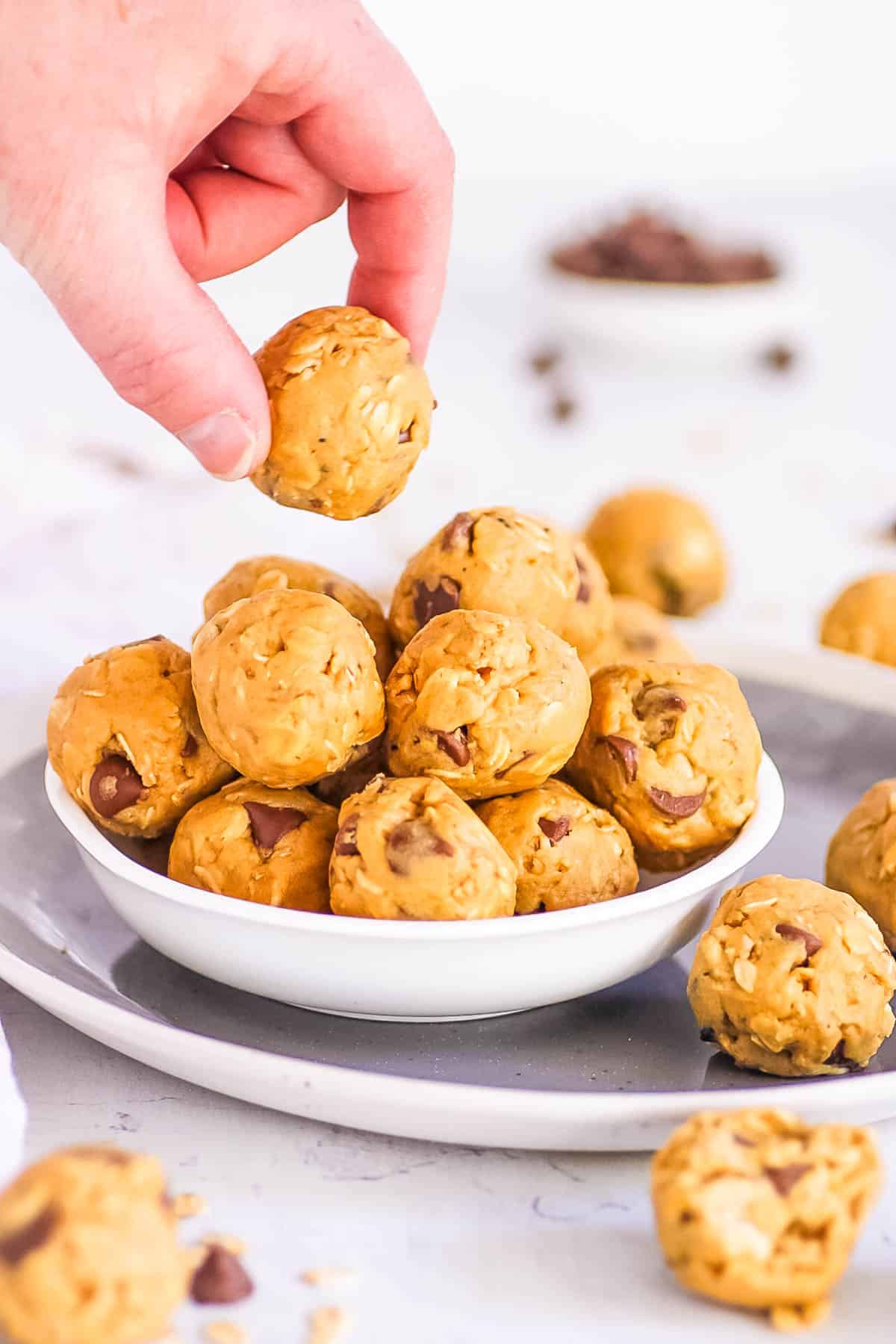 🥣 More Healthy Snack Recipes!
Love this healthy plant based snack recipe? Please leave a 5-star rating 🌟 in the recipe below and/or a review in the comments section further down the page!
You can also FOLLOW ME on FACEBOOK, TWITTER, INSTAGRAM, and PINTEREST to see more delicious, healthy, family-friendly food, and if you have any questions, I'm here to help!
📋 Recipe Card
Vegan Protein Balls
These delicious vegan protein balls are the perfect healthy snack for a boost of energy and nutrition. Plus, they have no refined sugar and happen to be gluten free! The best part? This easy recipe comes together in only 10 minutes, and has 5 grams of protein per ball!
Servings: 16 protein balls
Calories: 136kcal
To change up the flavor choose a flavored protein powder such as caramel or even chocolate.

Vegan chocolate chips can be left out of this recipe if preferred.

Use a small ice cream scoop or a tbsp to scoop out the dough for evenly shaped balls.

Store protein balls in an airtight container in the fridge for up to 1 week.

Smooth or crunchy peanut butter can be used in this recipe.

Protein balls can be frozen in an airtight container for up to 2 months.

Add in ideas: vegan white chocolate chips, dried cranberries, chopped raisins, toasted almond flakes or desiccated coconut.

Peanut butter can be substituted with almond butter.

Note: Nutritional information is based on 16 protein balls (if you made 20 smaller protein balls, you'd have 4 grams of protein per ball). Also, nutritional info is based on 1/8 cup of maple syrup. With the maple syrup at 1/4 cup, each protein ball would have 7 grams of sugar per ball.
Birthday Entertainment | Live Superhero Character For Birthday | JINZZY | Customer
Serving: 1large protein ball | Calories: 136kcal | Carbohydrates: 12g | Protein: 5g | Fat: 9g | Saturated Fat: 2g | Polyunsaturated Fat: 2g | Monounsaturated Fat: 3g | Cholesterol: 5mg | Sodium: 61mg | Potassium: 102mg | Fiber: 1g | Sugar: 6g