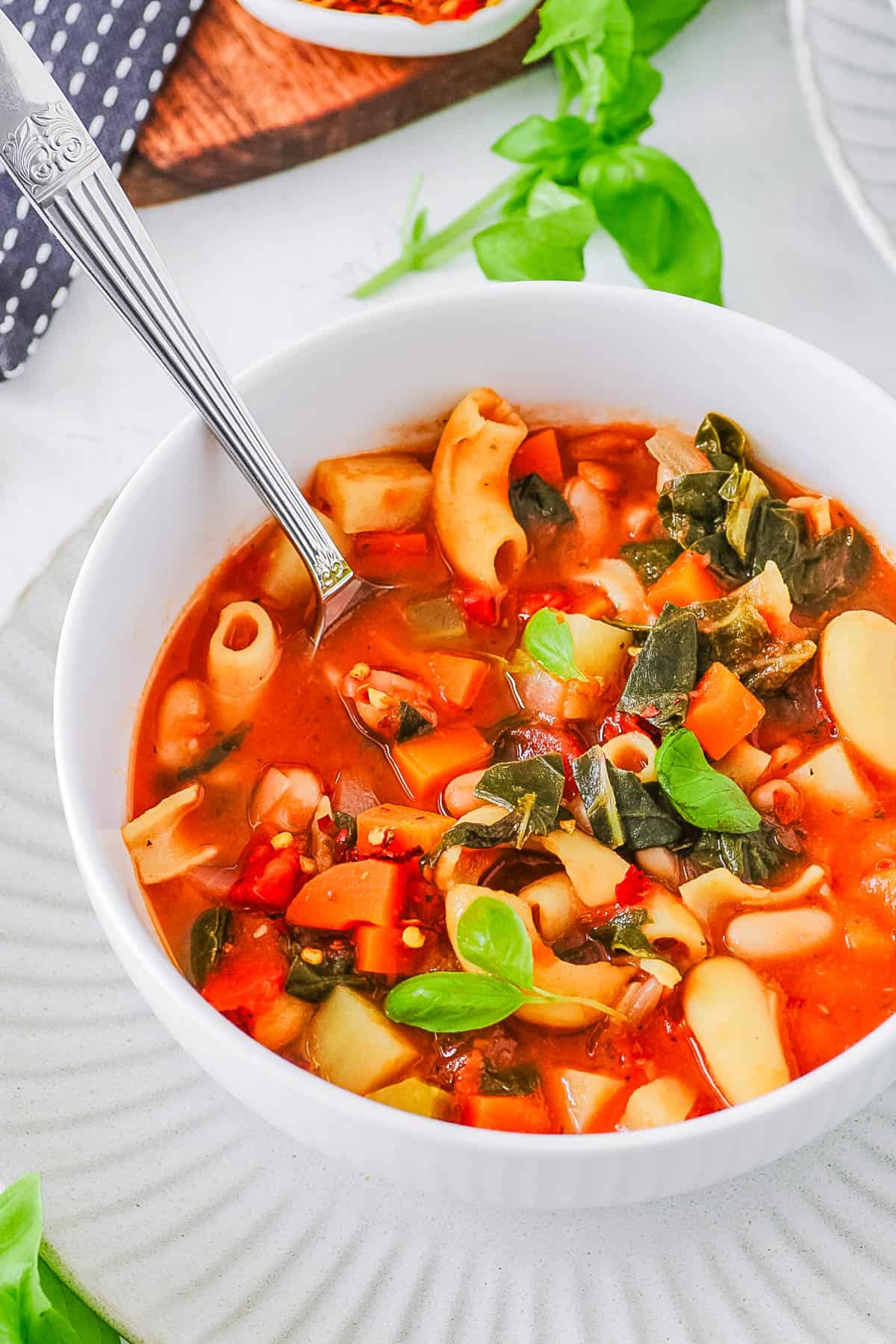 This post may contain affiliate links. As an Amazon Associate, I earn from qualifying purchases. Please read my disclosure.

Vegan minestrone soup is comforting, healthy, and full of flavor. It is the kind of soup recipe that you'll continue to make again and again whenever you crave something cozy and nourishing. The best part? This recipe needs only 15 minutes of prep time and can easily be transformed into a gluten free vegetable soup recipe too!
Soup season is here, and what better way to kick things off than with the best vegan minestrone soup ever?! You will be pleasantly surprised by how easy this soup is to make. And it brings the charm of Italy right to your home!
With only 15 minutes of prep time and 40 minutes of cooking time, you have a hearty vegetable soup in under one hour. This is an easy soup for busy weeknights, and the whole family will love it! Ladle up some delicious homemade soup into a big bowl and cozy up on the couch for the perfect fall or winter evening.
👩🏽‍🍳 Why You'll Love This Vegan Minestrone Soup
Easy Meal Prep: You can prep your veggies prior to making this soup to save yourself some prep time. Peel and chop the carrot, onion, celery, potato, and swiss chard. The next day you can proceed with the rest of the instructions! Additionally, make a big batch of the soup and store it in the fridge or freezer to have on hand for a good soup meal on busy days.
Healthy & Wholesome: There is nothing better than a healthy minestrone soup loaded with a variety of vegetables and protein-rich beans. You will get a great addition to your necessary daily values or vitamins and minerals with this soup. Also, this is great for a low-calorie diet!
One-Pot Meal: Yep, no need to stress over cleaning a bunch of pots and pans. This easy minestrone soup recipe requires just one pot!
Latest Recipe Video!
🥘 Ingredients
Grab all of your ingredients for this vegan Italian soup at the local grocery store! Check out the recipe card at the bottom of this post for nutritional information. Here is what you need for vegetarian minestrone soup: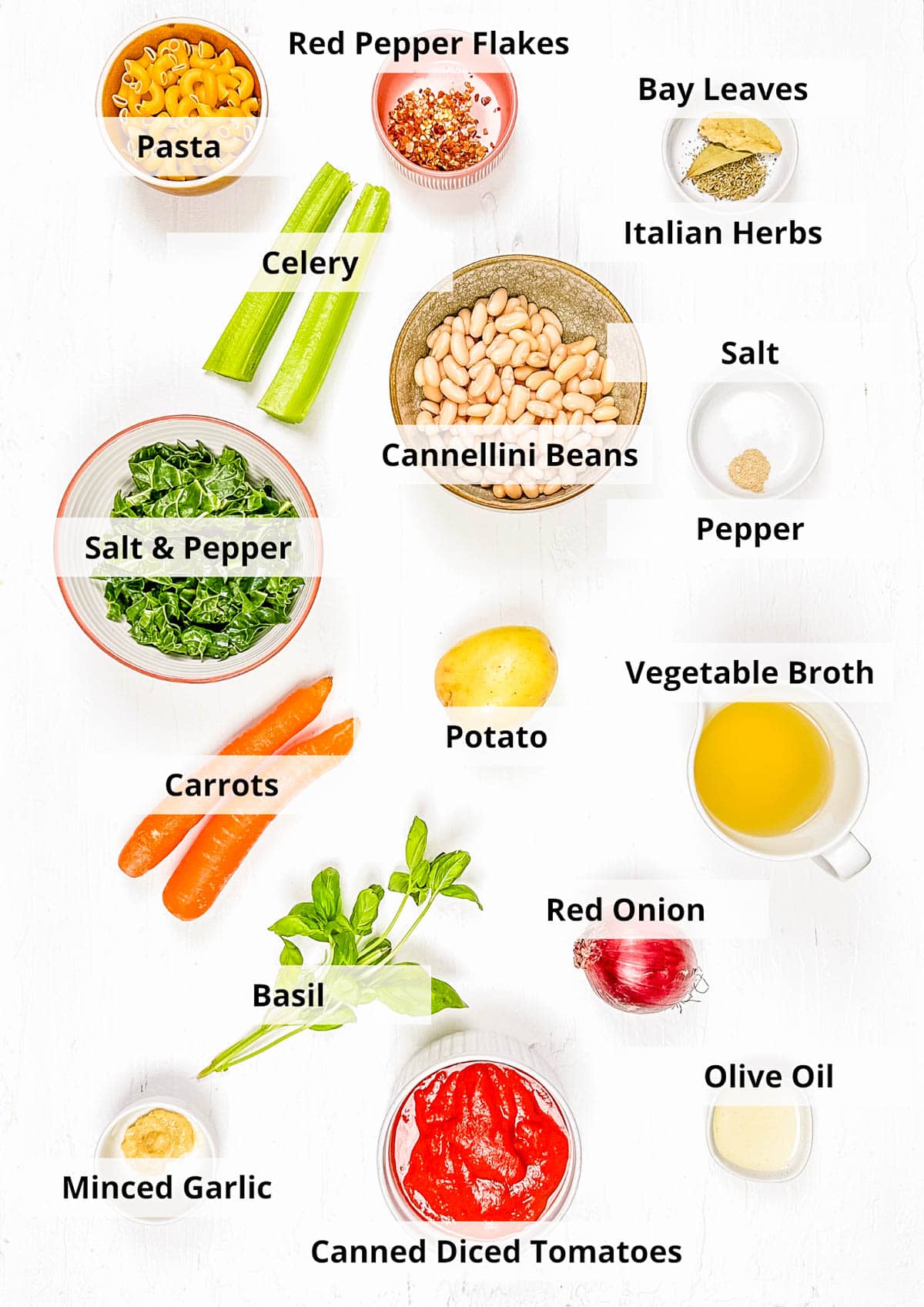 Olive Oil: Extra virgin olive oil is a fragrant oil to saute your vegetables in!
Vegetables: Red onion, garlic, carrots, celery, russet potato, and swiss chard make the perfect blend of textures and flavors in this vegan minestrone recipe.
Diced Tomatoes: Minestrone is a tomato based soup, so you will need some sort of tomato sauce. Canned diced tomatoes are an easy way to add in some liquid and chunks of juicy tomato!
Vegetable Broth: Veggie broth or vegetable stock will keep this soup vegan while adding a lovely base of flavor.
Italian Herbs & Bay Leaves: You can use an Italian seasoning mix or combine some of your own herbs like oregano, thyme, rosemary, and sage. Simmering bay leaves in the broth will add an extra boost of flavor! You will remove them before serving the soup.
Pasta: You will want a smaller wheat pasta like elbows or shells! If you need a vegan gluten free soup see more recommendations in the dietary adaptations section below.
Cannellini Beans: These beans add a plant-based protein to the soup for a balanced, filling meal!
Salt, Pepper, Red Pepper Flakes: Black pepper and sea salt will give this soup the edge it needs to really take off! Red chili flakes are optional, but add a bit of heat if you prefer a spicy soup. You can add more or less depending on your preference.
Basil: Fresh basil will top the hearty soup for a lovely Italian flair. Alternatively, fresh parsley would be a good garnish.
🍲 Ingredient Substitutions
Oil: Any oil can be used to saute your vegetables for this vegan minestrone soup!
Vegetables: Customize your soup with whatever fresh veggies you have on hand. Fresh green beans, bell pepper, and white onion are great options.
Tomato: Play around with the tomato base in this soup. You can use tomato paste for a stronger flavor or spice it up with fire-roasted tomatoes.
Greens: If you aren't a fan of swiss chard, feel free to use other greens like baby spinach or collard greens.
Beans: Swap the cannellini beans for any bean of choice. Dark red kidney beans, chickpeas, or other white beans work great for this vegan italian soup!
🔪 How To Make Vegan Minestrone Soup
Making easy vegan minestrone soup requires just a few simple steps. Follow along with the directions below for a fool-proof recipe that will make you feel like an Italian chef. Here is how to make this delicious recipe:
Saute Onions & Additional Vegetables: Heat the oil in a large soup pot over medium heat. Add the onions and sauté for 2-3 minutes. Next, add the garlic, carrots, celery and potatoes. Sauté for about 5 minutes.
Also Read : Back-to-School: Head Lice Prevention and Treatment | MomDocs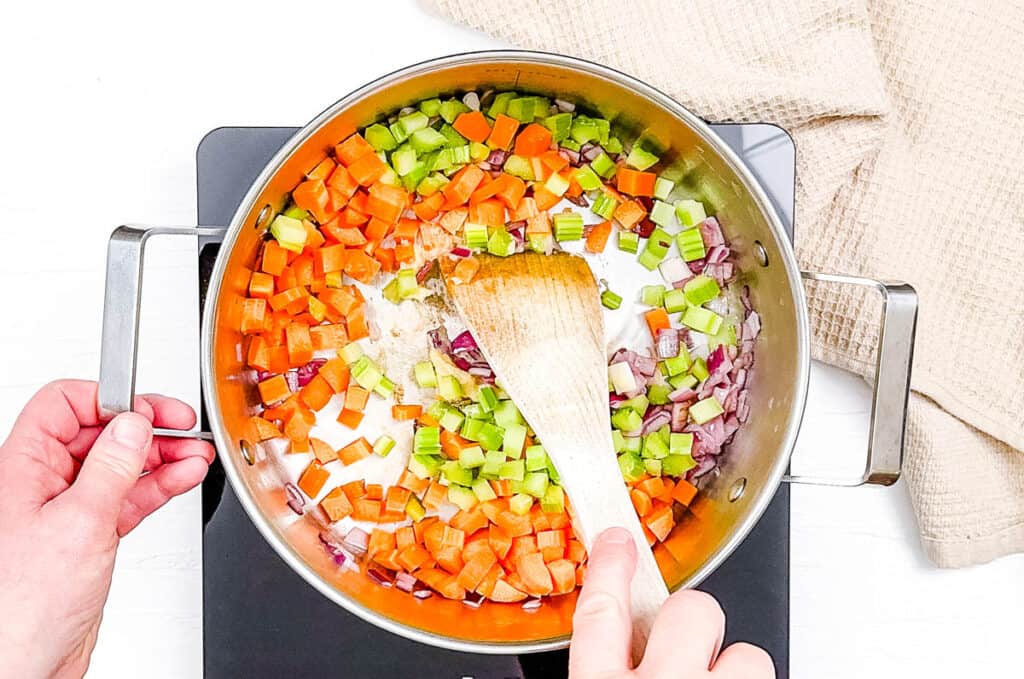 Add Other Ingredients: Next, add the diced tomatoes, vegetable broth, and pasta to the large pot. Stir to combine. Stir in the dried herbs and bay leaves. Bring to a boil, reduce heat, and simmer for 15 minutes.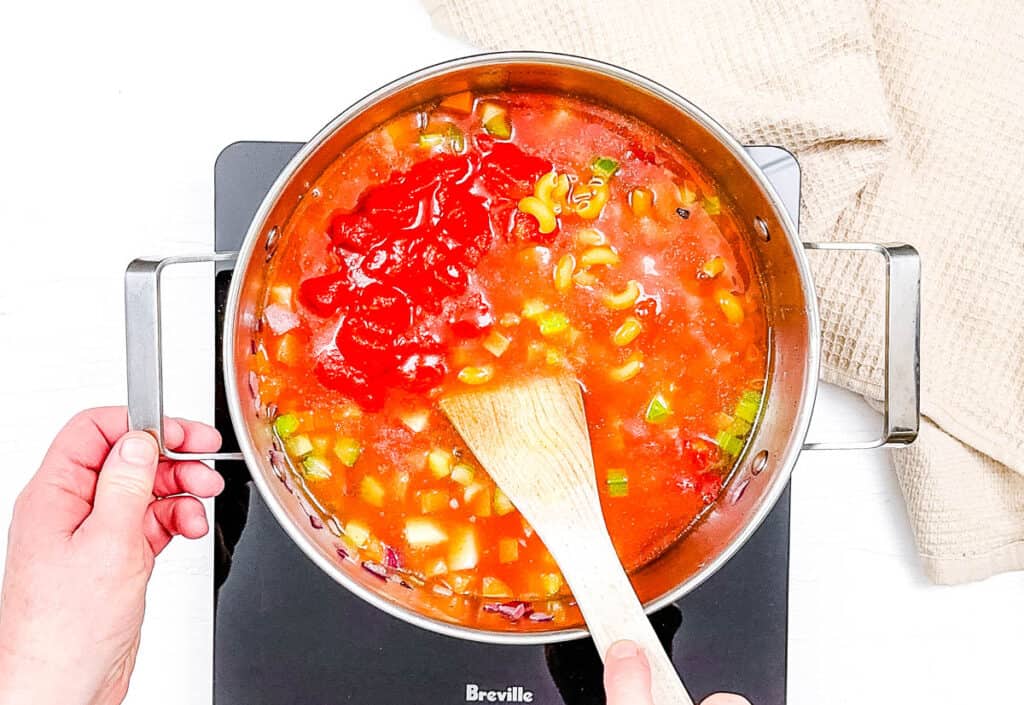 Add Final Ingredients: Finally, add the swiss chard and cannellini beans, stirring to combine.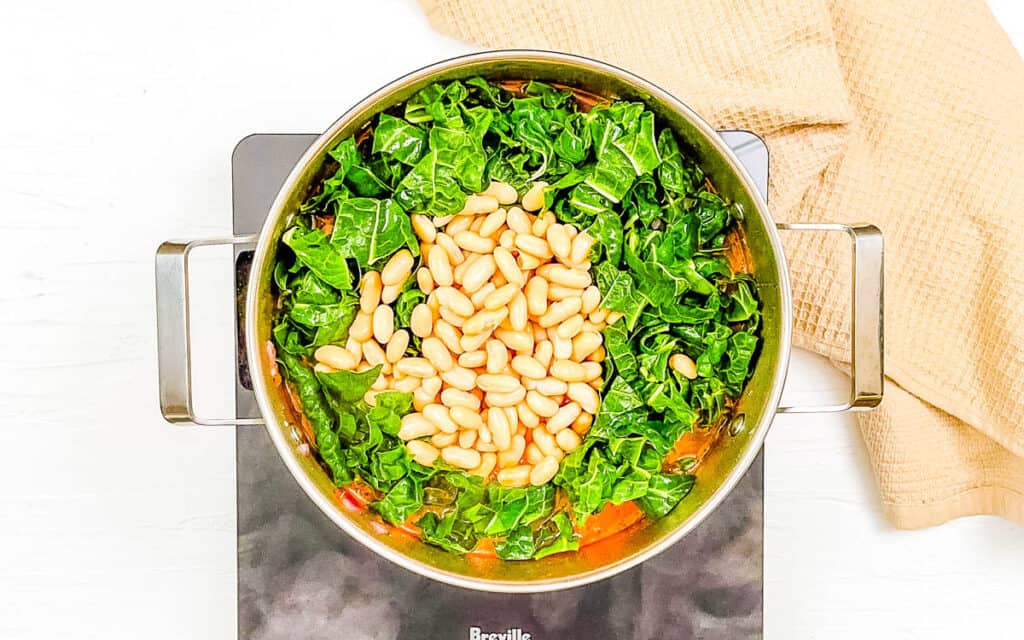 Cook Soup: Continue to cook for another 10-15 minutes, or until all vegetables are tender and the pasta has cooked to al dente.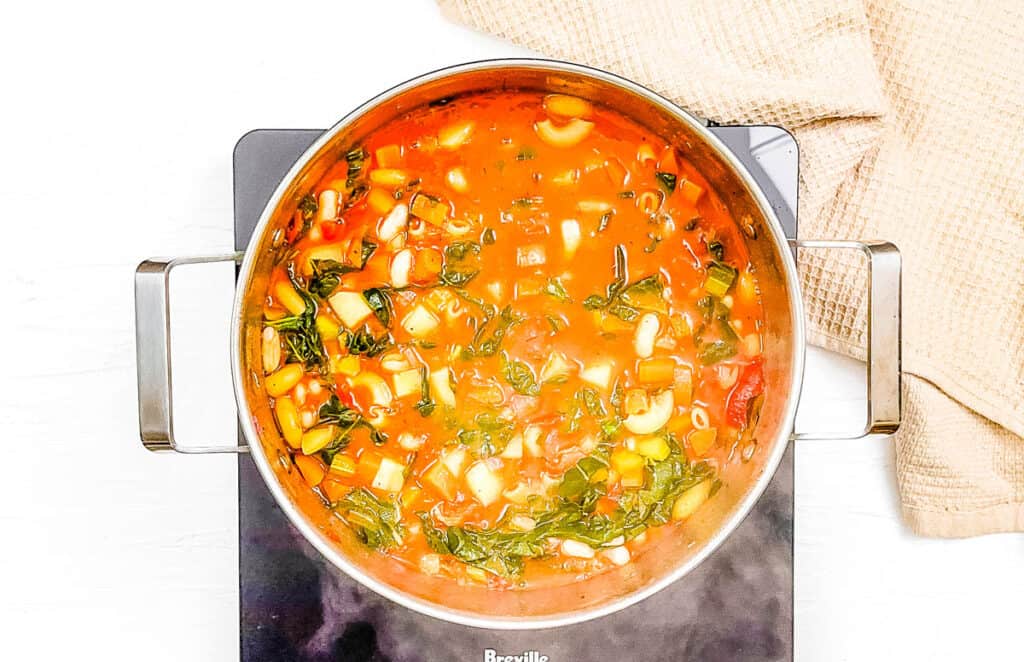 Season & Serve: Adjust the seasoning and stir in fresh basil leaves and dried red pepper flakes if using. Serve topped with fresh basil leaves.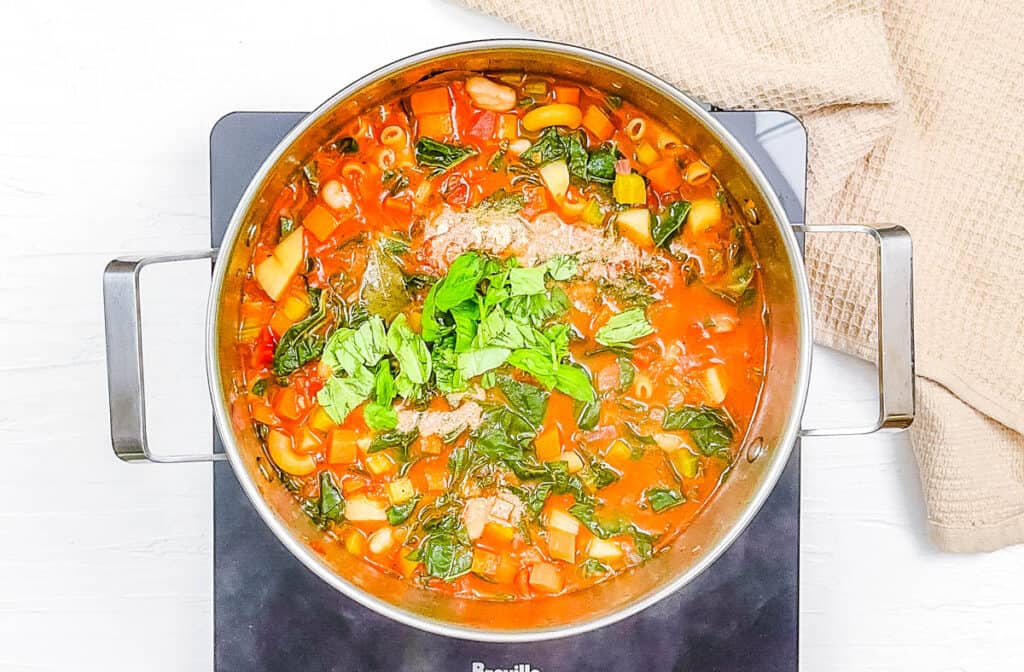 💭 Expert Tips
Drain Beans: Be sure to rinse and drain the beans before adding them to the vegetable broth to keep the consistency of the soup perfect.
Discard Bay Leaves: Do not forget to remove the bay leaves from the soup prior to serving!
Use Up Veggies: If you have other vegetables in your refrigerator that need to be used, throw them in this soup or use as a substitute. This makes for an excellent fridge clean out meal.
Cook Gluten Free Pasta Separate: If you are making this as a gluten free veg soup, you may want to cook the pasta first as it is more starchy and will thicken the soup (which you may like). Add the cooked pasta into the pot with the tender veggies.
Cooking Methods: This can be made as an instant pot minestrone soup, or thrown into a slow cooker for an easy, hands-off simmering soup.
📖 Variations 
Autumn Minestrone: For a fun fall soup recipe, add in seasonal vegetables like sweet potatoes, butternut squash, and yellow squash.
Vegan Zuppa Toscana: Transform this into an easy variation of vegan zuppa toscana by replacing the diced tomatoes with some coconut cream. Leave out the pasta, celery, and carrots for a more classic take!
More Protein: If you want additional protein in this soup, try adding nutritional yeast, hemp seeds, lentils, or garbanzo beans. If you are not vegan, you can add in some cheese or even a dollop of high protein yogurt.
🍽 Serving Suggestions
Enjoy this plant based minestrone soup with a side of crusty bread or this vegan garlic bread, and a sprinkling of vegan parmesan cheese! I personally love pairing soup with salads for a satisfying full meal. Try it out with this tomato avocado cucumber salad or mixed greens tossed in this avocado green goddess dressing.
🙌 Dietary Adaptations
While this soup is already a wonderful option for those who are vegan, vegetarian, dairy-free, or soy free, you can modify it for even more dietary needs!
Gluten Free Minestrone Soup: For a vegan and gluten free soup all you need to do is use gluten-free pasta! Brown rice pasta, lentil pasta, or chickpea pasta are all perfect gluten-free options. Some of my favorite brands are Jovial and Banza.
Low FODMAP Minestrone Soup: For a low FODMAP option, keep this as a gluten free vegetarian soup and leave out the onions and garlic. Onion and garlic powder are safe options, along with a garlic infused olive oil.
🫙 Storage Directions
Whether you are making this as a traditional minestrone or gf minestrone soup, it will keep really well in both the refrigerator and the freezer!
Storing In The Fridge: Store leftover vegan pasta soup in an airtight container in the fridge for up to 4 days.
Freezing: Put this vegetarian minestrone soup in a freezer-safe container and store in the freezer for up to 2 months.
Reheating: Reheat the leftover soup in the microwave or in a pan on the stovetop.
❓Recipe FAQs
IS OLIVE GARDEN'S MINESTRONE SOUP VEGAN?
According to the Olive Garden website, their minestrone soup is vegan! You can happily enjoy endless soup at their restaurants. Just be sure to pass on the parmesan cheese. However, unfortunately their soup is not gluten-free. Your best bet for a vegan and gluten free soup would be to make it at home! And luckily, it is super easy and quick!
WHY IS MINESTRONE HEALTHY?
This delicious vegan minestrone soup recipe is healthy for many reasons! First off, the soup is packed with nutrient rich vegetables and protein rich beans that are high in fiber. For a vegan soup, you might be surprised to know it still has a good amount of protein while remaining low in calories. Swiss chard is one of the star ingredients in this dish and is rich in antioxidants, high in fiber, and an excellent source of vitamin K. You will also get a good source of vitamins and minerals from the tomatoes, carrots, and potatoes such as beta carotene, Vitamin C, B6, Vitamin K, and potassium, and antioxidants.
WHY DOES MY MINESTRONE TASTE BLAND?
If you follow this recipe for vegan minestrone soup you should be welcomed by a flavorful, delicious soup that is anything but bland. If your soup is coming up short on flavor, there are a few main reasons. First, make sure your vegetable broth is not low sodium (unless you need it to be). This will allow for the best base of flavor. Second, do not shy away from adding more herbs and spices. Taste the soup along the way and add in an extra pinch of salt or more Italian seasoning, as needed. And don't forget to top with the fresh basil leaves!
WHAT IS THE DIFFERENCE BETWEEN VEGETABLE SOUP AND MINESTRONE SOUP?
A traditional vegetable soup is made of a variety of vegetables and greens. Minestrone soup is a thick Italian soup containing beans, potatoes, and pasta for added substance. Other veggie soups can have different broth bases, and may be pureed in some instances. With minestrone, you can expect a tomato based broth loaded with fragrant Italian herbs.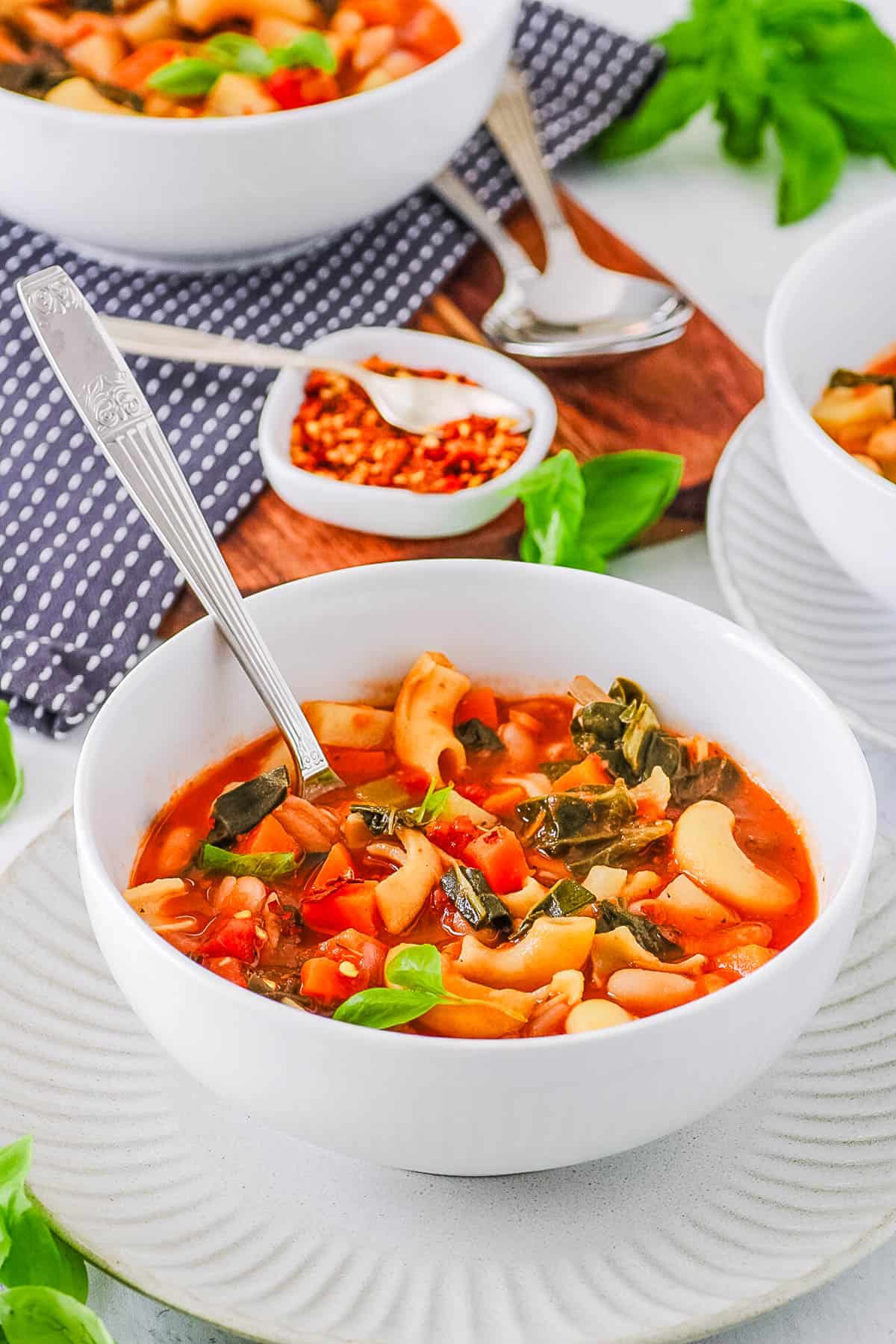 🥣 More Vegan Soup Recipes!
Love this plant based soup recipe? Please leave a 5-star rating 🌟 in the recipe below and/or a review in the comments section further down the page!
You can also FOLLOW ME on FACEBOOK, TWITTER, INSTAGRAM, and PINTEREST to see more delicious, healthy, family-friendly food, and if you have any questions, I'm here to help!
📋 Recipe Card
Vegan Minestrone Soup
Vegan minestrone soup is comforting, healthy, and full of flavor. It is the kind of soup recipe that you'll continue to make again and again whenever you crave something cozy and nourishing. The best part? This recipe needs only 15 minutes of prep time and can easily be transformed into a gluten free vegetable soup recipe too!
Servings: 6 servings
Calories: 178kcal