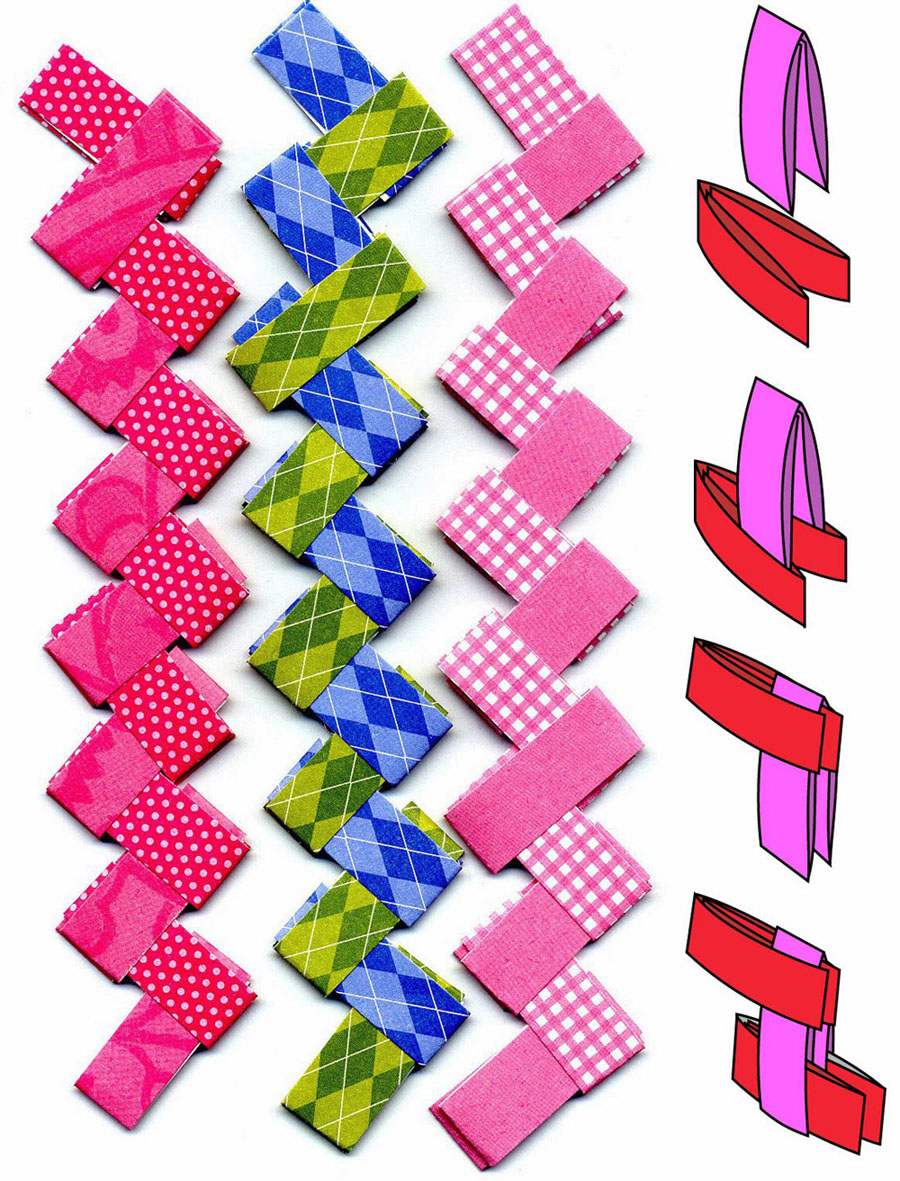 Below you'll find an easy step-by-step tutorial for how to make a gum wrapper chain. Use large strips of decorative paper and they can turn into all kinds of fun things.
When students learn how to make a gum wrapper paper chain from some larger strips of paper (as opposed to those teeny tiny ones that this project originated as) they can learn a skill that can take off in many different directions.
Here are just a few ideas that students came up with, whenever I brought this project out. The zig-zag chains could be turned into:
Bookmarks
Bracelets
Crowns
Arm Bands
Belts
and, the let's-see-who-can-make-the-longest-chain contest!
I think the idea originated with a search for how to use up lots of 12″x12″ decorative paper someone donated to my school. A search for how to do something other than your same old, same old paper chains resulted in this find of gum wrapper paper chains. It's a great way to make a chain, but it certainly doesn't have to be so tiny. Working large helps students manage the folding, and they can make something pretty fun in a relatively short time too. It's great activity for those that just need to do something different. If your students come up with something new to do with these, I'd love to see it!
Materials for a Gum Wrapper Paper Chain
Scrapbook pattern paper (12″ x 12″ size)
Paper cutter
Stapler
Directions to make a Gum Wrapper Paper Chain
PREP: Use a paper cutter to make strips of paper that are 1.25″ x 12″ in length. You'll need about 25 for each student to make a crown.
Also Read : Yoga and Astrology: Find the Best Practices for Your Sign • Yoga Basics
Paper Craft Cactus
Thanks to craft paper punches, this cactus craft project is easy to do, even for large groups.
I love how the card stock comes in multiple shades of green so you can mix things up a bit. Dark spikes on light green, and visa versa. So much more interesting than if they were all the same.
MATERIALS
• Miniature clay pot, about 2″ tall*
• Model Magic (leftovers or any brown color)
• Craft paper punch, 3″ circle*
• Star paper punch*
• Recollections cardstock green paper*
• Red card stock paper
• Green markers, various shades
• Scissors
• Glue stick
• Craft glue
• Small stick (Michaels has matchsticks)
DIRECTIONS
1. Fill the pot to the top with Model Magic. This is a good time to use up leftovers to may have around.
2. Students get six circles of their choice of green paper. To make the cactus, they fold each in half and crease. Each half circle is glued in a sandwich fashion, and lastly the two ends are glued together to make a complete fan shape. I recommend a minimum of six circles, but more (to a point) would look even better.
3. Draw cactus lines on all sides with a marker.
4. Cut tiny spikes from leftover green paper and glued around the sides with a glue stick.
5. Place the match stick in the pot, and the cactus slides on top.
6. The flower is made from two red stars and a bit of yellow Model Magic that is glued together with craft glue.