These sticker resist art cards are unique and fun to make. Create starry nights with this quick and easy process.
Updated December 2022
We've been trying our hand at homemade Christmas cards this year. There are so many methods to try. But these sticker resist starry night ones are our favorites!
Each card is unique and a surprise, which adds an extra element of fun (and lots of oohing and ahhing). But the actual process is super quick and easy, which makes this a great technique for creating multiple cards.
We plan on using them for Christmas cards, but you could also use them for post-holiday thank you cards, Happy New Year cards, or to make a set of blank greeting cards as a gift.
Or as a one-of-a-kind piece of art, worthy of framing on your wall.
Also Read : Mini Cinnamon Rolls
Sticker Resist Art Cards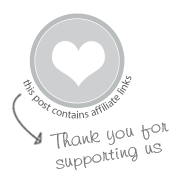 MATERIALS
INSTRUCTIONS
Prep your paper

First, cut the watercolor paper sheets into smaller squares and rectangles, about 3×4″ each. Or you can use blank cards.

We recommend taping the cards down to the table, to keep them stable and to give them a lovely white border.

Add stickers

Stick the star stickers onto your card in any design you'd like.

Add paint

Paint over the watercolor paper and stickers with watercolors, making sure to use a lot of water to completely cover the paper.

We used night sky shades, like blue, black and purple.

Add salt

While the paint is still very wet, sprinkle salt over the painting.

Watch how the salt crystals begin drawing the wet watercolors to them, creating a dappled effect.

Let dry completely

Once the art cards are fully dry, gently rub the salt off with your fingers, and then peel away the star stickers. We found that some of the stars stuck better than others, but still created a lovely effect!

Add embellishments (optional)

If you'd like, you can use a marker or pen to make a border around the artwork and add the artist's name and date. And, of course, add your message on the inside.
These came out so lovely! We can wait to mail them to friends and family!
More Ideas for Handmade Christmas Cards
Pin It for Later