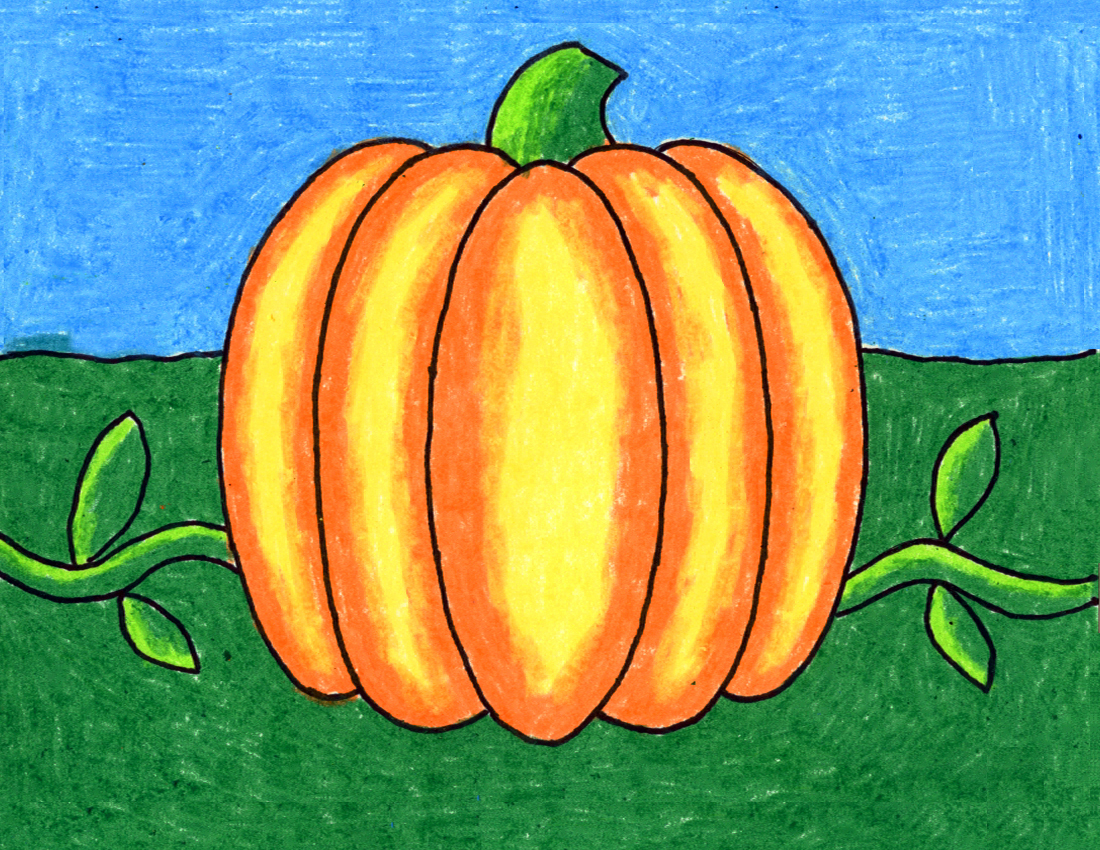 Below you'll find an easy step-by-step tutorial for how to draw a Pumpkin and Pumpkin Coloring Pages. Using both orange and yellow crayons will create an instant 3D look.
How to Draw a Pumpkin
Draw a Pumpkin Video
Pumpkins have it all when it comes to fun and easy art projects. The ridges of the pumpkin can help show off their dimension so they don't look like flat circles, and the bright orange color is so festive to look at. Learning how to draw a pumpkin with all these features is easy to do when you take it step by step.
This sample shows that you don't need fancy art supplies when it comes to coloring your pumpkin. I used Prang® crayons, pressed really hard to get the most pigment, and used yellow to get the color of the reflected light. Some crayons seem to blend a little better than others, and I've found the Prang brand to be good for that.
Getting Started with Drawing Guides
You may have noticed that all of the tutorials on this site have a dashed line running through the center of each step, both in the horizontal and vertical direction. If students make their own centered lines on their own paper, before drawing, they will have an easy reference to follow.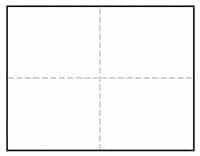 For instance, as seen in Step 1 below, the first oval for the pumpkin needs to centered on both the vertical and horizontal lines. It's important to draw that shape big and in the middle so that the pumpkin can fill the paper.
When students get their drawing off to a good start, there's a better chance of them feeling successful by the time they are done. Drawing skills are all about getting the size and placement of lines on paper, so having some visual reference point to get started, will always help anyone learn how to be a little more accurate.
So does that mean students need to get out a ruler to draw a big fat line down the center of their paper before they start? Goodness no, please don't! That will most likely be hard to erase and distract from any finished art. No, simply fold the sheet of paper in half both ways, make a crease, and unfold. The beauty is that by the time the drawing is done and colored in, the creases will disappear.
And now, on to the pumpkin drawing project.
Join "The Daily Draw" below to get this PDF Lesson!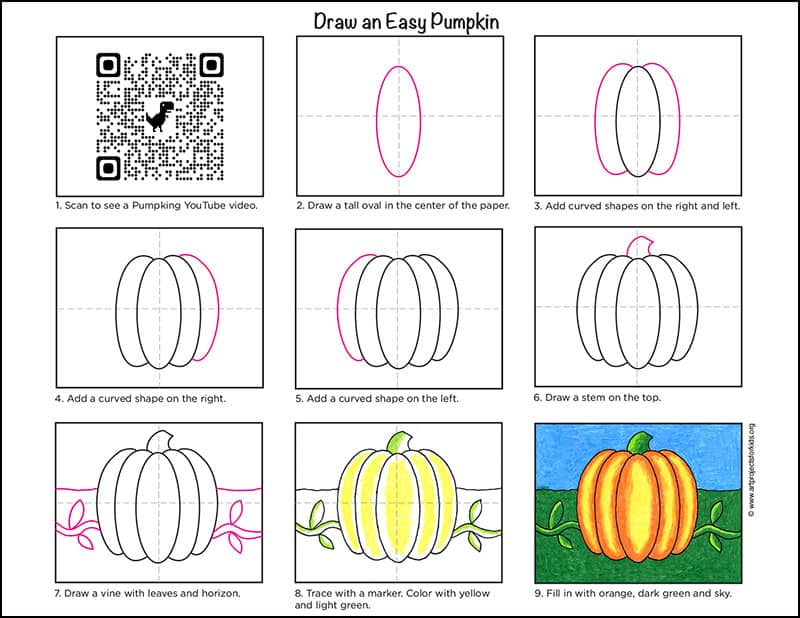 Pumpkin Coloring Page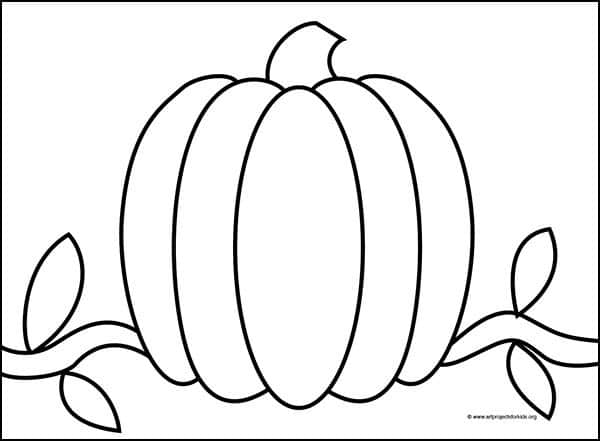 Materials for How to Draw a Pumpkin
Directions to Draw a Step by Step Pumpkin
How to Draw Three Pumpkins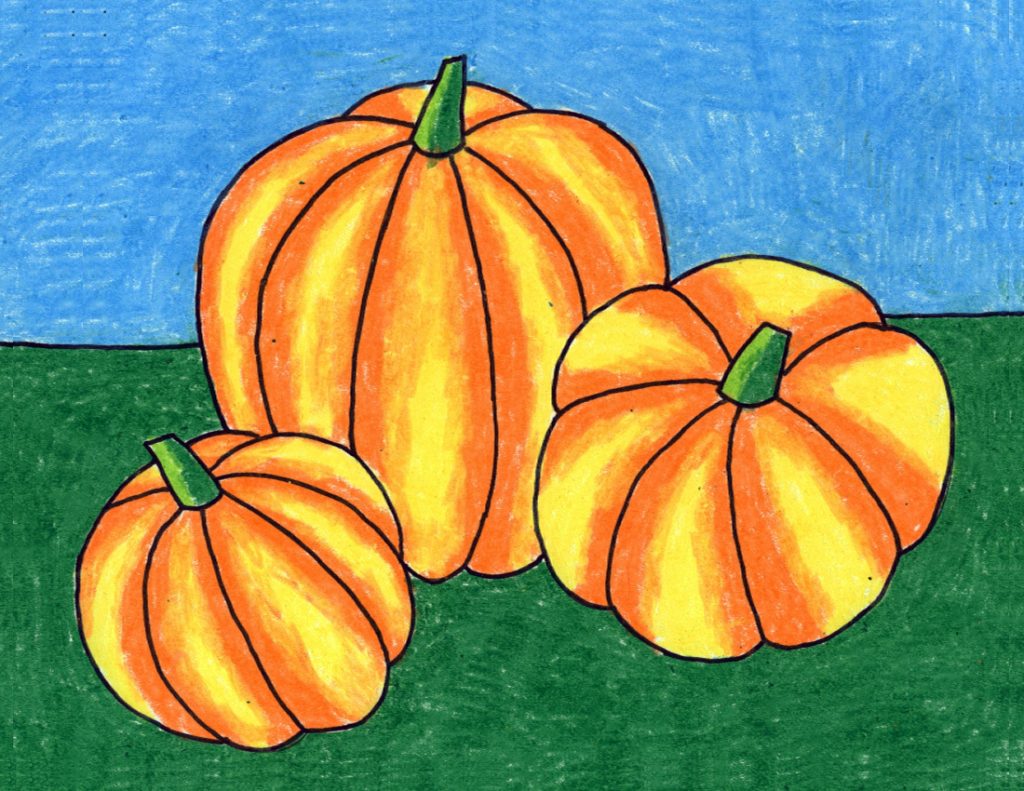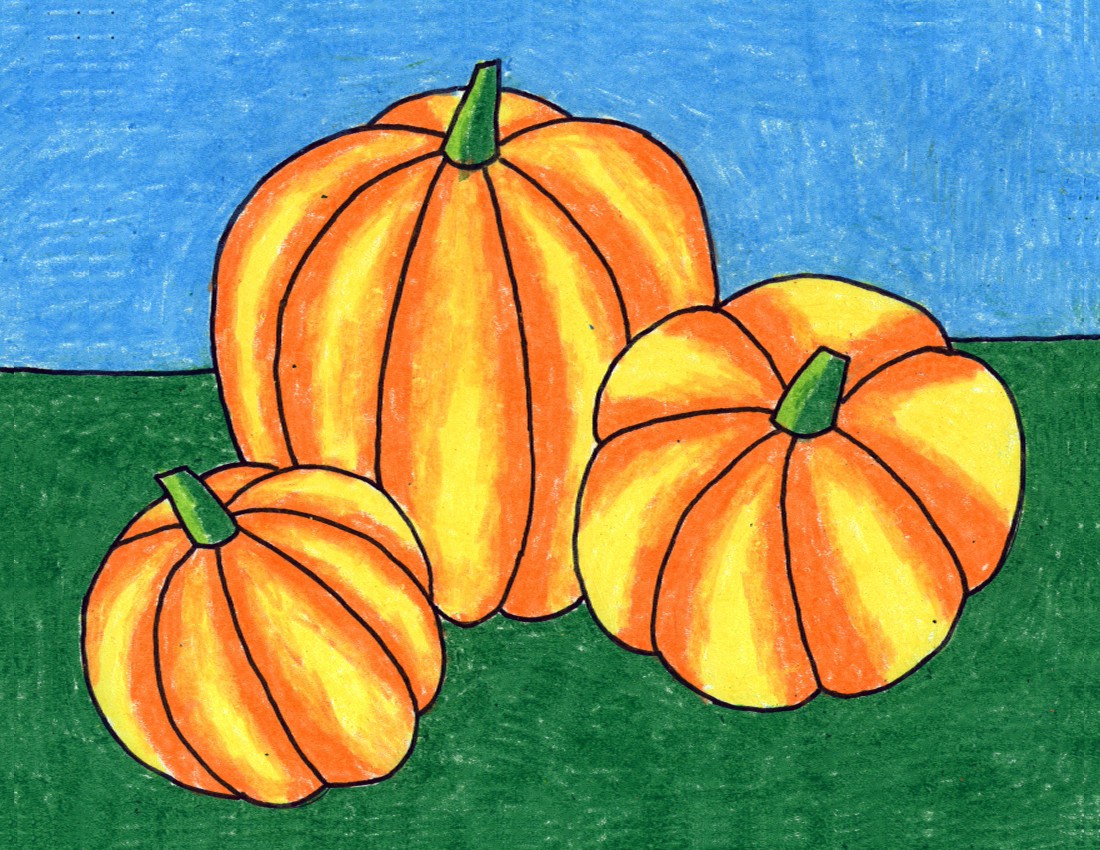 If you'd like to learn how to draw pumpkins that look more dimensional, then this lesson a large and medium and small, all leaning in various directions, is a great place to start.
This tutorial will show students how to draw the pumpkin circles and radiating lines coming from the stem, but then add little "bumps" to each section to make them stand out some more.
The great news is that those that find the bumpy step tricky, can simply skip it and go to the tracing and color. The radiating lines alone create most of the dimensional look all by themselves.
Use the Button below to Download a Pumpkins Tutorial
Pumpkins Coloring Page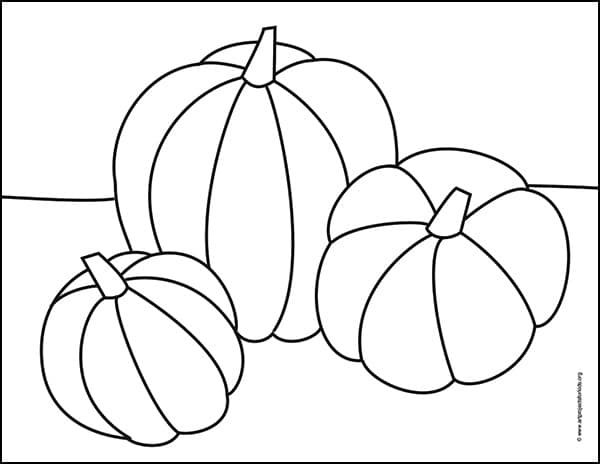 Positive / Negative Pumpkin
Collage art projects can teach valuable lessons about positive and negative shapes and still make some very cool Halloween art.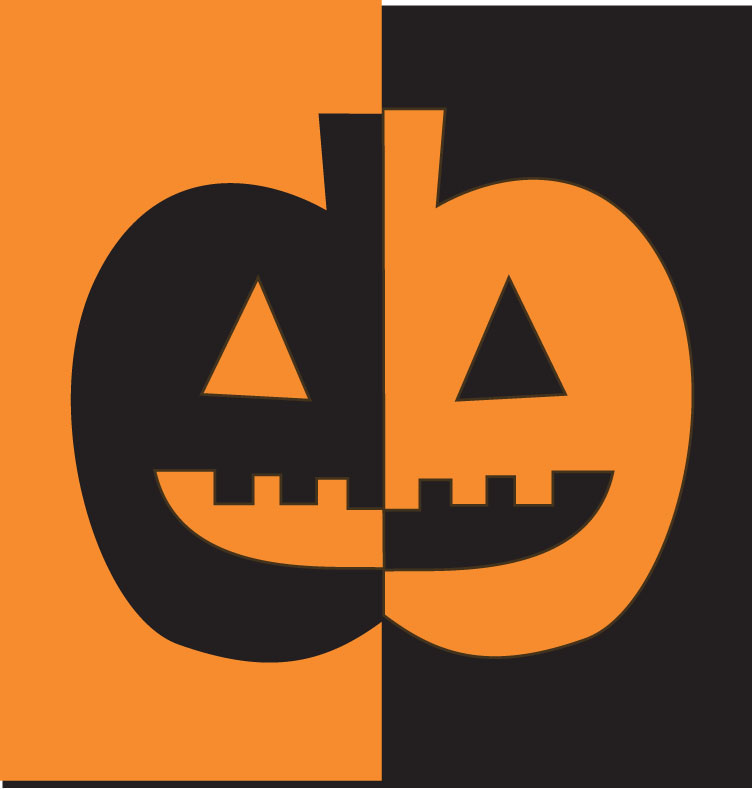 This positive / negative pumpkin project requires students to flip and glue down their cut out shapes to mirror the other side. You can't get more literal than that as a definition of symmetry.
IMPORTANT TIP: The pumpkin mouth, eye and mouth shapes need to be cut out as ONE piece, as they are going to be used for the other side. Cutting things out in small pieces will create a puzzle that can maybe be put back together in a pinch, but can be a pain.
Note: The best way to cut out the eye is to just make a slit from the side and then cut out the triangle. When the paper is glued down, the slit will barely show.
Use the Button below to Download a PDF Tutorial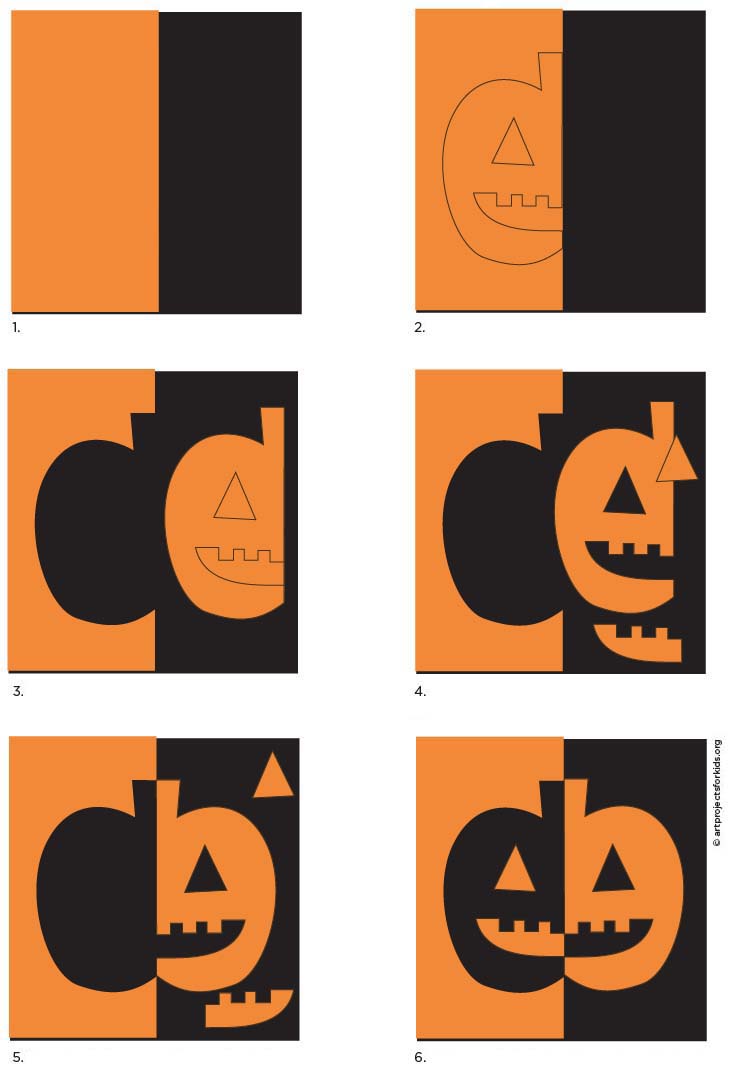 Materials for a Positive / Negative Pumpkin
Black card stock or construction paper

Orange card stock or construction paper, cut to 5.5″ x 8.5″ panels
Scissors
Glue stick
Black marker (for variation project)
Silver metallic marker (for variation project)
Tips for your Positive / Negative Pumpkin Project
The steps to making this pumpkin are pretty basic, but it really helps to try to explain it in clear, basic steps. You can see how I diagrammed all the steps on my front board in a photo below.
One cool tip to share is that there will be no waste when they are done. Everything that is going to be cut out is going to be used!
Paper Variations
If your older students can do the initial cutting and gluing without a lot of struggle, try continuing the positive / negative theme a bit further and have them add details on either side with black marker, and a silver metallic marker (which will look pretty white without the expense of a white paint marker.)
More Fall Drawing Projects