Below you'll find an easy step-by-step tutorial for how to draw a Christmas Tree and Christmas Tree Coloring Pages. Now your students have a couple of different choices!
Christmas Tree Drawing
If Christmas is a magical time of the year, then why not think outside of the box, and learn how to draw a Christmas tree in a really unusual place? Trees in homes can be very pretty, of course, but a tree in the middle of nowhere starts to tell story. Who put it there? Is it for people who live there, or just come and visit? Who are the presents for?
This tutorial offers an easy way to draw the layers of a Christmas tree, without getting too bogged down with all the branches. The simple sections that get wider and wider are easy to draw, and let students add shadows too, if they'd like. It all adds up to a tree that doesn't look so flat, which is what happens when only the outline is drawn.
Lastly, when it comes to coloring your drawing, here's a tip that will keep your student's snow looking white and fresh. All they have to do is remember NOT draw the little circles first with a black marker. They need to stop when they're done tracing the tree and mountains, and draw the snow circles with the sky blue color instead. Afterwards, when they fill in the background they will have some very pretty and soft looking snow without any black outlines. It makes for a much lighter and more delicate looking sky.
Getting Started with Drawing Guides
The best way to get students off to a good start to any drawing lesson is to show them how to use guides as a reference point.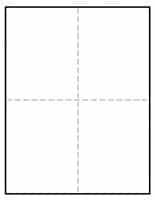 You may have noticed that all of the tutorials on this site have a dashed line running through the center of each step, in both horizontal and vertical directions. If students make their own centered lines on their own paper, before drawing, they will have an easy reference to follow.
Also Read : 5 Must Have Art Supplies for Beginners
Drawing skills are all about getting the size and placement of lines on paper, so having some visual reference point to get started, will always help anyone learn how to be a little more accurate.
So does that mean students need to get out a ruler to draw a big fat line down the center of their paper before they start? Goodness no, please don't! That will most likely be hard to erase and distract from any finished art. No, simply fold the sheet of paper in half both ways, make a crease, and unfold. The beauty is that by the time the drawing is done and colored in, the creases will disappear.
And now, on to the Christmas Tree drawing project.
Join the "Daily Draw" below to get this free download!
Pin me to your Pinterest Board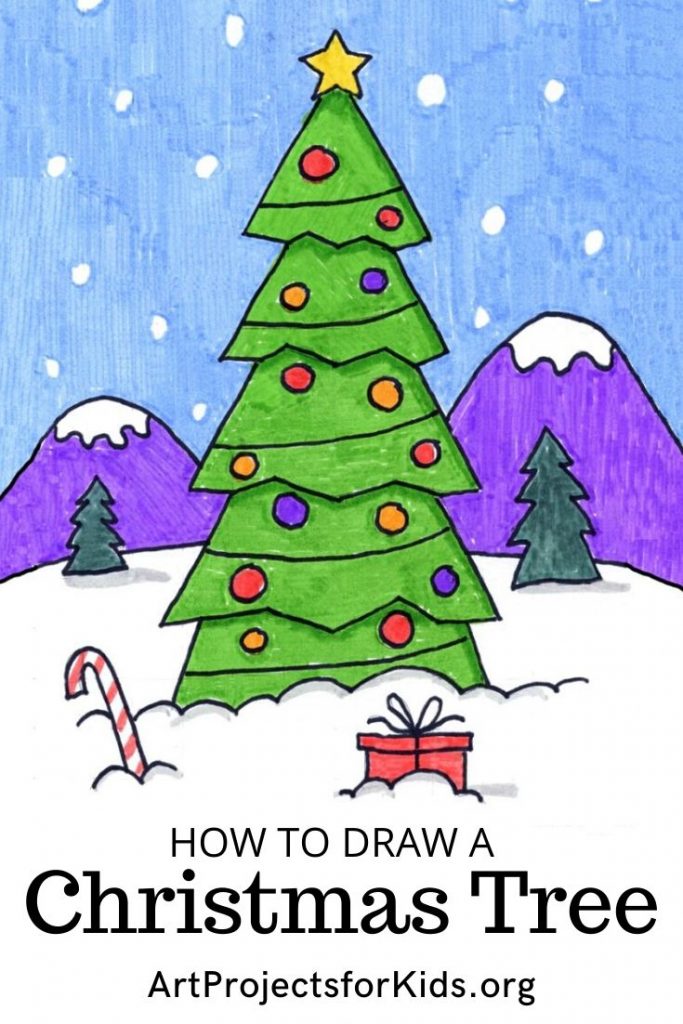 Christmas Tree Coloring Page
Materials for a Christmas Tree Drawing
Step by Step Directions for to Draw a Christmas Tree
More Easy Christmas Drawing Projects
Another Christmas Tree Tutorial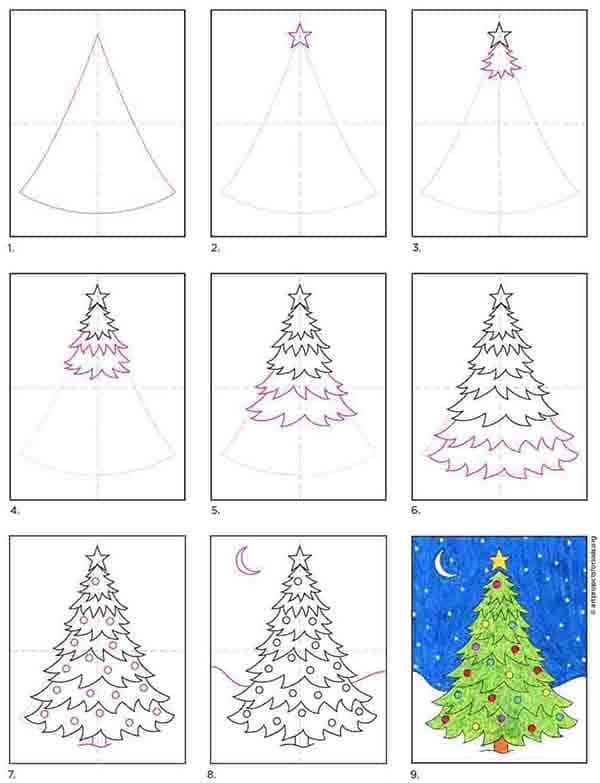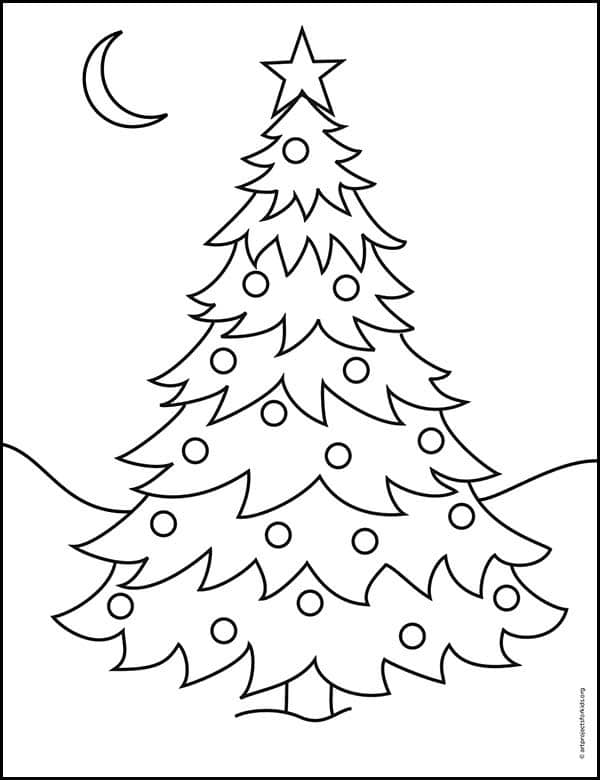 Student Drawings