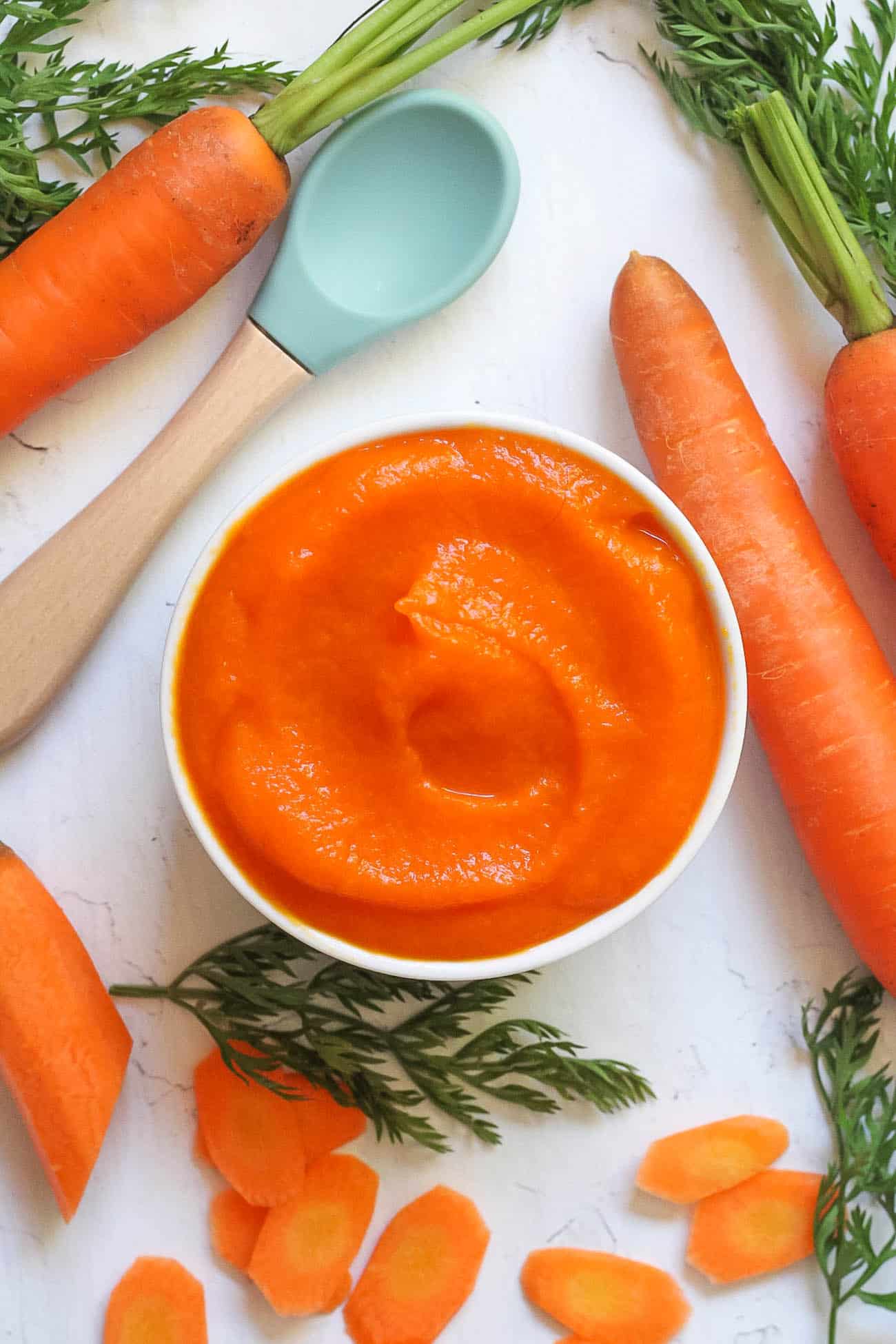 This post may contain affiliate links. As an Amazon Associate, I earn from qualifying purchases. Please read my disclosure.

Naturally sweet and full of vitamins and nutrients, carrot baby food is an excellent stage 1 food! Pureed carrots for baby is simple recipe that takes less than 10 minutes to prepare! Your baby will love this orange vegetable and easy starter puree!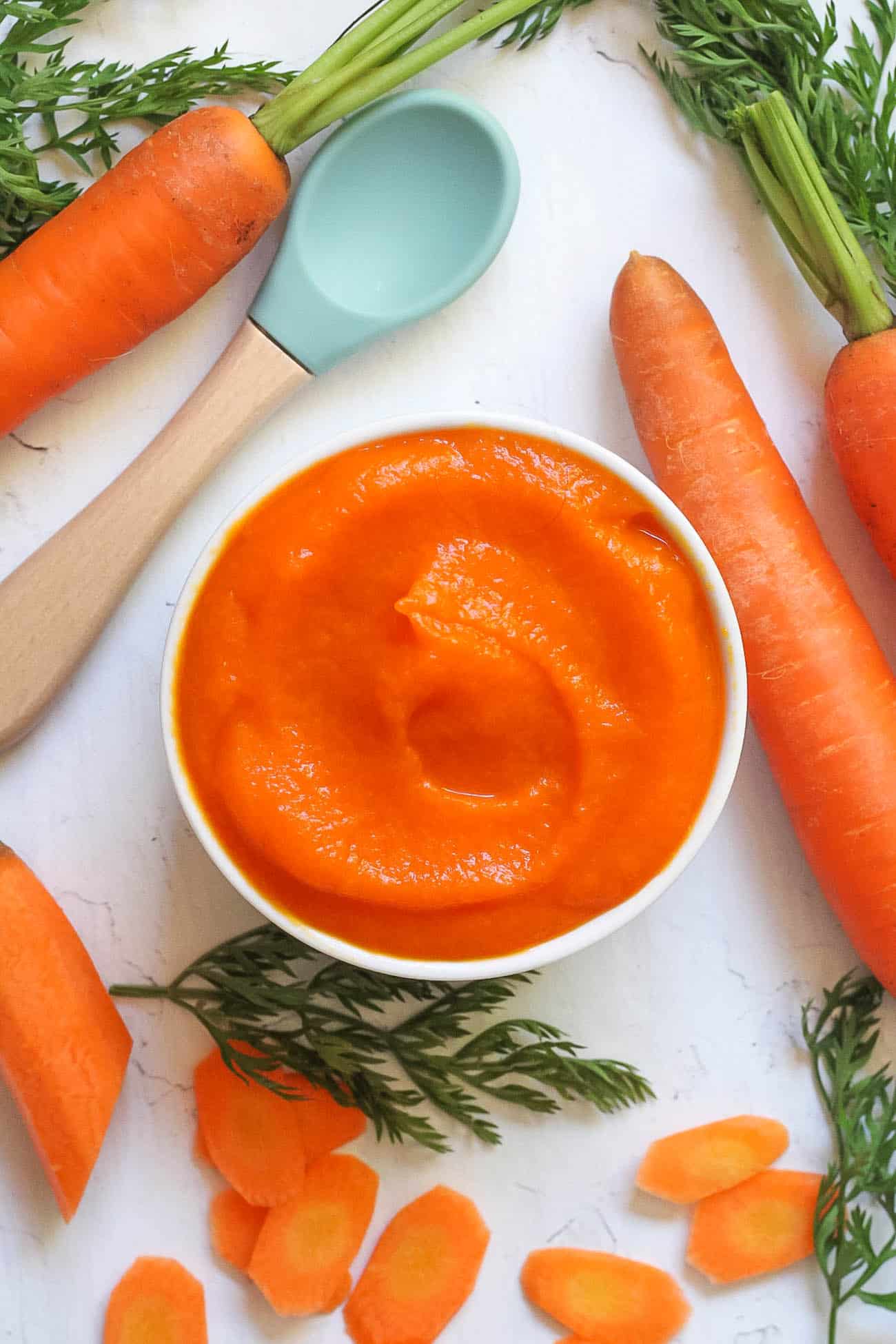 This carrot puree baby food recipe is a favorite for young babies. And it is super easy to make! Just peel the carrots, cook for 6-8 minutes, and puree.
Carrots have a sweet taste and mellow flavor which makes it a perfect first food for baby to try.
Carrots are packed with Vitamin A, and are an excellent source of beta-carotene, which is terrific for your skin and your eyes. It's also a great first food for your new eater, because it's less likely to cause an allergic reaction and is very easy to digest.
These carrots for baby are also a great way to get your baby to accept less sweet veggies like broccoli or green beans. You can mix carrots (which are a sweeter veggie) with those less sweet veggies like green bean puree or pea puree to make them more palatable.
This baby food stage 1 recipe is super versatile because you can serve it up in a variety of ways – see our carrot baby food combinations below for more ideas! No matter how you serve it, your baby will love it – carrots tend to be a favorite first food!
👩‍🍳 Why This Recipe Works
Easy stage 1 recipe for baby
Healthier than store bought commercial baby foods
Packed with vitamins and essential nutrients for baby
Unlikely to cause allergies
Great option for baby's first food
Naturally sweet vegetable that baby will love!
Great for meal prep, freezer friendly
Creamy, smooth puree
Budget friendly
Best carrot puree recipe for baby ever!
Latest Recipe Video!
🥘 Ingredients
This carrot baby food recipe requires just two simple ingredients that you can find at any grocery store! It doesn't get much easier than that! For detailed instructions and nutritional information, see the recipe card at the bottom of this post. Here's what you need to make carrot puree: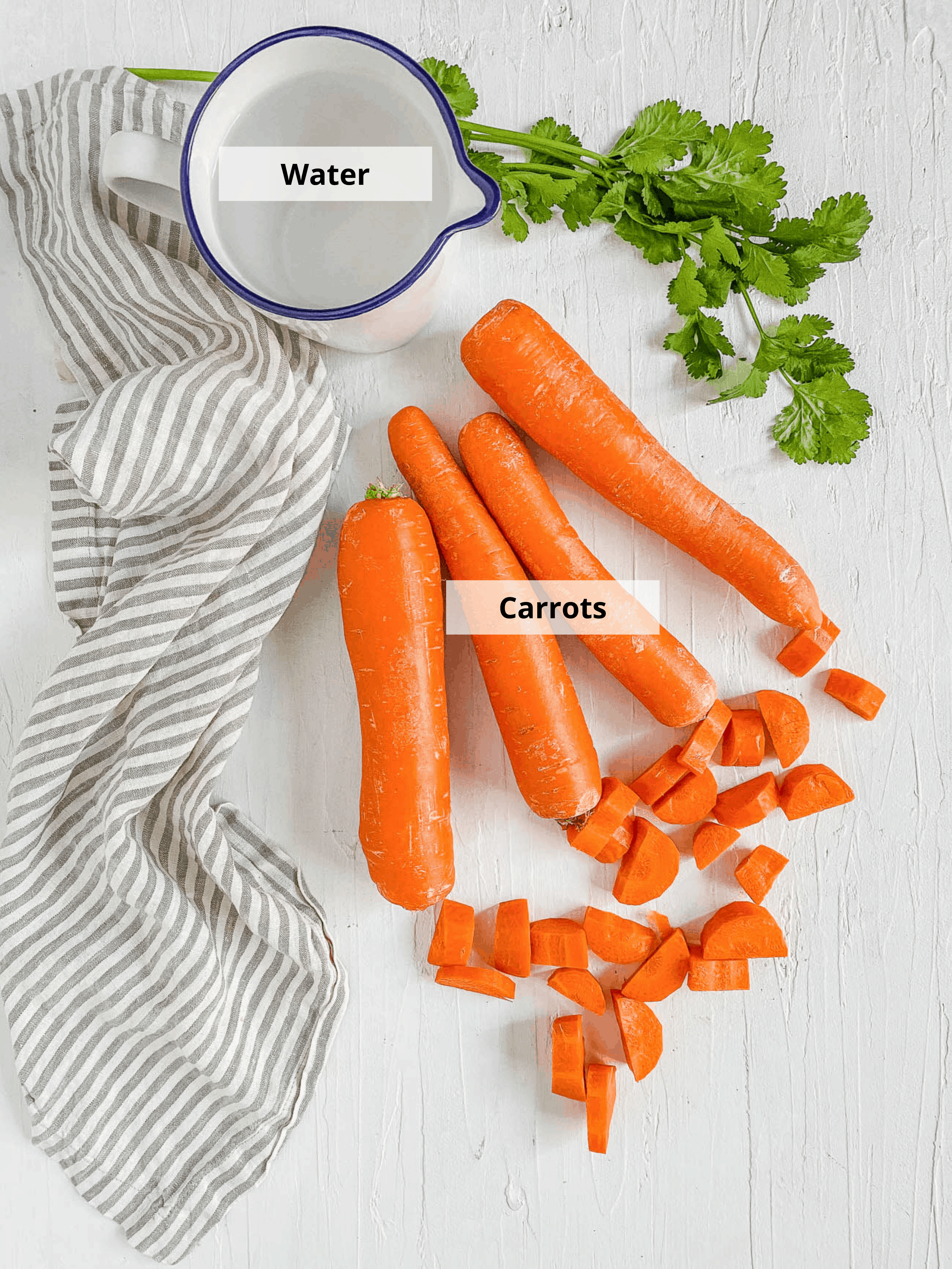 Organic Carrots: I prefer to use large carrots rather than baby carrots for this baby food carrots recipe. You'll need about two pounds of carrots. Be sure to peel the carrots, and chop them into small pieces before cooking to reduce the overall cook time. I also recommend buying organic carrots to reduce your baby's exposure to harmful pesticides. You can find organic carrots at your local farmer's market or at most grocery stores.
Water: Use fresh filtered water to puree the carrots so that they have a smooth consistency. You can always add more water if needed, a little at a time.
🔪 How To Make Carrot Baby Food
It really is so easy to make your own carrot baby food at home! I typically make carrot puree for baby using the boiling method, but you can also roast carrots before turning them into baby food, steam carrots, or use carrots as a baby led weaning food! We have included instructions on all of these different preparation methods, so you can choose the method that works best for your baby!
How To Boil Carrots For Baby Food
Prepare & Boil Carrots: Wash and peel your carrots, cut off stems. Cut carrots lengthwise and cut each half into 8-10 pieces. Throw the carrots into a large pot with 2 1/2 cups of boiling water. When it comes to how long to boil carrots for baby food, all you need to do is cook carrots for 6-8 minutes until they are tender.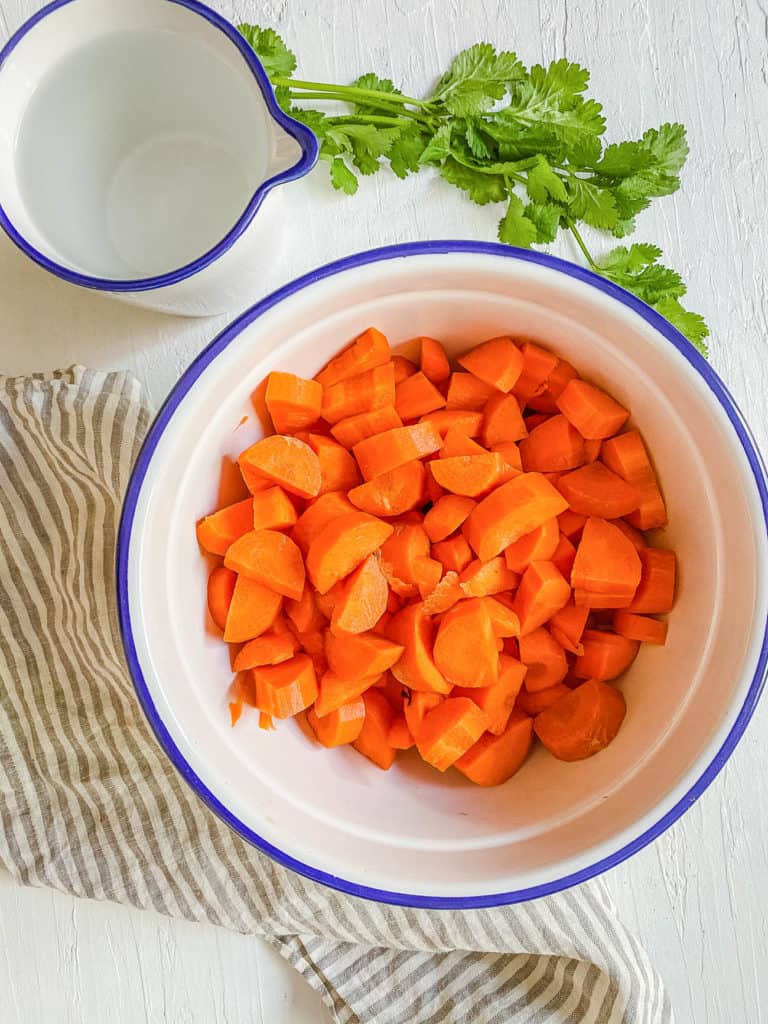 Puree Carrots For Baby, Store: Pour the carrots and water into a blender, puree until you have a smooth texture. Pour the carrot baby puree into ice cube trays, allow to cool, wrap/cover, and freeze.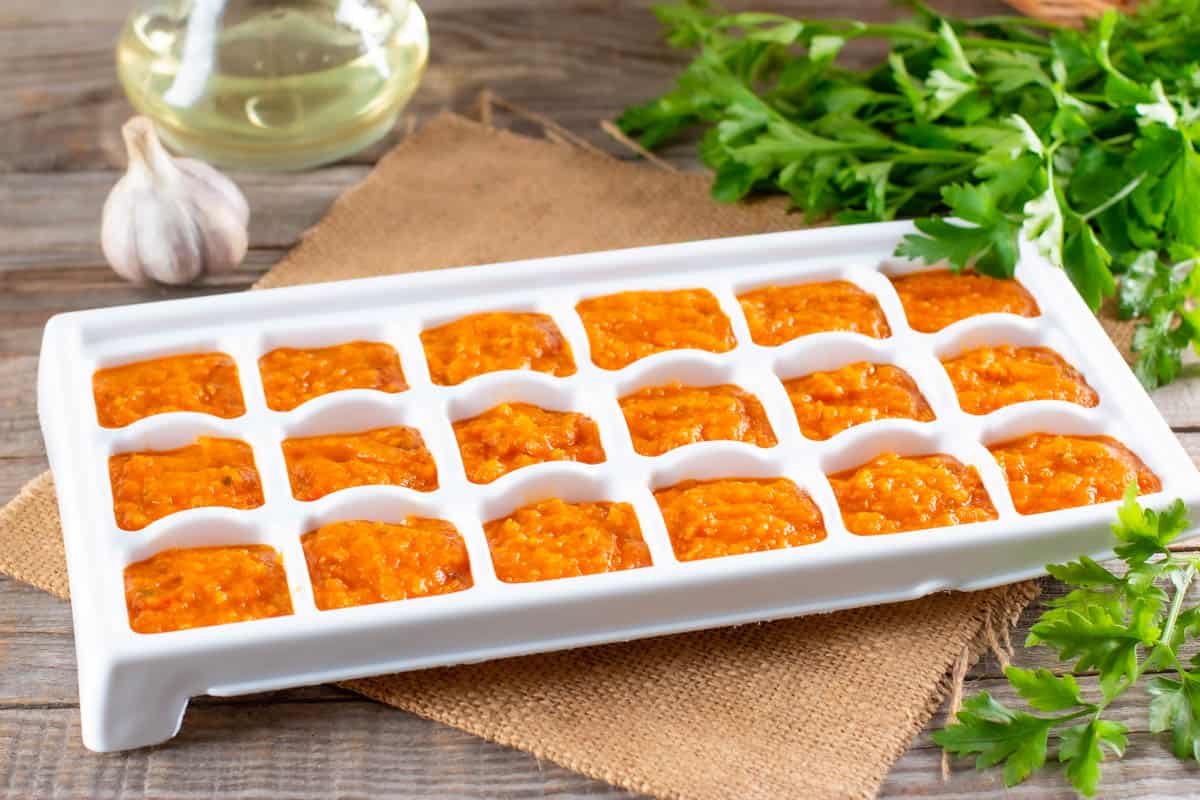 How To Steam Carrots For Baby
You can make steamed carrots using a steamer basket. Here's how you can make steamed homemade baby food carrots:
Prep: Wash, peel and chop your carrots into bite-sized pieces.
Prepare steamer basket: Fill a pot with about an inch of water and bring it to a boil. Place a steamer basket into the pot.
Steam the carrots: Place the carrot pieces in the steamer basket and cover the pot with a lid. Steam the carrots for about 10-15 minutes or until they are soft and tender. They're done when a fork can easily go through the carrot pieces.
Cool and puree: Once the carrots are cooked, remove them from the steamer and let them cool. Add a little bit of water to a blender, then add your steamed carrots. Puree carrots for baby food until smooth.
Store: Transfer your baby carrot puree to ice cube trays and store in the freezer.
Also Read : Benefits of Being Outside | MomDocs
How To Make Roasted Carrot Puree For Baby
Prep: Wash, peel and chop carrots, add them to a baking sheet sprayed with olive oil cooking spray. Preheat your oven to 425 degrees F.
Toss carrots: Drizzle a couple tablespoons of olive oil over the carrots, and toss on the baking sheet. Rearrange to ensure the carrot pieces are in a single layer on the sheet.
Roast: Bake carrots for about 20 minutes, until tender and slightly caramelized.
Cool and puree: Once the carrots have cooled, transfer them to a blender with a little bit of water and puree. I recommend starting with 2 tablespoons and adding more as needed – depending on how thin you want your puree to be.
Store: Transfer this carrot baby food puree to ice cube trays and store in the freezer.
How To Make Baby Led Weaning Carrots
Baby-led weaning is a method of introducing solid foods to babies as finger foods, by allowing them to self-feed. If you're letting your baby self feed, make sure to observe them at all times to prevent choking. Here's how you can prepare baby-led weaning carrots for babies:
Prep: Wash, peel and chop your carrots into finger sized sticks or wedge shaped pieces that are the same size. Larger pieces will make it easy for your baby to pick them up.
Steam or roast: Depending on whether you want to make steamed or roasted carrots for your baby, follow the instructions above for either steaming or roasting carrots.
Let cool: Make sure the carrots have cooled to room temperature before serving.
Serve: Place them on a plate or a tray and serve them to your baby. Your baby can pick up the carrot sticks and gnaw on them.
Offer different textures: Feel free to offer your baby mashed carrots that they eat with a spoon, roasted carrots, or sauteed carrots.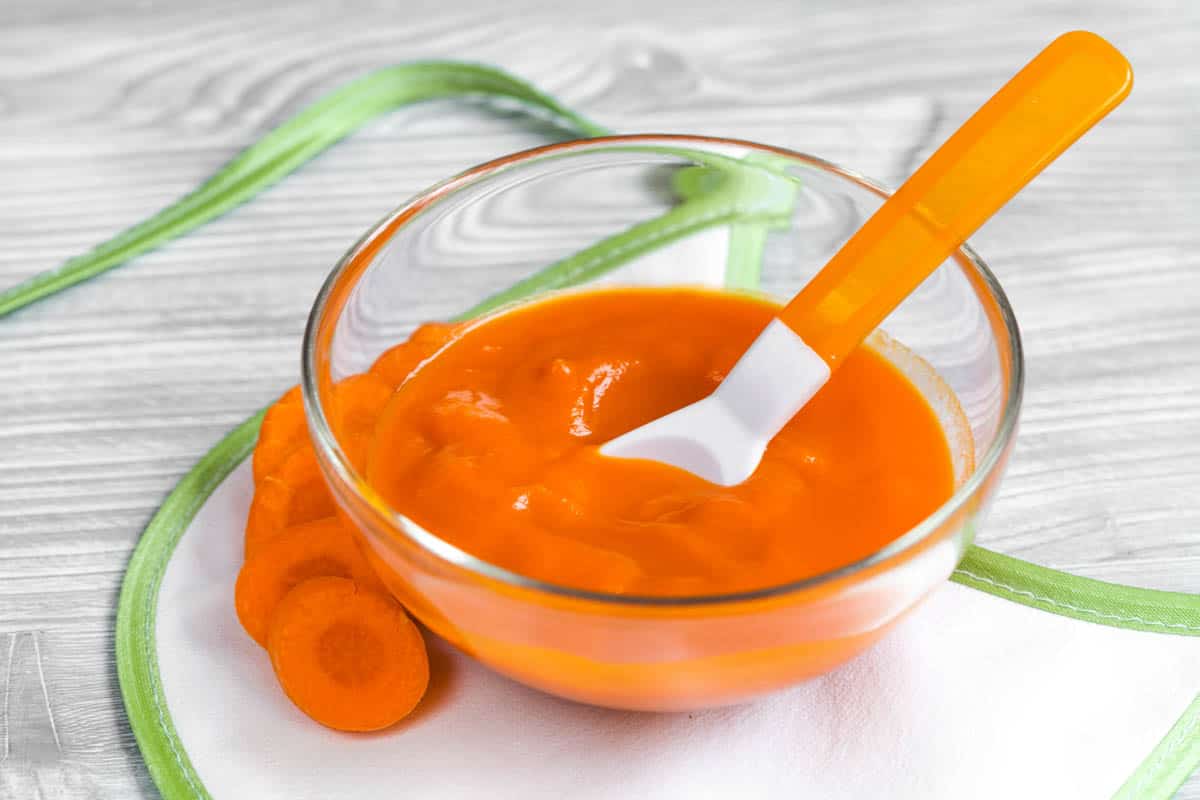 💭 Expert Tips
Make a large batch.This carrots puree baby food makes a large quantity and is great for meal prep. Be sure to freeze so that you have carrot puree for your baby for an entire month or more!
Make sure you have all of the equipment that you need readily available. All you'll need is a good blender, and a large pot for boiling the carrots.
Choose high quality carrots. This stage 1 baby puree will taste as good as the carrots you put into it, since that's essentially the only ingredient you're using! Choose fresh, large organic carrots, that are firm and bright in color, not baby carrots. While you can make this carrot recipe for baby with frozen carrots, it may not taste as good as fresh.
Cut the carrots into small pieces. This will help them to cook more evenly and more quickly!
Add liquid right before serving. Do not add formula, breastmilk, or any broths or plant based milks to this baby puree carrots and then store it. Only add liquid right before serving, as the liquid you choose will have a different shelf life than these baby food carrots.
Check for allergic reactions. When introducing new foods it's important to check for any allergic reactions. The first time you serve this to your baby, wait two days before introducing any other baby food puree. Water for allergic reactions in that time to ensure your baby reacts well to the homemade puree.
📖 Recipe Variations
Add Fresh Herbs: This baby food carrot puree recipe will taste delicious with fresh herbs added to the blender. I recommend rosemary, or thyme. Leafy green herbs would also give this recipe a nice fresh flavor. Try adding cilantro, basil, or parsley, with a pinch of garlic!
Add Spices: You can add some mild warm spices to give the carrots extra flavor. I like adding cinnamon, nutmeg, ground ginger, cumin, or a mild curry powder.
Add Healthy Fats: Try adding a little bit of olive oil or coconut oil for an even smoother mouth feel and healthy fats.
Make Finger Food: For older babies, you can take this regular carrots baby food recipe and turn it into carrot sticks! Just cut up the carrots into matchsticks, and either saute, roast in the oven, or boil until they are soft enough to gum.
Make Purple Carrots Puree! There are so many different varieties of carrots, and they all make a great puree. Try purple carrots or even white carrots – they are all great for baby's diet!
🥕 Carrot Baby Food Combinations
This simple carrot puree is great on its own, but you can serve this delicious veggie with a wide variety of foods! Here are some of our favorite carrot puree combinations:
Other Sweet Vegetables: I love mixing this first baby food with pumpkin, sweet potatoes, summer squash, or even butternut squash.
Green Veggies: Puree carrots are great to add to other vegetable purees because it has a naturally sweet flavor that tones down the robust flavor of some green vegetables your baby might not be too fond of. Try mixing carrots with spinach, green beans, peas, cauliflower, or broccoli puree.
Fresh Fruits: Try mixing carrot puree with other great starter purees like banana puree, apples, pears, peaches, prunes, or mango!
Creamy Foods: Add whole milk yogurt, breast milk or organic baby formula to this healthy baby food recipe.
Whole Grains: All cooked grains – oatmeal, quinoa, brown rice (or any cooked rice), barley, and more would taste great added to this homemade stage 1 baby food. You can either puree the grains, or leave them soft and cooked for a chunkier puree.
Protein: For a more hearty meal, try adding protein! You can add tofu, lentils, white beans, or even chicken or beef if you don't need to keep this baby food carrot recipe vegetarian.
🥄 How To Feed Carrots To Baby
There are a few different ways you can give carrots to your baby! You can feed them yourself, let them explore on their own, or do a combination of both! Here's how to feed carrots to your baby:
Spoon-Fed: This is the most common way to feed purees to babies. Simply spoon a very small amount of this carrot baby food into your baby's mouth and encourage them to swallow. Keep feeding them as long as they are opening their mouth and leaning forward to eat. You'll know they're done when they either turn their head or push the food away.
Finger Foods: This is essentially the baby led weaning approach! Give your baby big, soft pieces of carrots on a tray and let them explore.
Combination: When I was transitioning my kids to self feeding, I'd spoon feed them first, and then give them chunkier foods to eat on their own with their hands and with a spoon.
🫙 Storage, Freezing, And Reheating Directions
To Store In The Fridge: Let the carrot purée cool completely. Transfer to an airtight container. It will keep in the fridge for up to 4-5 days.
To Freeze: This carrot puree recipe baby food makes such a large quantity, I recommend freezing it if you can! To freeze, place the puree in an ice cube tray (or trays), wrap with plastic wrap or a tight fitting lid so that its sealed. Freeze overnight. Once frozen, pop the ice cubes out of the tray and place in a zip-top freezer bag. Make sure all air has been pushed out of the bag before sealing. Label with the contents and the date. Frozen carrot puree will keep in the freezer for up to 4 months.
To Defrost: Place the small cubes in an airtight container in the refrigerator to thaw overnight, or place the cube in a bowl, and the bowl in warm water, to defrost more quickly.
A large pot for boiling the carrots.
A high-speed blender or food processor to make the homemade baby food. You don't need a baby food maker to make the perfect puree!
Mumi & Bubi Trays, or any covered ice cube trays for storing this baby food carrot recipe in the freezer.
❓Recipe FAQs
Are carrots good for baby? What are the health benefits of carrots?
Yes! Carrots are an excellent source of vitamins and minerals that are essential for your baby's growth and development, which makes homemade carrot puree for baby super nutritious.
Here are some of the health benefits of carrots:
** High In Vitamins: This root vegetable is high in Vitamin A, Vitamin K, Potassium, and Iron. Vitamin A helps to support a strong immune system, and also supports a baby's heart, lungs, and kidneys.
** High In Antioxidants: Carrots are also high in beta-carotene which helps to improve vision, and are rich in anti-inflammatory antioxidants.
** High In Nutrients: Carrots are high in fiber for digestion a good source of iron. Babies begin to lose iron around 5 months of age, so providing them with iron rich foods is important.
When can I give my baby carrots?
Carrots are one of the best first foods for babies. You may introduce your baby to carrots as young as 4 months, but typically 6 months is when solids are first introduced to baby. It is a great stage 1 food to give to your baby because it is rich in vitamins, and minerals, while also having a mild and pleasing flavor, and it's low risk because it's not a common allergen.
Can you puree raw fresh carrots for baby?
No, I do not recommend pureeing raw carrots for your baby. Be sure to cook them first to soften their texture, then puree combined with water. If you puree raw carrots they will be too chunky and hard. Your baby will not be able to eat them. They need soft purees at the first stage of introducing solid foods, and raw carrots can pose a choking hazard.
How do I make my baby puree smooth?
The key to making this carrot baby food recipe smooth is to be sure you have cooked your carrots long enough so that they are easily pierced with a fork. They should be soft in texture. Then, when you add them to the blender, be sure to add filtered water. If this baby carrot puree recipe is not quite smooth enough, add a bit more water and blend until you reach your desired consistency.
Do I need to peel carrots before making carrot puree?
I recommend peeling the carrots, but it's up to you! Since you are pureeing the carrots, if you use a high quality blender you won't really be able to tell the difference if they're peeled or not. If you don't peel your carrots, make sure to wash them thoroughly, as the peel tends to have a lot of crevices where dirt gets stuck, vs. peeling that first layer off – which makes the carrots much easier to clean.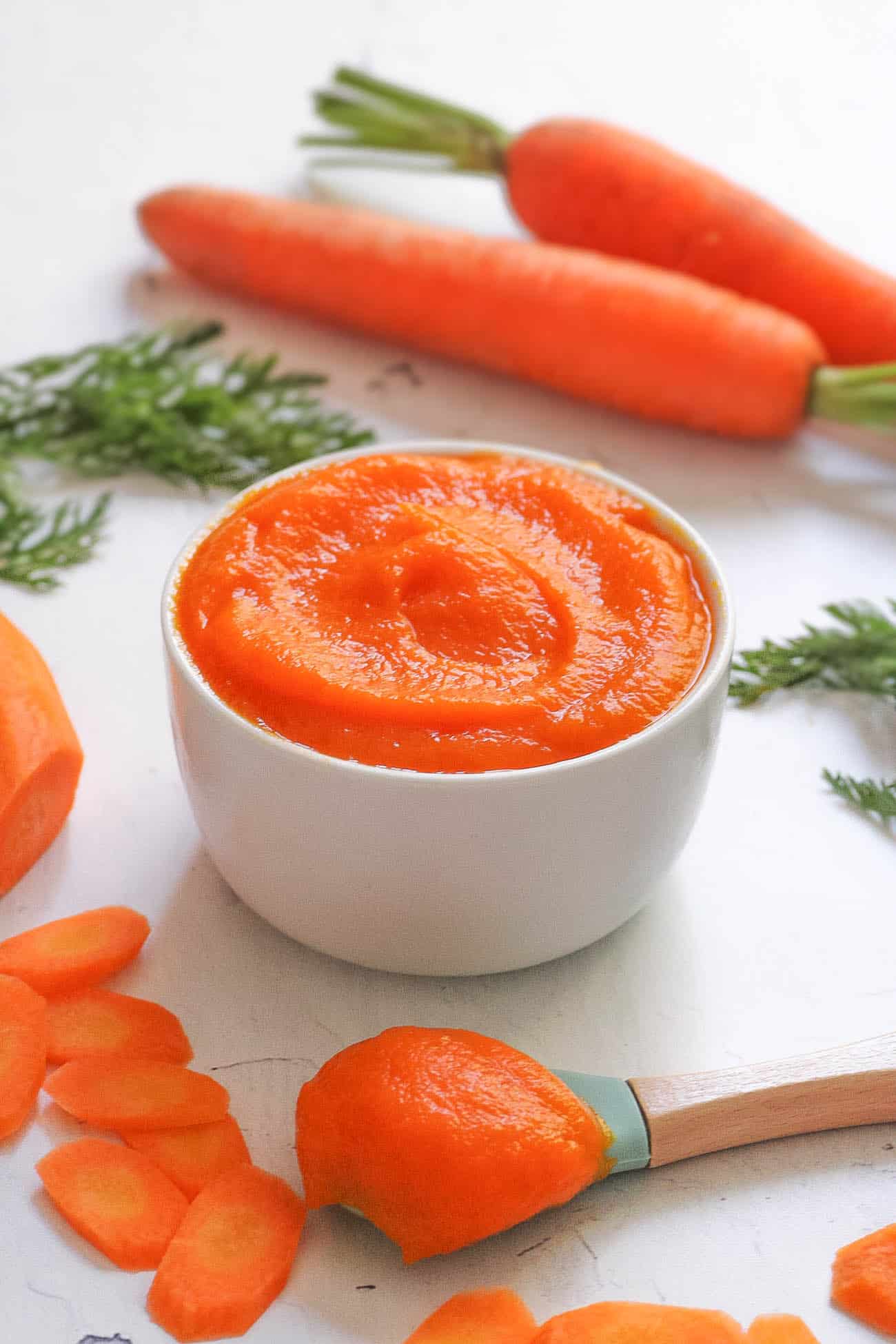 🥣 More Stage 1 Baby Food Recipes And Tips!
Love this plant based baby food recipe? Please leave a 5-star rating 🌟 in the recipe below and/or a review in the comments section further down the page!
You can also FOLLOW ME on FACEBOOK, TWITTER, INSTAGRAM, and PINTEREST to see more delicious, healthy, family-friendly food, and if you have any questions, I'm here to help!
📋 Recipe Card
Carrot Baby Food
Naturally sweet and full of vitamins and nutrients, carrot baby food is an excellent stage 1 food! Pureed carrots for baby is simple recipe that takes less than 10 minutes to prepare! Your baby will love this orange vegetable and easy starter puree!
Servings: 32 servings
Calories: 11kcal
Expert Tips
Stage 1 Baby Food: 4 months and up
1 ice cube = 1 oz of food serving
This should make about 128 tablespoons of food. Assuming your baby eats about 4 tablespoons of food in each sitting, this makes 32 servings.
Spice up your baby's food! Serve carrots with basil and garlic, or with a pinch of cinnamon and nutmeg.
This recipe makes a large quantity. Be sure to freeze so that you have carrot puree for your baby for an entire month or more!
Use the Mumi & Bubi Trays for easy storage.
Make sure you have all of the equipment that you need readily available. All you'll need is a good blender, and a large pot for boiling the carrots.
Use fresh large organic carrots, not baby carrots. Peel and chop into smaller pieces
Use filtered water when preparing baby food, and adding to your puree.
Keeps in the freezer for up to 4 months. Keeps in the refrigerator for 3-4 days.
Adapted from BabyLove
Serving: 4tablespoons | Calories: 11kcal | Carbohydrates: 2.5g | Protein: 0.3g | Sodium: 18.4mg | Potassium: 85.3mg | Fiber: 1g | Sugar: 1g