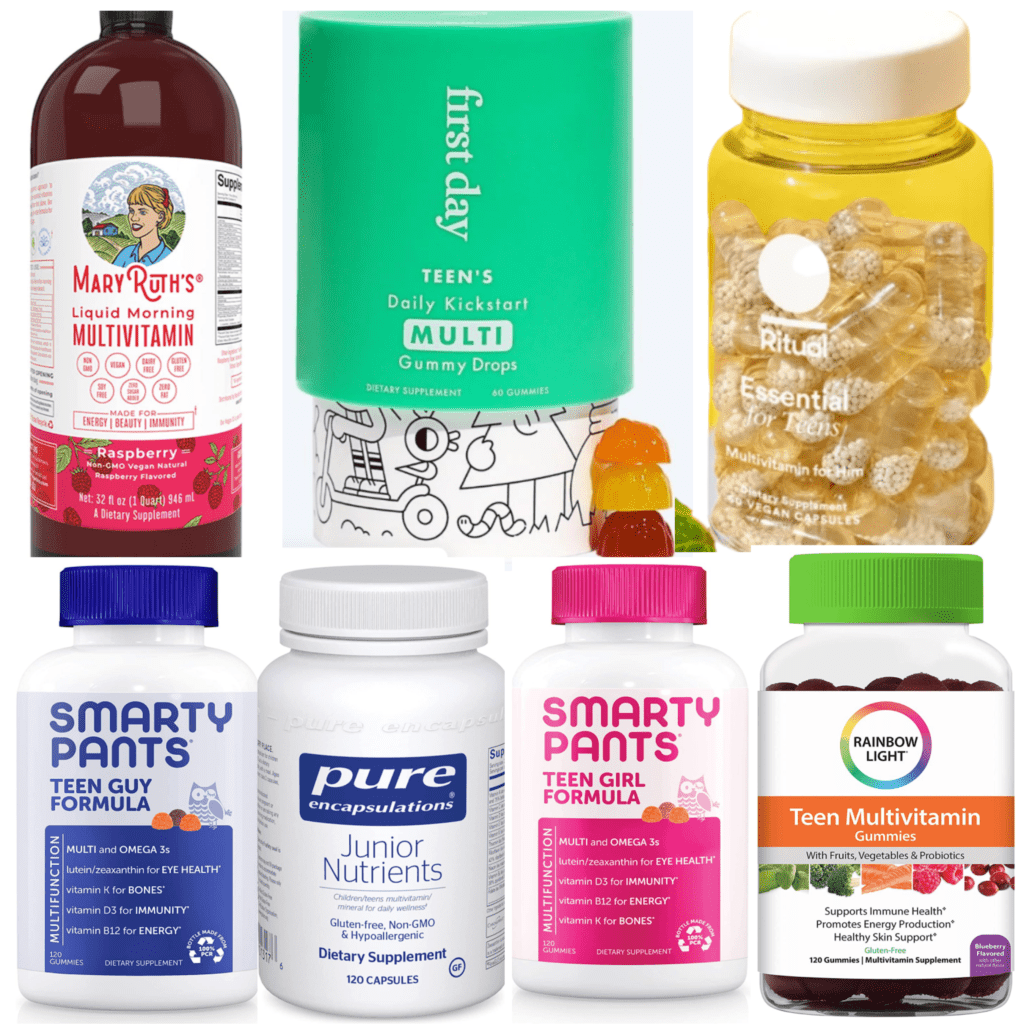 This post may contain affiliate links. As an Amazon Associate, I earn from qualifying purchases. Please read my disclosure.

This comprehensive guide to the best vitamins for teens will help you figure out what to look for in a teens vitamin, what to avoid, and help you find the best multivitamin for your teen! Note: For younger children, head over to my guide to the healthiest children's vitamins.
Buying the right vitamins for your teens can be a stressful process. Oftentimes, it brings up many tough questions: What are the best vitamins for teens? Do teenagers need multivitamins? What are the best vitamins with natural ingredients?
These questions (and so many more) can lead to hours spent trying to find answers so you can ultimately purchase the best vitamins for teens. Luckily for you, I've done the research for you and rounded up my top picks. This in-depth list of the healthiest vitamins for teens will help you decide what to buy and what to avoid.
Should Teens Take Daily Vitamins?
If your teens enjoy a healthy diet with the right foods (aka fresh fruits, fatty acids, green leafy vegetables, etc.), then there's a good chance they don't necessarily need daily vitamins. That being said, when our older kids hit their teenage years, it can become difficult to control what they're eating for every meal.
Let's be real. Many of us have teen boys or teen girls who won't even touch certain foods. Carrots? Maybe on a good day. Brussels sprouts? Not a chance. As a mother of former picky eaters, I can tell you based on experience that your picky eaters might not be getting all of the essential vitamins they need for normal growth and healthy development.
Enter: vitamin supplements, mineral supplements, and nutritional supplements. These serve as easy and convenient tools to ensure that your teenager is meeting their nutritional needs. The teen years are essential for growth, so it's incredibly important that you avoid (or confront) any potential nutritional deficiencies now.
Also Read : Black History Month Reading List: 15 Inspiring Black Authors Whose Words We Live By
What Kind Of Vitamins Should A Teenager Take?
For growing teenage boys and girls, growth spurts are inevitable, and there are certain vitamins that will support healthy growth and development in your child.
For example: Vitamin D is an essential fat-soluble vitamin for strong bones and cell growth. If your teen isn't getting the recommended daily value of this important vitamin on a daily basis through a balanced diet, you may consider turning to a dietary supplement.
Vitamin C is essential to the proper growth of young women and men, primarily for its collagen-building properties. This is a water-soluble vitamin, which means it is not stored in the body and must come from external sources like citrus fruit, bell peppers, or daily vitamins if necessary.
Folic acid or folate is necessary for cell division and can be found in breakfast cereals, legumes, avocados, and spinach.
B vitamins like Vitamin B12 and Vitamin B6 are essential for maintaining energy levels, metabolizing fats, carbs, and proteins, and the production of red blood cells. Vitamin B6 can be found in plant and animal foods like dark leafy greens, fish, potatoes, and chickpeas. Vitamin B12 is primarily found in animal products, so if your teen follows a vegan diet or vegetarian diet then you may want to consider a supplement.
There are plenty more essential minerals and vitamins that provide a variety of health benefits to older children, like Vitamin A, Vitamin B2, Vitamin E, Vitamin K2, and Iron for teen girls. While many of these important nutrients can be consumed on a regular basis through food sources, many teens may not be getting the full amount of nutrients they need just through food, which is why it's important to determine which vitamin supplements are best for your teens.
What Are The Best Vitamins For Teens?
If you're looking for the best vitamins for teens, you've come to the right place! Whether you're on the hunt for gummy vitamins, chewable teenage vitamins, liquid vitamins, or natural vitamins, there are plenty of good vitamins for teens on this list to choose from. On this list of healthy vitamins for teens, you will find natural options that are free of artificial ingredients and nasty preservatives.
Before you select the best vitamins for your teen, I highly recommend speaking with a doctor to determine which (if any) nutritional supplements or daily multivitamins your teenager needs to ensure healthy growth and overall health. Consulting with an expert is the best way to get the guidance you need as far as which vitamins are good for your teen and which dosage works best.
Now, let's dive right in with our comprehensive list of the best multivitamins for teens.
Best Multivitamins For Teens
All of the vitamins included on the list below are free of animal products, so they are the best multivitamins for vegetarian teenagers and meat-eating teens alike. They all support rapid growth and overall health, and many of them are also organic and free of common allergens. If you're looking for the best vitamins for teenage growth, keep reading!
Best Vitamin B12 For Teens
Vitamin B12 is essential for nervous system function, red blood cell production, brain function, and healthy skin. The vitamin is abundant in many animal food sources like meat, fish, and dairy. While few plant sources provide adequate sources of the B vitamin, it can be found in high amounts in plant-based foods like nutritional yeast, seaweed, mushrooms, and spirulina.
Getting your vegetarian teens (especially if they're picky eaters) to eat these foods can be a challenge, which often leads to B12 deficiency. For this reason, plant-based Vitamin B12 supplements can be a huge help in getting your teens the key nutrients they need. Here are some of the best Vitamin B12 supplements for teens:
Mary Ruth's Vitamin D3 and B12 Gummies (pectin-based, suitable for both adults and children over age 12, free of common allergens like gluten, soy, and wheat)
Mary Ruth's Organic Methyl B12 Spray (USDA organic, non-GMO, sugar-free, and free of common allergens like gluten, soy, wheat, and corn)
Best Vitamin C Supplements For Teens
Also known as ascorbic acid, Vitamin C is essential for the growth, development, and repair of body tissues. This water-soluble essential vitamin has been linked to health benefits like strengthened immunity, brain function support, and reduced risk of disease.
Worried that your teens aren't getting the recommended daily value of Vitamin C? Not to fear, there are a few natural supplements you can try out. Here are my top picks for the best Vitamin C supplements for teens. If you're looking for a chewable teenage vitamin, I recommend Raise Them Well Children's Immunity Chewables. While these are geared towards children, their website mentions that they work great for teenagers and advise that you double the dose if you're using them for teens.
For a great-tasting vegan gummy vitamin, Mary Ruth's Vitamin C is a great choice. This one works well for both teenagers and adults. Children's Best Organic Immune Gummy (with Elderberry) is another good choice.
If you're looking for a liquid Vitamin C supplement for teens, I recommend ChildLife Essentials Vitamin C. You can easily adjust the dosage to make this a suitable option for teens or even adults.
Best Vitamin D Supplements For Teens
Vitamin D is essential for immune function, bone health, and calcium absorption. If you're looking for a liquid Vitamin D supplement that can be used for children, teens, and adults, I highly recommend the Vitamin D Drops from Raise Them Well. These drops contain both Vitamin D3 and Vitamin K2, and are completely flavorless so you can easily squeeze a drop into a glass of milk without noticing any difference in the taste.
If you're looking for a gummy Vitamin D supplement for teens, I love these Vitamin D Gummies from Llama Naturals. These plant-based gummy vitamins are free of added sugar and synthetics, with Vitamin D3 from shiitake mushrooms. They make a great option for children, teens, and adults. Another great option is Mary Ruth's Vitamin D3 Gummies, which works well for teenagers and adults.
Best Probiotics For Teens
Probiotic supplements are highly beneficial to people of any age. For teens, probiotics can help with many of the physical and emotional aspects of adolescence. Probiotics help teens manage stress, balance hormones, reduce inflammation, and produce B vitamins.
If you're looking for a liquid probiotic for teens, I recommend the organic liquid probiotic from Go Healthy Natural. This product contains 14 plant and soil-based strains of probiotics to support digestive and immune health. As an added bonus, it works well for both kids and teens.
Looking for a refrigerated probiotic powder? Garden of Life Raw Probiotics is a great powdered option for children, teens, and adults. This gluten-free and vegan probiotic supplement contains 23 raw organic fruits and veggies, as well as an impressive probiotic blend. This product ships cold and can easily be mixed into milk, juice, or water. Garden of Life also has an organic chewable probiotic if you want a product that does not require refrigeration, but keep in mind it does contain maltodextrin. If you're looking for an organic gummy probiotic, I like Children's Best.
Best Prebiotics For Teens
Prebiotics strengthen your digestive health and overall gut health by increasing good bacteria in the gut and warding off pathogens in the intestinal tract. There are several plant-based food sources of prebiotics you can eat; including chicory root, dandelion greens, legumes, and Jerusalem artichokes.
If you're worried that your teen does not have an adequate amount of prebiotics in their diet, there are a few great options to choose from. Here are my picks for the best prebiotic supplements for teens:
BeginHealth: This can be used for toddlers, kids, teens and adults! It contains only three ingredients: 2'FL HMO (Human Milk Oligosaccharide), Oligofructose (Chicory root fiber), and avocado oil. It's super clean and really effective!
Garden of Life Organic Fiber Powder (contains prebiotic fiber from organic acacia, organic orange peel, organic baobab fruit, organic apple peel, and organic cranberry fruit)
Bio Schwartz Advanced Prebiotic (contains the prebiotic xylooligosaccharide, along with strains of bacteriophages)
Runner Ups – Borderline Healthy Vitamins For Teens
Ingredients To Avoid In Vitamins For Teens
When choosing the best vitamins for teens, you should always do your research on any added ingredients that are not vitamins. Your best bet is to opt for vegan and organic vitamins that are free from added sugars, artificial flavors, and artificial colors. Here are the top ingredients to avoid when buying a vitamin for your teen:
Artificial colors like Yellow #5, Yellow #6, Red #40, Blue #2
Artificial sweeteners like aspartame and sucralose
Stabilizers and thickeners like carrageenan and maltodextrin
Non-vegetarian friendly ingredients like gelatin
Sugars like glucose syrup solids, fructose, and cane sugar
Sugar alcohols like sorbitol and mannitol
Artificial flavors
More Vitamin Guides!
Final Thoughts
The world of vitamins and supplements can be a tricky one to navigate, so I hope this guide to the best vitamins for teens has proven to be helpful! If you have any questions about vitamins for your kids, feel free to leave a comment or contact me here. I respond to every question I get!