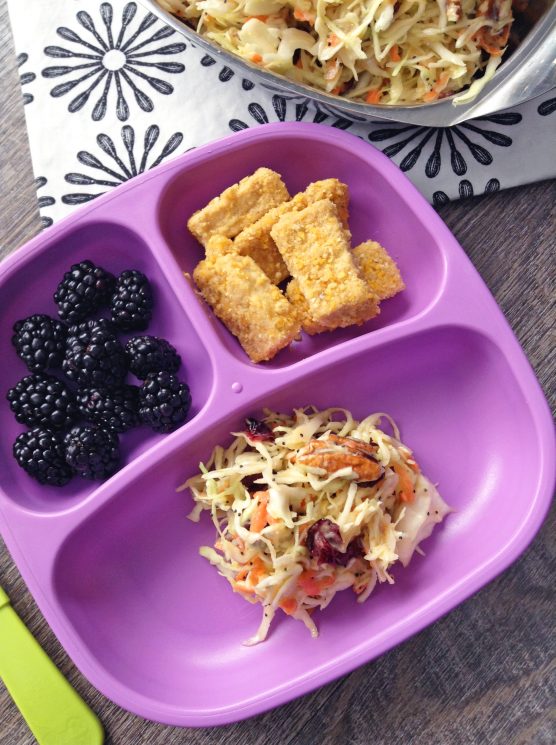 Sweet cranberries and poppy seed dressing on crunchy cabbage make this Sweet and Tangy Homemade Coleslaw a favorite to all!
Sometimes my kids ignore their veggies. Shocker, I know. When it happens a few days in a row, it's usually a reminder to me that we need to switch things up a bit.
Even though it feels frustrating in the moment when the kids refuse to eat, I actually appreciate how they keep my on my toes. Because it's important for them to try lots of different foods… that's how they learn to enjoy new things!
And if they didn't let me know when they're getting bored with the usual offerings…well, then we'd just be suffering from a UDR (unidentified dinner rut.) That's no good.
Besides, sometimes I hit the jackpot with a new recipe. I'll discover something so good, that before I know it, everybody's back on track eating their veggies. And I feel like a million bucks.
This salad became one of those instant hits at our house. It's crunchy and sweet and pairs perfectly with chicken, pasta, or beans.
We called it Ay Caramba! Coleslaw, because with a silly name, the kids really feel like it's for them.
And it is!
How to Make Sweet and Tangy Coleslaw
This salad is incredibly easy to make, especially if you use pre-shredded slaw mix. (Pssst… I'm a little bit of a DIY snob, so I shred my own. But you really don't have to.)
Simply whisk together the dressing, pour it over the cabbage, and stir in the add-ins. Eat it at the table, or bring it along to a potluck or picnic.
The poppyseeds and be-jeweled cranberries make it all look so pretty…
The nutrition in this salad is awesome: it's full of fiber, vitamin C, Vitamin K, protein (really!) and antioxidants.
Yes, it's got some added sugars from maple syrup in it, but we're OK with that. Remember, the aim is to get kids excited about fruits and vegetables! If they enjoy this cabbage salad tonight, they're more likely to try it another way tomorrow.
Also Read : The 10 Best Online Yoga Teacher Training Programs In 2023 (Which One Is Right For You?)
Get Kids Into Salad
Kids might not gravitate towards salads at a young age, but I've learned not to worry. They'll come around with time and persistence.
And there are a few good tricks we can use to make salads more approachable to little eaters. That's what we've done here: with finely-shredded greens, super-tasty dressing, and sweet dried cranberries, Aye Caramba! Coleslaw is totally approachable.
Mix it all together with your kids, place the bowl on the table, and see who you convert to a salad-lover tonight.
Sweet and Tangy Homemade Coleslaw
Sweet cranberries and poppy seed dressing on this crunchy coleslaw can turn around even the most hesitant salad eaters.
Servings: 6 servings
Calories: 377kcal
Dressing
1/3

cup

yogurt, plain

1/3

cup

olive oil

3

tablespoon

vinegar, cider

3

tablespoon

maple syrup, pure

2

teaspoon

poppy seeds

1/2

teaspoon

mustard, ground
Salad
8

cup

shredded veggies, bagged (such as broccoli slaw)

1

cup

pecans, chopped

1

cup

cranberries, dried, sweetened
Whisk all dressing ingredients in a small mixing bowl or glass jar.
In a large mixing bowl, toss all ingredients together until combined with dressing. Serve immediately or let marinate for 30 minutes.
Calories: 377kcal | Carbohydrates: 39g | Protein: 5g | Fat: 25g | Sodium: 13mg | Fiber: 11g | Sugar: 27g
www.superhealthykids.com
Natalie Monson
I'm a registered dietitian, mom of 4, avid lover of food and strong promoter of healthy habits. Here you will find lots of delicious recipes full of fruits and veggies, tips for getting your kids to eat better and become intuitive eaters and lots of resources for feeding your family.
Spiderman Party Ideas | Book Live Cartoon Character For Birthday Parties | JINZZY | Customer ❤️
Learn More about Natalie