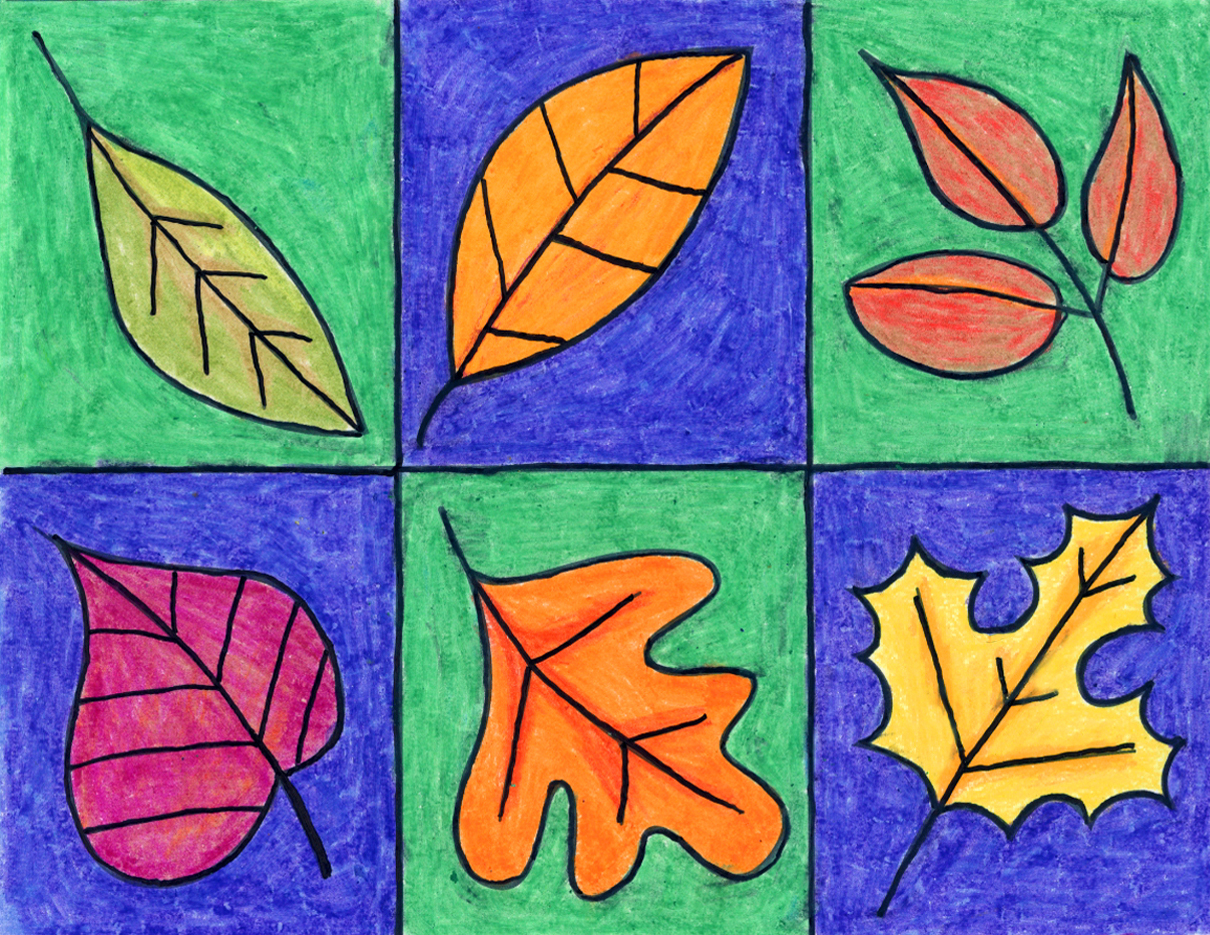 Below you'll find 6 easy, step-by-step tutorials for how to draw a leaf, including a leaf drawing video art lesson, and even a leaf coloring page. The Fall leaf drawing forms a pretty grid display your kids will feel proud of.
Leaf Drawing in an Art Journal
Leaf Drawing Tutorial Video
Whether you are looking to draw leaves, or have something that needs them added to the background, here's a handy tutorial for you. It includes six basic types of leaves so students can just begin to learn the different names, without getting too scientific.
My experience is that some are easiest to draw when you start with veins first, and the leaf shape around then, and others visa versa. Either way, I hope this easy leaf drawing tutorial comes in handy the next time you need some variety for your fall leaf art.
Media note: Crayons work great, but this can make a lovely watercolor painting too, as shown in my sample to the right. I recommended using real watercolor paper, a black Sharpie for a bleed-proof drawing and liquid watercolor paint. Extra dabs of color along the veins make for some fun wet-on-wet painting practice.
Also Read : The 5 Best Online Meditation Teacher Training Programs In 2023
Use the button below to get this free download!
Save me to your Pinterest Board!
Leaves Coloring Page
Materials to Draw Fall Leaves
Drawing Paper. This is the good stuff you can buy in bulk for a good price.
Pencils. I like how this brand always makes nice dark lines.
Black Marker. A permanent marker will give you a dark black color.
Crayons. The larger packs are nice for more color choices.
Note: All of the above are Amazon affiliate links.
Step by Step Directions to Draw a Leaf
More Leaf and Tree Art Projects