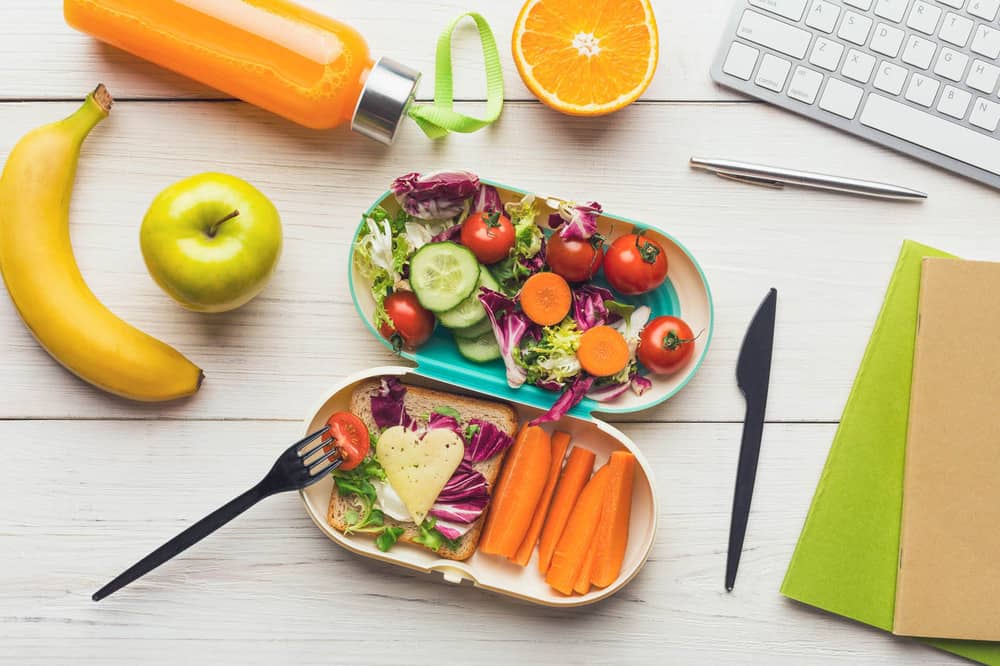 These 20 healthy college snacks will come to your rescue when you need something to fuel up for a study session, or when you're on the go between classes. Stock your mini fridge with healthy balanced foods, and keep these non-perishables on hand for an anytime healthy snack!
So here's the dilemma: we all want to eat healthy, but sometimes it's just impossible to cook, especially if you're a college student with limited kitchen access!
As a result, you may fall back on ramen noodles, processed (boxed) mac and cheese, and high sugar energy bars.
When I was in college, I never cooked and it was really hard for me to figure out which snacks were the healthiest to eat.
I'm here to take all the guess work out when it comes to healthy dorm snacks. In this post you'll find exactly what you need to stock your mini fridge (so you can make a quick snack or meal on the fly), to protein packed snacks that will improve your brain power.
These healthy college snacks are tasty, fresh, and as simple as it gets! With a little creativity, and the right ingredients, enjoying nutrient rich foods when you've got limited resources will be easier than you think!
Why Is It Difficult To Eat Healthy When You're A College Student?
When you're in college and living in the dorm you're at the mercy of what is provided for you in your school's dining hall.
Over the years college campuses have gotten a lot better about providing students with a variety of options, including healthy fresh foods.
However, when you come back to the dorm and have the munchies, relying on non-perishable processed food is a lot easier and faster!
That's especially because, for most college students, it's often difficult to get to a real grocery store. If you don't have a car, and you're living on campus, you may stop in the nearest convenience store to get your snacks.
The problem is, convenience stores have very limited fresh produce and healthy snacks, but have numerous processed foods since they are shelf stable.
As a result, college students tend to stock up on energy bars, frozen pizzas, and ramen. It's what's available, easy, and doesn't require any cooking!
How Can College Students Eat Healthy?
The first important aspect of eating healthy when in college is simply understanding the nutritional value in the foods you eat. When you go to the dining hall, you'll then be able to sort through what is going to fuel your body with nutrients, and what is filled with empty calories and fat.
Choose wisely by filling your plate with fresh vegetables, lean proteins, and whole grains. Limit the amount of high sugar foods you consume.
Eat slowly so that you give your body enough time to send the signal to your brain that you are full.
When you feel full, stop eating! You don't have to have that extra cookie or bowl of froyo!
Tips for Eating Healthy as a College Student
Eat a nutrient rich breakfast.
Keep healthy snacks in your dorm.
Pay attention to how much added sugar you consume (there are even added sugars in foods that look healthy, like flavored yogurt!).
Always stop by the salad bar at the dining hall. Choose a veggie rich salad, with a small amount of dressing.
Drink lots of water daily.
Understand portion sizes. It's easy to eat 2 or more servings of chips and other high calorie foods without realizing it!
Increase your consumption of fruits and veggies.
Stock your dorm room's mini fridge with healthy options.
Buy healthy non-perishable snacks.
Limit the amount of junk food you eat.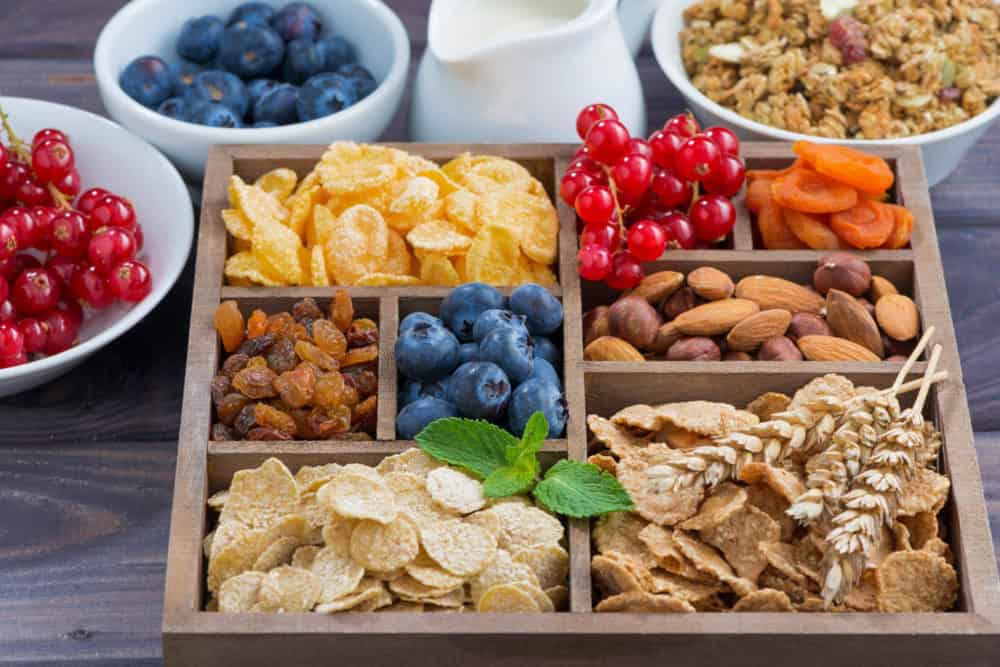 20 Healthy College Snacks
Healthy Snacks for College Students: Fruits and Vegetables
Here is a list of fresh fruits and vegetables to keep on hand when you feel like snacking. Not all fruits and veggies need to be refrigerated. However, if you have a mini fridge, you can keep some of these cool to lengthen their shelf life.
Apples, Bananas, Oranges: These are both super portable fruits that don't perish easily, and have 80-100 calories and 3-5g fiber each (3g for bananas, 4-5g for apples).
Carrot Sticks and Hummus: Carrots are high in fiber, while hummus is high in protein. As long as you don't go overboard with the hummus you can keep this snack to around 100-150 calories.
Pre-Washed Vegetables: Mini bell peppers, cucumbers, broccoli, cauliflower, celery, and tomatoes are simple and low calorie, as well as full of fiber, vitamins, and minerals. You can pair them with a healthy dip like hummus, nut butter, or protein-rich string cheese to keep you fuller longer!
Perishable Snacks: Stock Your Mini Fridge
When it comes to stocking your mini fridge think of snacks like low-fat dairy, pre-cooked hard boiled eggs, and unprocessed dips that you can use for veggies, and crackers.
Cheese: Low fat cheese sticks, cheese cubes, and cheese slices are easy grab and go snacks you can eat with whole grains crackers, or whole grain bread slices.
Yogurt: It's best to choose plain Greek yogurt. This type is high in protein and low in sugar. Add fresh berries, and a drizzle of honey for sweetness. One container of Greek yogurt is 80-90 calories and has 14g protein. Add 1 Tbsp honey and a handful of cereal or nuts, and you're looking at a 200-250 calorie nutrition packed snack.
Hard-Boiled Eggs: It's possible to buy pre-cooked hard-boiled eggs that are already peeled. Hard-boiled eggs are high in protein and low in calories.
Dips: Hummus, salsa, guacamole, and low-fat ranch or yogurt dips are great to pair with veggies and whole grains crackers and bread. You can buy these in individual serving sizes.
Nut Butters: When it comes to nut butters you have to be careful not to go overboard. One serving is 2 tablespoons. Nut butters are high in protein, and healthy fats.
Healthy College Snacks: Grab and Go Snacks
Nuts and Seeds: 1/4 cup of nuts has about 140 calories and is a good source of fiber and protein. Walnuts are my favorite. Opt for raw nuts for the highest nutrition benefit.
Applesauce: Another great way to get your daily serving of fruit in a non-perishable way. Just be sure to get the unsweetened apple sauce with no additional sugar added
Dried Fruit: If you can find it, opt for dried fruit that has no added sugar. Freeze dried fruit is an even better option! Raisins, dried cranberries, apricots, cherries, apples, blueberries, and prunes are high in fiber.
Whole Grain Crackers and Bread: About a 250 calorie snack if you add peanut butter and banana. And it's a healthy twist on the old pb&j!
Trail Mix: When choosing a trail mix opt for one that has a variety of nuts, and dried fruit, but does not have added chocolate or salt.
Low-Sugar/Natural Energy Bars: I recommend choosing one of these protein bars that are made with all natural ingredients, are extremely delicious and low in added sugars. Depending on the bar, they can make a great snack or dessert substitute, or a meal replacement (for the ones higher in calories and protein).
Popcorn: If you have an air popper you can buy corn kernels and pop your own no salt, oil, or butter added popcorn.
Rice Cakes: Try brown rice cakes, they have 2g fiber and 60 calories per cake. Add 1 tbsp almond butter and that's a 160 calorie snack!
Kale Chips: Probably one of the healthiest snacks out there, and if you don't want to make your own, choose an organic pre-packaged option.
Healthy Breakfast Cereals: choose any one of these healthy cereals; and you'll end up (on average) with a 1 cup snack around 120-150 calories, with 5-6 grams of fiber and only 5-6 grams of added sugar.
Shelf Stable Soups: a great way to get your serving of vegetables, and they last FOREVER unopened. Once you open them, you just need to use them within 10 days which is totally doable, and they are delicious.
Snap Pea Crisps: 22 pieces are only 150 calories, and provide 5g protein and 2g fiber.
PopChips: A great substitute for potato chips, with half the fat and only 120 calories for 23 chips.
The Good Bean Chickpea Snacks: These chickpeas pack a nutritional punch! 1/2 a package has only 140 calories, but provides 6g fiber and 7g protein. And they are delicious!
Ginger Chews: A great substitute for sugary candy, 2 pieces will run you only 40 calories and have only 5 grams of sugar each.
Healthy Snacks for College: Make it in a Mug
If you have a mug and a microwave you can whip up a home cooked snack in no time flat!
Scrambled Eggs: Add an egg to a mug, scramble with a fork, add a few chopped veggies, and you have a high protein veggie filled meal.
Oatmeal: Add quick oats and water to a mug and microwave. Sprinkle with cinnamon, and a chopped banana (or berries, pear or apples) and nuts.
Yogurt Parfait: Layer low fat plain Greek yogurt with fresh berries, and top with crunchy granola, nuts, or cereal.
FAQS
How many snacks should you eat in a day?
It is recommended that you eat 2-3 snacks per day at the most. If you're more active, you may need an additional snack. If you're more sedentary, you may want to limit it to one snack.
Is snacking healthy?
Snacking is healthy if you make healthy choices as suggested above. Nutrient dense snacks that are high in protein and fiber will help keep you satiated between meals, and give you added energy.
Snacking becomes unhealthy if you end up eating processed/packaged foods that are high in salt/fat and/or sugar, and those foods end up "crowding out" healthy options like fruits & veggies.
What snacks are good for studying?
Choose snacks that are high in protein, fiber, and healthy fats. These types of snacks such as apples and peanut butter will help improve your brain power. Whereas high sugar, high salt, and snacks high in saturated fat will make you feel lethargic.