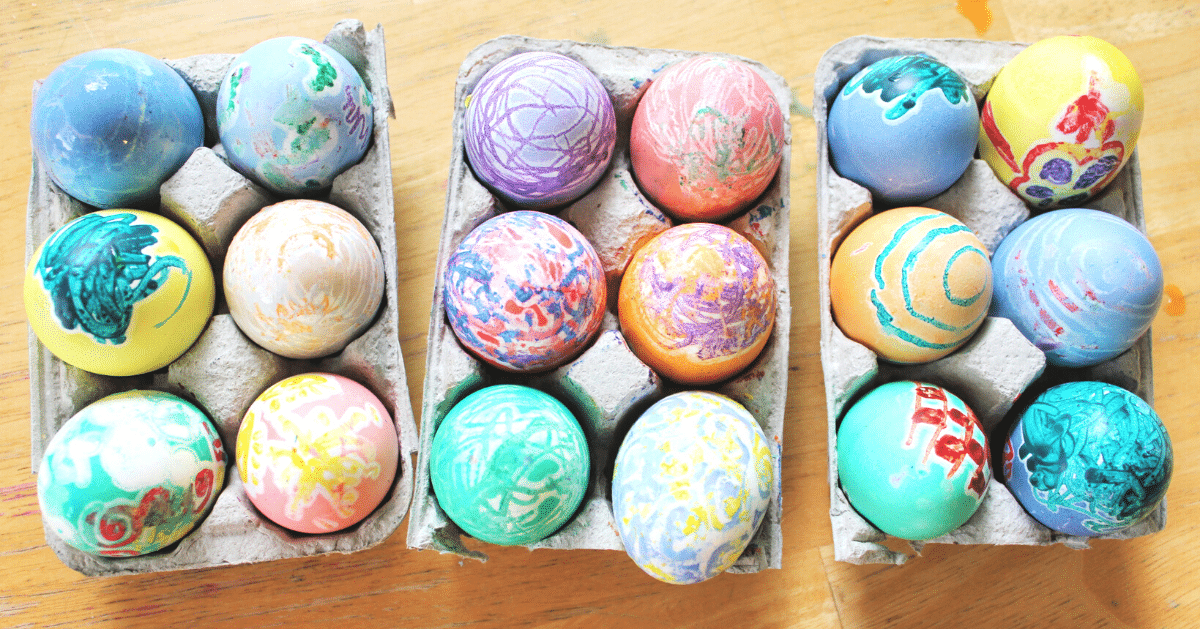 If you are looking for some Easter egg inspiration this year, check out these 11 Easter egg ideas for kids that are creative and fun!
Updated March 2023
Looking for fun Easter egg ideas for decorating eggs with kids?
Decorating eggs is something that we like to do in the month leading up to Easter. We have been known to go a bit crazy with our Easter eggs, in fact. But we just love the miniature 3-dimensional canvas that eggs provide.
Sometimes we blow out our Easter eggs first, sometimes we decorate wooden eggs, and sometimes we just use regular hard-boiled eggs even though it's early (we don't eat them).
Here are 11 Easter egg decorating ideas for kids that we love doing year after year!
11 Easter Egg Ideas for Kids
1. Washi Tape Easter Eggs
Use washi tape on dyed or undyed eggs to add a colorful and easy design. Bonus: a roll of washi tape works perfectly as an egg holder!
2. Easter Egg Ideas for Kids: Drawing in Frames
Combine drawing frames with sharpies and then dyeing with Kool-Aid to make these beautiful Easter eggs!
3.  Marble Easter Eggs with Kool Aid
Kool-Aid dye and vegetable oil work together to make a stunning marbled effect on the eggs.
4. Easter Egg Decorating with Sticker Resist and Sharpies
Create sticker resist art (like tape resist art!) on Easter eggs by using stickers you have at home.
5. Easter Egg Decorating with Hole Reinforcement Stickers
Much like the idea above, this decorating technique uses hole reinforcement stickers to create an image that will remain white after the egg is dyed.
6. Image Transfers: An Easter Egg Decorating Idea
Did you know you could make your own image transfers? This creative idea shows you how and makes for lovely Easter eggs.
7. Collage Easter Eggs
Make these pretty collage Easter eggs with images from printed paper napkins. This project is easy enough for children to do and the results are beautiful.
Also Read : Vegan Breakfast Cookies
8. How to Paint Wooden Easter Eggs
Use sharpie markers and watercolors to create a lovely design and the best part is that these wooden eggs can be used year after year!
9. Melted Crayon Easter Eggs
Melted crayon eggs are easier than you might think and fun to do with kids. Draw on hot eggs with crayons, then dye for the best crayon resist effect on your Easter eggs.
10. Coloring Easter Eggs with Bleeding Tissue Paper
Bleeding tissue paper creates a gorgeous stained effect on both real eggs and drawings of them. Find instructions on how to do both in this post.
11. An Easter Egg Tree
If you are looking for something to do with all of these beautiful eggs, an Easter egg tree is the perfect idea! It is easy to assemble and creates a lovely Easter centerpiece for your home.
How do you plan on decorating your Easter eggs this year? Be sure to tag The Artful Parent on Instagram to show us your designs!
More Easter Arts and Crafts for Kids
31 Easter Activities for Kids
8 Fun Easter Crafts Ideas for Kids
5 BEST Egg Decorating Ideas Inspired by Nature
5 Fun Easter Art Activities for Kids
Pin It for Later